New Blu-Ray Releases: 'Blade Runner 2049,' A Joe Dante Gem, And A John Ford Classic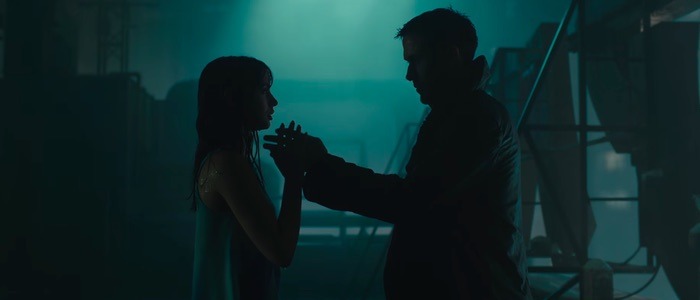 (Welcome to Not Dead Yet, a feature dedicated to what's new on Blu-ray and what special features you should be excited about. Because yes, some of us still like to own physical copies of our movies.)
Ready for the latest Blu-ray round-up? I sure hope so, because it's here, right in front of your eyes. This week, one of the best and most over-looked films of 2017 comes to Blu-ray. And that's not the only overlooked film hitting shelves! An unjustly ignored 1993 comedy from the director of Gremlins receives a special collector's edition from Shout! Factory! In addition to that, there's a star-studded Agatha Christie adaptation (no, not that one), and a John Ford classic from the Criterion Collection. Here are the new Blu-ray releases you should check out this week.
Blade Runner 2049
Blade Runner 2049, the best 2017 movie no one bothered to go see, finally comes home to Blu-ray. Does a film so reliant on such eye-popping, large-scale visuals work on the small screen? Absolutely. Everything that makes Denis Villeneuve's intense, lengthy tone-poem special still comes shining through, no matter what size screen you're watching it on.Yes, Blade Runner 2049 is a sequel to Ridley Scott's Blade Runner, but it's also a film that can truly stand on its own. It's a remarkable, hypnotic, engrossing journey through a dark, uncertain future. On top of all that, it's one of the best-looking movies in recent memory, thanks both to Villeneuve's direction and Roger Deakins' jaw-dropping cinematography.Ryan Gosling didn't receive nearly as much credit as he should have for his complicated performance as the film's lead, a conflicted Blade Runner who falls down a rabbit hole into a confounding mystery. Harrison Ford has never been better, playing his character Rick Deckard as a bruised, emotionally distant loner who begrudgingly gets wrapped up in the whole mess.As I said in my spoiler review for the film when it hit theaters, "Blade Runner 2049 is one of the very best films of 2017, and one of the most staggering big studio releases you're likely to come across. How on earth did Denis Villeneuve convince Warner Brothers to let him make a gigantic, foreboding tone poem and dress it up as a Blade Runner sequel? We may never know, and if the film continues to underperform, we may never get so lucky again."
Special Features to Note:"Designing The World of Blade Runner 2049" provides a cool behind-the-scenes look at the creation of the stunning visuals of the film, from the miniatures used to create cityscapes to the on-location filming in Budapest.Villeneuve says that he approached the film as an "extension of the first Blade Runner, rather than an extension of the real world," which gave the film more freedom to create mind-blowing visuals. Ridley Scott pops-up and offers the most hilarious line in the doc: "Why's it always raining, why's it always dark?" Scott says everyone asked him when the first film came out. His answer: "Because I fucking want it to be."Beyond this, the feature goes into how Villeneuve told Deakins he had free range to do literally whatever he wanted, and how Deakins came on board the film very early to help plan the look of everything. It's also revealed that a lot of the sets were done practically – Villeneuve wanted to use as little green screen as possible and use real vehicles as much as possible. The filmmaker says he hates using green screen in general, and prefers tangible things."To Be Human: Casting Blade Runner 2049" is what I'd call a "puff piece." It's a very nice, but mostly inessential look at the cast of the movie. Don't get me wrong: the cast here is great, and almost everyone (save Jared Leto, who is just too goofy for his own good here) does strong work.The problem with this feature is that it amounts to little more than the cast sitting around praising each other and commenting on how everyone is the best. The only really interesting tidbit here is the reveal that both writer Hampton Fancher and star Harrison Ford both claim to have independently came up with the idea of casting Ryan Gosling in the lead. Fancher says he had the idea while writing the film, and Ford said that he suggested Gosling to the filmmakers later and was told they already had him in mind. There you have it: everyone loves Gosling!Other than these features, there are also several "prologues" that we shot and released online before the film hit theaters. I'll just admit it: I don't like any of these, and think the film itself is stronger without them. There's also a feature called "Blade Runner 101" that serves as a crash-course in the mythology of the film.Special Features Include:
"Blade Runner 2049" 4K Ultra HD Blu-ray Combo Pack, 3D Blu-ray and Blu-ray Combo Pack contains the following special features:
Designing The World of Blade Runner 2049
To Be Human: Casting Blade Runner 2049
Prologues: 2036: Nexus Dawn
Prologues: 2048: Nowhere to Run
Prologues: 2022: Black Out
Blade Runner 101: Blade Runners
Blade Runner 101: The Replicant Evolution
Blade Runner 101: The Rise of Wallace Corp
Blade Runner 101: Welcome to 2049
Blade Runner 101: Joi
Blade Runner 101: Within the Skies
Matinee
In 1993, Gremlins director Joe Dante released this touching, earnest, funny look at young love, monster movies and nuclear paranoia. Virtually no one saw it. Thankfully, Dante's Matinee has developed something of a cult following since it landed at the box office with a thud, and the folks at Shout! Factory have put together this essential new Blu-ray for both old fans and new audiences alike.It's 1962, and the Cuban Missile Crisis is looming large. There's a real fear in the air that at any moment, nuclear devastation will rain down on the residents of Key West, Florida. What's a person to do but take in a monster movie? As luck, or fate, would have it, B-movie maven Lawrence Woolsey (John Goodman, an utter delight here) has just shown up in town with his latest low-budget horror flick: Mant!With this set-up, Dante spins a narrative involving lonely young Gene Loomis (Simone Fenton), who loves movies and wants nothing more than to take in a screening of Mant! He also finds himself drawn to a rebellious girl (Lisa Jakub) who isn't afraid to point out that the school's duck-and-cover during air raid drills are nothing but a whole bunch of bullshit.When Matinee was released in the '90s, its tale of nuclear woes seemed almost quaint. Now, here in 2018, where we're only days removed from an accidental fake missile alert that convinced almost everyone in Hawaii they were about to die, Matinee takes on a whole new ghoulish life. As a result, it invigorates and already invigorating film. Gremlins may be Joe Dante's most well-known movie, but Matinee is his best.
Special Features to Note:Shout! Factory has put together a pretty comprehensive disc here, with features out the wazoo. The best features of the bunch are the interviews with Joe Dante. There are two: a new one, called "Master of the Matinee," and then an older feature called "Paranoia in Ant Vision." Dante provides much of the same information in both features, but there's also enough new revelations to make both essential. "If you're a good filmmaker, all your movies are personal," he says, and proceeds to give an in-depth background on the production of the film, as well as providing amusing bits of trivia. For instance: Dante reveals they filmed Matinee at Universal Studios, and during lunch almost everyone involved with the production would go ride the Back to the Future ride.Dante also talks about a very early version of the script, which sounds nothing like the finished film, but might have been interesting nonetheless. In this early version, childhood friends reunite in their hometown and visit the movie theater they spent their youth in. But this isn't any normal movie theater: the projectionst is a vampire, and all sort of other supernatural creatures moonlight at the place. Again, this is absolutely nothing like the final film, so it's almost wild to think that this script gave birth to what Matinee is today.There are several other big interviews, although sadly none are with star John Goodman. Goodman gives one of the best performances of his career here, so it would've been nice to have him on hand. Perhaps he was busy filming the Roseanne revival at the time.The other big draw here is the "full length version" of Mant!, the movie within the movie. The name is a bit of a misnomer: don't expect a 2-hour version of Mant! here. Rather, the film runs about 20 minutes, and is fairly amusing to watch even removed from the events of Mant! A lot of work went into the film to make it both look and feel genuine.Special Features Include:
Bonus Features
NEW Master Of The Matinee – An Interview With Director Joe Dante
NEW The Leading Lady – An Interview with Cathy Moriarty
NEW MANTastic! The Making Of A Mant
NEW Out Of The Bunker – An Interview With Actress Lisa Jakub
NEW Making A Monster Theatre – An Interview With Production Designer Steven Legler
NEW The Monster Mix – An Interview With Editor Marshall Harvey
NEW Lights! Camera! Reunion! – An Interview With Director Of Photography John Hora
Paranoia In Ant Vision – Joe Dante Discusses The Making Of The Film
MANT! – The Full Length Version Of The Film With Introduction By Joe Dante
Vintage Making Of Featurette
Behind The Scenes Footage Courtesy Of Joe Dante
Deleted And Extended Scenes Sourced From Joe Dante's Workprint
Still Galleries
Theatrical Trailer
Crooked House
Murder on the Orient Express wasn't the only star-studded Agatha Christie adaptation from 2017. Gilles Paquet-Brenner's Crooked House, which aired in the UK on Channel 5, assembles killer cast that includes Gillian Anderson, Glenn Close, Julian Sands, Christina Hendricks, Amanda Abbington, Terence Stamp and more.The set-up is quintessential Christie: someone prominent has been murdered, and there's an entire house full of suspects. Slightly out-of-his-depth detective Charles Hayward (Max Irons) is recruited to investigate by his old flame Sophie (Stefanie Martini). As a result, Hayward gets caught up in the lives of the decidedly cooky Leonides family, all of whom seem capable of murder in one way or another.Crooked House is a hell of a lot of fun. Even if you figure out who the killer is early (which I did), it doesn't take away from the fun of watching the story unfold. What makes it all work is that cast, all of whom are chewing the scenery with glee. Gillian Anderson in particular, playing a drunken actress, is clearly having the time of her life, a vamp wig nestled perfectly on her head. Crooked House may not have the slick Hollywood production feel of the recent big screen Orient Express, but it's definitely worth a visit.
Special Features to Note:The features here are a bit slim, sadly. We get three featurettes that look at the production. "Whodunnit? – The Characters of Crooked House" walks us through the ensemble cast, and might actually be worth watching before you see the movie, as it acquaints you with everyone nicely."Elegance & Innovation: The Design of Crooked House" offers a look at the set design of the film, which is rather ornate and wonderfully constructed. This isn't very in-depth though, sadly."Agatha Christie: A Timeless Fascination" has the cast and crew talking about Christie's work, and how timeless her stories are. It's a breezy little feature, but anyone hoping for more info on Christie as a writer would probably be better served reading a biography instead.Special Features Include:Three Featurettes:
"Agatha Christie: A Timeless Fascination"
"Whodunnit? – The Characters of Crooked House"
"Elegance & Innovation: The Design of Crooked House"
Young Mr. Lincoln
John Ford's fictional portrayal of Abraham Lincoln as a young man gets the Criterion Collection treatment. Young Mr. Lincoln isn't as polished, or as sweeping, as some other Ford films, but what it lacks in that department it more than makes up for with its lead performanceHenry Fonda, wearing a fake nose that actually goes a long way to making him look like the young Abe Lincoln, is utterly wonderful here, playing Lincoln as a laid-back, slow-moving, easy-going guy who could also knock all your teeth out of your head with one punch...if he wanted to.In Young Mr. Lincoln, Abe sets up shop as a small town lawyer, and soon finds himself defending two brothers accused of murder. The end result is a film that's as much courtroom drama as it is biopic. While the events in Young Mr. Lincoln may be fictionalized, they somehow ring true, and that's almost entirely due to Fonda's performance. The actor shuffles through the film, playing Lincoln as a gangly man never quite comfortable in his own frame, and the result is spellbinding. A scene where Fonda, as Lincoln, casually talks a lynch mob out of their deed is remarkable, primarily for the way Fonda takes control of the moment while making everyone else think they're still in charge.  
Special Features to Note:I'm sad to say that while this is an essential must-own for film fans, the Criterion release is a bit lacking in terms of material related to the film itself. There's a commentary from John Ford biographer Joseph McBride, and some archival interviews, but beyond that, the biggest feature here is a documentary not on Young Mr. Lincoln, but on John Ford himself."Omnibus: John Ford, part one" takes viewers through Ford's early career, and while there's nothing wrong with this as a feature, I still would've liked a bit more about Young Mr. Lincoln specifically. While this documentary is slightly dated (it was made in 1992), this feature is still comprehensive and a must-watch for Ford enthusiasts, or even those only marginally familiar with Ford who want to know more.Special Features Include:
New 4K digital restoration, with uncompressed monaural soundtrack on the Blu-ray
New audio commentary featuring film scholar Joseph McBride (Searching for John Ford: A Life)
Omnibus: "John Ford," part one: filmmaker Lindsay Anderson's profile of the life and work of director John Ford before World War II
Talk show appearance by actor Henry Fonda from 1975
Audio interviews from the seventies with Ford and Fonda, conducted by the director's grandson Dan Ford
Academy Award radio dramatization of the film
PLUS: An essay by critic Geoffrey O'Brien and an homage to Ford by filmmaker Sergei Eisenstein