Quentin Tarantino Also Wants Al Pacino For His Charles Manson Movie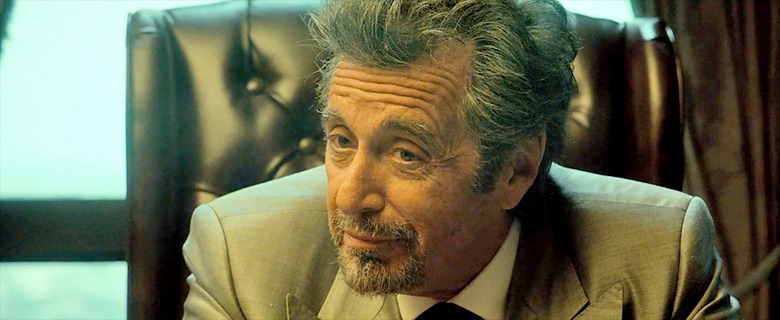 This past week, Quentin Tarantino officially locked down Leonardo DiCaprio for a role in his developing but untitled movie about cult leader and murderer Charles Manson and his "family." Now one more surprising name has emerged as a hopeful collaborator in front of the camera.
In one of the reports confirming Leonardo DiCaprio's involvement in the project, an additional piece of information indicated that the Pulp Fiction and Inglourious Basterds writer/director is hoping to land Al Pacino for a role in his movie as well. If Tarantino gets everyone he wants for this movie, this could be an all-star line-up of talent the likes of which we rarely see together in a single project
Variety has the report with this additional detail stuffed in the middle of the story. That's likely because this is merely indicating that Quentin Tarantino wants Al Pacino in the movie rather than the actor actually being in talks for a role. At this stage, it's just a pipedream.
So right now Quentin Tarantino already has Leonardo DiCaprio, a notoriously picky actor who hasn't starred in a movie since his Oscar-winning turn in The Revenant from 2015. But we've also heard that he has his sights set on DiCaprio's Wolf of Wall Street star Margot Robbie to play famous Manson victim Sharon Tate, his Inglourious Basterds star Brad Pitt, and superstar Tom Cruise. That's one hell of a cast, and that's not even considering the usual names Tarantino brings into his movies, like Samuel L. Jackson (who hasn't been mentioned for a role in this movie, but will likely end up having some role.
Again, these are all the actors that Tarantino wants for his movie, but it remains to be seen if he'll actually get them. The good news is that Tarantino is one of those directors that almost any actor or actress has a desire to work with. So there's a good chance he could end up with the names he wants.
In a recent interview with The Hollywood Reporter, Margot Robbie discussed the news of her potential involvement in the project, and she said, "Nothing's official ... but I would kill to work with him." So as long as her schedule allows and the role is a good one to follow her extremely likely Oscar nomination for I, Tonya, it sounds like Robbie will come through. So that leaves Brad Pitt and Tom Cruise still up in the air, the latter being the more picky and difficult to get of the two.
We don't know who most of these actors would play in the movie, but we also don't know much about the movie. Details have pegged the film as being about a TV star and his stunt double who attempt to make the move to the big screen in the middle of the politically charged landscape of Hollywood in 1969, right as the Golden Age of Hollywood was giving way to the American New Wave. It also happens to be the time when Charles Manson's "family" started dominating headlines.
The untitled Quentin Tarantino movie is slated to arrive on August 9, 2019.