Leonardo DiCaprio Joins Quentin Tarantino's Manson Movie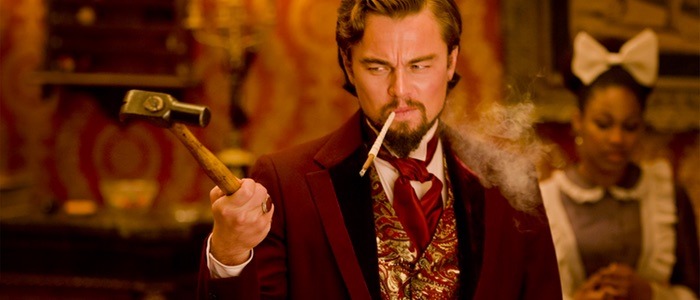 Quentin Tarantino has found his lead for his highly-anticipated Mansion Family movie: Leonardo DiCaprio. DiCaprio will reunite with his Django Unchained director for a film set in 1969 against the backdrop of the Manson Family murder of actress Sharon Tate and several other people at her home in Los Angeles. Find more details on DiCaprio joining the Tarantino Manson Family movie cast below.
When it comes to casting Quentin Tarantino's currently-untitled Manson Family film, names that have been thrown around included Tom Cruise, Brad Pitt, and Leonardo DiCaprio. Now it looks like DiCaprio is the first official actor to board the film. Deadline reports that DiCaprio has signed to star in Tarantino's ninth film, which is set in 1969 and involves the Manson Family murders.
Per Vanity Fair, the story, set in Los Angeles in the summer of 1969, "focuses on a male TV actor who's had one hit series and his looking for a way to get into the film business. His sidekick — who's also his stunt double — is looking for the same thing. The horrific murder of Sharon Tate and four of her friends by Charles Manson's cult of followers serves as a backdrop to the main story." Deadline reports that DiCaprio is going to be playing the male TV actor (so, sorry everyone who immediately assumed DiCaprio would be playing Charles Manson).
Tarantino has asked Margot Robbie to play slain actress Sharon Tate in the film, but Robbie's casting isn't final yet. The film set off a bidding war after Tarantino parted ways with long-time producers The Weinstein Company following the sexual assault allegations against Harvey Weinstein, with several studios clammoring to get their hands on Tarantino's script. Warner Bros. went so far as to deck out the studio lot with cars from the 1960s when Tarantino came in for a meeting, and outfitted a conference room with "vintage furniture from the era and mock posters for the movie." After all that, however, Tarantino signed with Sony.
Not only with this film reunite Tarantino and DiCaprio, it will also be DiCaprio's first role since winning the Oscar for getting eaten by a cartoon bear in The Revenant. Tarantino is still looking for the second male lead for the film, which means both Cruise and Pitt might still be an option, if a deal can be worked out. Variety also reports that Tarantino wants Al Pacino for a role as well. After this film, Tarantino next plans to helm an R-rated Star Trek movie, a fact we're all still having a hard time believing.
The currently untitled Quentin Tarantino Manson movie will open on August 9, 2019.