'Braven' Trailer: Jason Momoa Throws An Axe At Someone's Face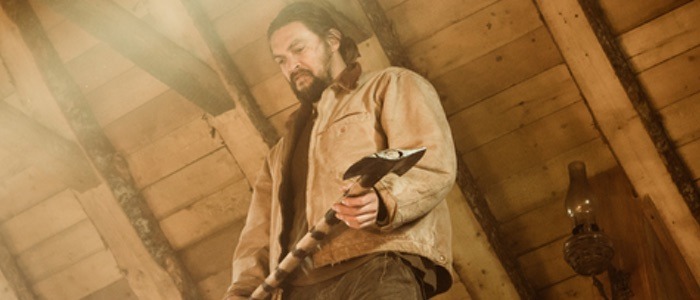 Manly men Jason Momoa and Stephen Lang find themselves dealing with drug dealers on snowmobiles in Braven, a film with a clunky title and a whole lot of charm. The Braven trailer is filled with the type of glorious action-movie cheese that used to be prominent in the 1980s and 1990s, and I mean that in the best possible way. You should definitely watch the new trailer below.
Let me just get this out of the way: Braven is a bad title. It's like someone was trying to write either Brave or Raven and made a typo. Of course, this is the point where someone tells me Braven actually has a very specific meaning, and I'm an idiot for missing it.
Okay, now that we're done with that, let me say this Braven trailer has sold me on the film. There's nothing earth-shattering here; nothing mind-blowing. Instead, this trailer feels like a throwback to the gloriously trashy action movies of yesterday, where "average" guys like Jean-Claude Van Damme had to face off against entire armies of generic criminals. No one would call movies like that high-art, but they have their place. They don't really make too many movies like that anymore, either, which might be why the Braven trailer seems kind of refreshing. Watch it and judge for yourself.
Braven Trailer
Jason Momoa looks to be playing just your average, working-class man with amazing muscles, who has to team up with his grumbly father (Stephen Lang) to kill a whole bunch of drug smugglers lead by Garret Dillahunt with a shaved-head. Oh, and there's a kid in jeopardy too, because sure, why not? Again, I'm not going to try to sell this as a masterpiece, but there is a scene in this trailer where Jason Momoa throws an axe right at some guy's face. That's the type of cinematic material I want to see in a movie like this!
This trailer throws off a vibe reminiscent of Hard Target, the 1993 John Woo action movie where Jean-Claude Van Damme had to battle a team of creeps who hunt humans for sport. The old/young team-up of Momoa and Lang in the snowy woods also reminds one of the 1997 Lee Tamahori movie The Edge, which starred Anthony Hopkins, Alec Baldwin and a bear. I don't know if Braven will be able to really compare to those films, but I like that it's trying.
Here's the official Braven synopsis:
Jason Momoa takes no prisoners in this intense action-thriller. When Joe (Momoa) and his father (Stephen Lang) arrive at their remote hunting cabin, they're hoping for a quiet weekend. What they find is a stash of heroin, hidden in the cabin by drug traffickers. When the criminals suddenly descend upon the cabin, Joe and his father must make a kill-or-be-killed stand for survival.
Braven stars Jason Momoa, Garret Dillahunt, Jull Wagner, Brendan Fletcher, and Stephen Lang. Look for it On Demand and in theaters February 2, 2018.