2018 Directors Guild Awards Nominations Finally Give Greta Gerwig And 'Lady Bird' Some Love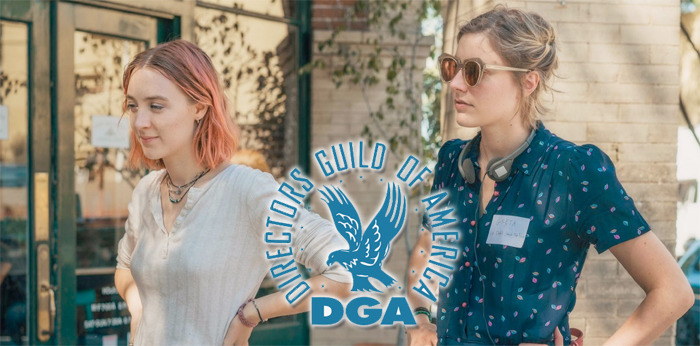 Following this week's announcement of the BAFTA nominations, the Director's Guild of America is next in line to reveal their nominations for the best achievement in directing from the previous year in cinema for their 70th annual awards ceremony.
The 2018 DGA Awards nominations were announced today, and Lady Bird fans will be happy to see that director Greta Gerwig has finally been given her due diligence by landing a nomination. Furthermore, Get Out director Jordan Peele has landed two nominations, one in the primary outstanding directorial achievement award and one for being a first-time director.
Get the full list of 2018 DGA Awards nominations below.
First up, here are the feature film nominations from the Directors Guild of America:
Outstanding Directorial Achievement in Feature Film
Guillermo del Toro – The Shape of Water
Greta Gerwig – Lady Bird
Martin McDonagh – Three Billboards Outside Ebbing, Missouri
Christopher Nolan – Dunkirk
Jordan Peele – Get Out
Outstanding Directorial Achievement of a First-Time Feature Film Director
Geremy Jasper – Patti Cake$
William Oldroyd – Lady Macbeth
Jordan Peele – Get Out
Taylor Sheridan – Wind River
Aaron Sorkin – Molly's Game
Outstanding Directorial Achievement in Documentary
Ken Burns & Lynn Novick – The Vietnam War
Bryan Fogel – Icarus
Matthew Heineman – City of Ghosts
Steve James – Abacus: Small Enough to Jail
Errol Morris – Wormwood
Seeing Jordan Peele get two DGA nominations is awesome, especially since Get Out is my favorite movie of 2017. He finds himself in good company along with Guillermo del Toro, Chrhistopher Nolan, and Martin McDonagh. As for Greta Gerwig, that's an even bigger deal since she's been snubbed several times as a director throughout awards season so far. She would have likely been included with Peele in the first-time director category, but she actually made her debut back in 2008 with Nights and Weekends, which she co-wrote and co-directed with Joe Swanberg.
Otherwise, it's awesome to see Geremy Jasper get some love for the acclaimed indie Patti Cake$, and even though Molly's Game doesn't seem to be getting tons of awards love this season, Aaron Sorkin certainly deserves recognition for this first time behind a camera.
Next up, here are some of the nominations for television directing, which includes a lot of Game of Thrones love:
Outstanding Directorial Achievement in Dramatic Series
The Duffer Brothers – Stranger Things, "Chapter Nine: The Gate"
Reed Morano – The Handmaid's Tale, "Offred"
Jeremy Podeswa – Game of Thrones, "The Dragon and the Wolf"
Matt Shakman – Game of Thrones, "The Spoils of War"
Alan Taylor – Game of Thrones, "Beyond the Wall"
Outstanding Directorial Achievement in Comedy SeriesAziz Ansari – Master of None, "The Thief"
Mike Judge – Silicon Valley, "Server Error"
Melina Matsoukas – Master of None, "Thanksgiving"
Bethany McCarthy-Miller – Veep, "Chicklet"
Amy Sherman-Palladino – The Marvelous Mrs. Maisel, "The Marvelous Mrs. Maisel"
Outstanding Directorial Achievement in Movies for Television and Mini-SeriesScott Frank – Godless
Barry Levinson – The Wizard of Lies
Kyra Sedgwick – Story of a Girl
Jean-Marc Valée – Big Little Lies
George C. Wolfe – The Immortal Life of Henrietta Lacks
As you can see, Game of Thrones dominated the dramatic series directing category with three out of the five nominations, but Emmy nominees Stranger Things and The Handmaid's Tale were able to sneak in there.
On the comedy side of things, Netflix's Master of None is the only show with two (deserved) nominations. HBO landed two of the other nominations with Veep and Silicon Valley, but Amazon snuck in there with The Marvelous Mrs. Maisel, a series which is getting plenty of attention after a key Golden Globe win last weekend too. That means only one of the nominations in comedy came from cable while the other four came from streaming services.
The 2018 DGA Awards winners will be announced on February 3 at the Beverly Hilton in Beverly Hills, CA. As soon as the winners are announced, we'll be sure to let you know who came home with a DGA Award.