'Star Wars: The Last Jedi' Secrets Revealed By Lucasfilm Story Group Along With Spoilery New Stills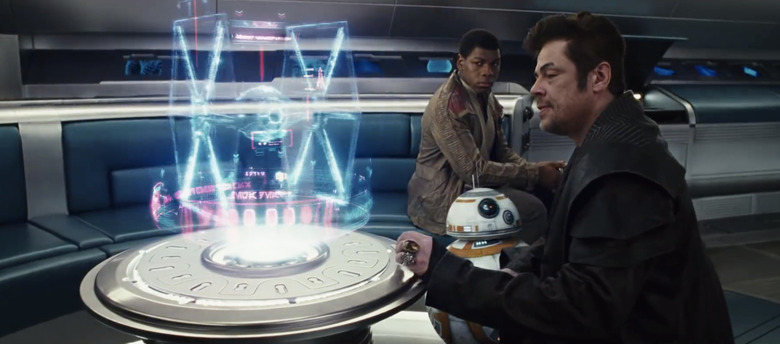 Now that Star Wars: The Last Jedi has been in theaters for nearly a month, fans are no longer as worried about spoilers. That doesn't mean we're going to start shouting them from the rooftops, but it does mean we can start talking about them a little less cautiously out in the open, and that's exactly what the Lucasfilm Story Group just did.
On a new episode of The Star Wars Show, host Andi Gutierrez sat down with Lucasfilm Story Group members Leland Chee, Pablo Hidalgo, Matt Martin, and Rayne Roberts for a nearly 30-minute discussion about some of the secrets and Easter eggs fans might not have noticed. They include references to Star Wars Battlefront II, Rogue One: A Star Wars Story, and some little threads that may be explored in future Star Wars stories.
Find out about all these Star Wars: The Last Jedi secrets below, but beware of spoilers.
While there's discussion about Easter eggs that don't have much impact on the story of The Last Jedi, there are plenty of interesting details about the development of some key moments and how they came to be.
For any fans who think director Rian Johnson was being all willy-nilly with Star Wars mythology, the chat with these Lucasfilm Story Group members indicates that there was plenty of thought when it came to introducing new concepts into the universe. For example, Johnson talked to the team about the logistics of Admiral Holdo's lightspeed kamikaze move that took out the First Order fleet of Star Destroyers. He wanted to make sure he wasn't violating any rules of Star Wars physics and that it would seem plausible.
Another cool detail for fans is that the hologram of Princess Leia that R2-D2 plays in an effort to convince Luke Skywalker to change his mind about staying in isolation was not recreated from scratch. Instead, the crew reached into the Lucasfilm archives to get all of the coverage shot of Carrie Fisher for that message so they could show the hologram from new angles.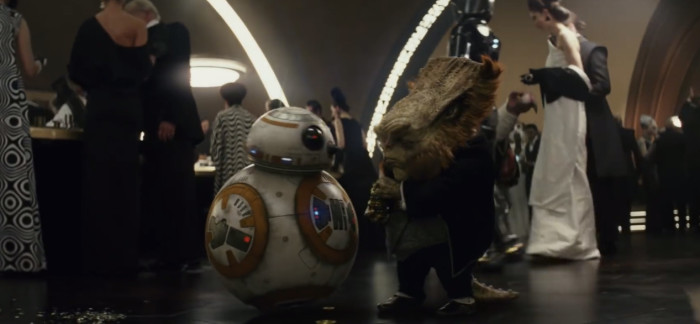 There are some brand new cameos revealed as well, including the presence of Chelsea Hamill, Nathan Hamill and Griffin Hamill, the children of Mark Hamill. Plus, we get confirmation that Mark Hamill's second role in the movie was the little alien who kept popping coins into BB-8 like he was a slot machine (seen above).
And we get this image from a deleted scene that would have seen the farthiers (the animals that Finn and Rose free and ride on in Canto Bight) tearing through a spa, where Warwick Davis plays a one-eyed pink alien creature: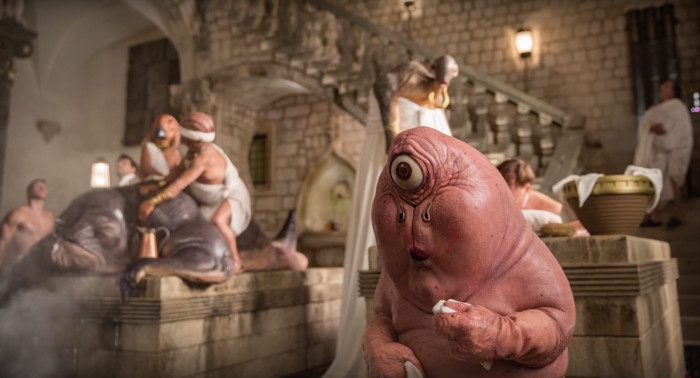 But perhaps the best thing about this video is the inclusion of clips from the film that previously were not made available online. There are some moments from Admiral Holdo's aforementioned lightspeed attack, some new shots of Benicio del Toro as DJ, and most importantly, the final battle between Kylo Ren and Luke Skywalker. Check out the collection of new images below: