'Tully' Trailer: Charlize Theron Is An Exhausted Mom Who Needs A Break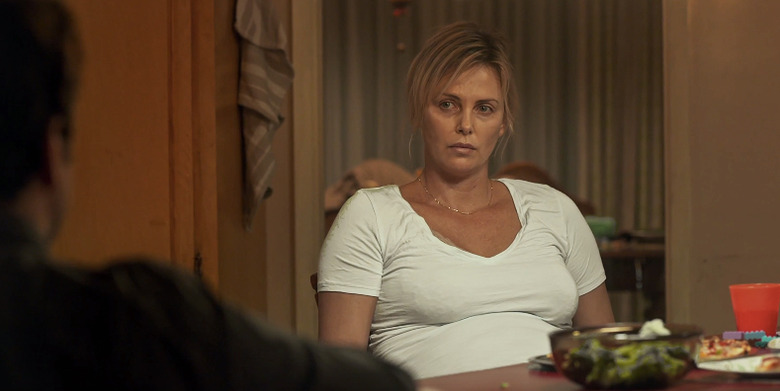 We've seen Charlize Theron play everything from a rough-looking serial killer to the commander of a tribe of post-apocalyptic warriors to a badass secret agent. Now we're going to see her absolutely exhausted as a mother of three children just doing her best to get by.
Tully follows Charlize Theron as Marlo, a mother who barely makes it through each day, taking care of a newborn, doing laundry, cooking dinner, breast-pumping and more. Theron looks pretty worse for wear, but some help comes knocking on her door in the form of Mackenzie Davis.
Tully Trailer
Some real mothers out there might find it hard to accept Charlize Theron as a woman run ragged by her children since she's the poster child for a Dior fragrance that literally paints her as a golden goddess, but let's not forget that Theron is a single mother of two herself.
Even in this teaser trailer alone, Theron does a great job of pulling sympathy as she trudges through every minute of what must feel like the longest day ever every single day. Not helping matters is Ron Livingston, who is less than impressed that they're having frozen pizza for dinner. Even though the trailer says this movie is about motherhood in 2018, this will surely resonate with plenty of parents in general out there, whether they're mothers or fathers.
Thankfully, Theron is about to get a reprieve from our titular character, a night nanny named Tully (Davis), who has been summoned by Marlo's brother (played by Mark Duplass).
Hopefully, this doesn't take the predictable indie movie turn where Tully becomes the object of affection for Marlo's husband, thereby creating problems in the relationship while also bringing out realizations about life for our main characters. Director Jason Reitman and writer Diablo Cody (the duo behind Juno and Young Adult) usually don't stray into cliched areas for their collaborations, so it would be nice if they could avoid that trope.
A new comedy from Academy Award®-nominated director Jason Reitman ("Up in the Air") and Academy Award®-winning screenwriter Diablo Cody ("Juno"). Marlo (Academy Award® winner Charlize Theron), a mother of three including a newborn, is gifted a night nanny by her brother (Mark Duplass). Hesitant to the extravagance at first, Marlo comes to form a unique bond with the thoughtful, surprising, and sometimes challenging young nanny named Tully (Mackenzie Davis).
Tully opens April 20, 2018.