'Snowpiercer' TV Series Officially Chugging Forward At TNT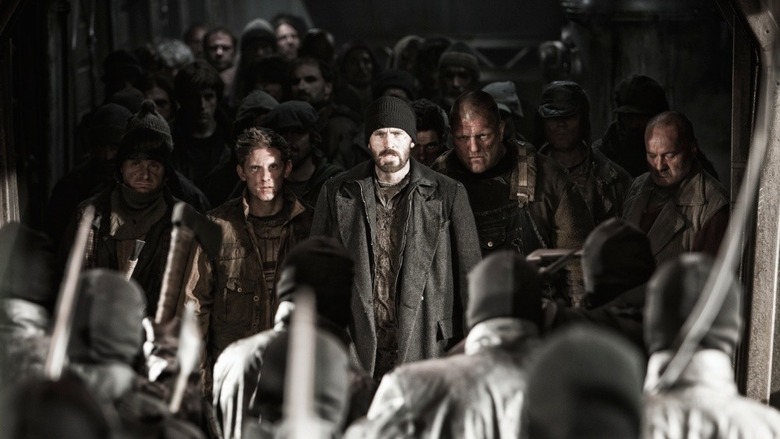 TNT's Snowpiercer TV series has been given permission to leave the station. The show, which is based on director Bong Joon-ho's excellent 2013 science fiction film of the same name about a wintery post-apocalypse and the battle for survival on board a futuristic train, has been officially ordered to series following the completion of the pilot episode.
Variety has the news, including this statement from Sarah Aubrey, TNT's executive vice president of original programming:
I'm a personal fan of Bong Joon-Ho's epic film, and jumped at the chance to honor his original vision, yet expand upon the world and characters with a diverse, award-winning cast. Science fiction is the perfect genre to examine issues of race, class, gender and natural resources with thought-provoking and exciting storytelling. Snowpiercer will explore those relevant issues while embarking on a wild, action-filled ride.
The pilot episode was helmed by Doctor Strange and Sinister director Scott Derrickson and written by Josh Friedman, whose credits include Steven Spielberg's War of the Worlds and the upcoming Avatar 2. Like the film, show show is set on board the Snowpiercer, a perpetually moving train circling the planet years after civilization came to an icy end, a powder keg where social injustice leads to literal class warfare amongst the passengers. The cast is headlined by Oscar-winner Jennifer Connelly and Tony-winning Hamilton star Daveed Diggs. The supporting cast includes Mickey Sumner, Susan Park, Benjamin Haigh, Sasha Frolova, Katie McGuinness, Alison Wright, Annalise Basso, Sam Otto, Roberto Urbina, Sheila Vand, and Lena Hall.
There are many interesting names in that paragraph, talented folks whose work I admire. Plus, Snowpiercer is a terrific movie and one that feels even more resonant in 2018 than it did five years ago. With that said, I'm still not convinced this concept can support a series, especially since the movie is so frequently abstract and satirical, never pausing long enough to let you linger on questions about the logic behind how the titular train works. The film uses the train as a visual metaphor for a revolution – the working class heroes fight their way forward one car at a time, brawling from the slums of the rear cars to the wealthy front cars. What is allowed to just exist as an artistic representation will have to be further explored in an ongoing television show, a format that could push plausibility to its breaking point.
Or Snowpiercer could be the kind of angry, thoughtful political science fiction show we need right now, a genre series that does for 2018 what Battlestar Galactica did for the post-9/11 years. Let's keep our fingers crossed that they pull this one off.