'The Post' Featurettes Look At Steven Spielberg's Vision, Recreating The Washington Post Offices & More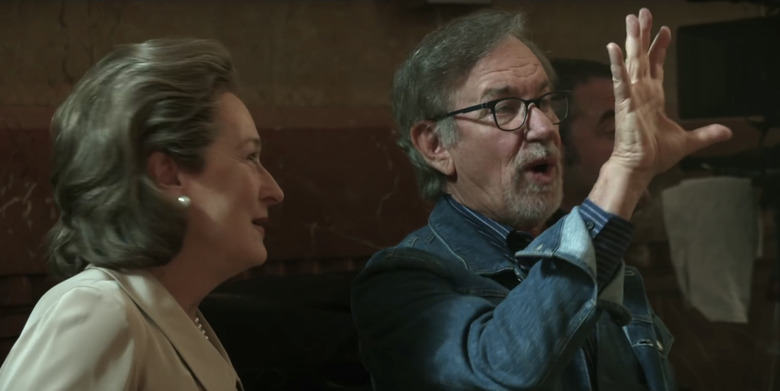 This weekend finally brings The Post to theaters everywhere after being in limited release in select theaters since just before Christmas. Critics and audiences in Los Angeles and New York have been ranting and raving about Steven Spielberg's historical drama about the publication of The Pentagon Papers, so 20th Century Fox has offered a closer look behind the scenes of the movie, including how Spielberg and his crew expertly recreated the Washington Post offices and more from the early 1970s.
Check out The Post featurettes below.
First up, this featurette focuses on how The Post isn't just about The Washington Post standing up to the government, but it's also about a woman taking a stand in a man's world. Meryl Streep plays the first female publisher of a major American newspaper who had to face skepticism at every turn simply because she was a woman. Not only was this time in history a pivotal one for the freedom and the power of the press, but also for women in the professional world.
Next up, this featurette takes a quick look at the different departments working to make The Post, ranging from Spielberg's cinematographer Janusz Kaminski to the various wardrobe, make-up and hairstyling talents who brought the 1970s to life and the production design team who perfectly recreated the offices of The Washington Post. It reminds me of the kind of detail that went into Spielberg's Catch Me If You Can.
Finally, this featurette takes a look at how Steven Spielberg brings his signature vision to a movie like The Post. Tom Hanks and Meryl Streep both gush about working with the filmmaker (the former having plenty of experience with him), and supporting cast members like Bob Odenkirk and Alison Brie can't help but be in awe of the work he does as well.
This was one of my favorite movies of 2017, and it's also one of the most important movies of the year. Make sure you go out of your way to see it as soon as possible.
Steven Spielberg directs Meryl Streep and Tom Hanks in The Post, a thrilling drama about the unlikely partnership between The Washington Post's Katharine Graham (Streep), the first female publisher of a major American newspaper, and editor Ben Bradlee (Hanks), as they race to catch up with The New York Times to expose a massive cover-up of government secrets that spanned three decades and four U.S. Presidents. The two must overcome their differences as they risk their careers – and their very freedom – to help bring long-buried truths to light.
The Post is in select theaters now and gets a wide release on January 12, 2018.