'FredHeads' Trailer: 'A Nightmare On Elm Street' Documentary About Freddy Krueger Fanatics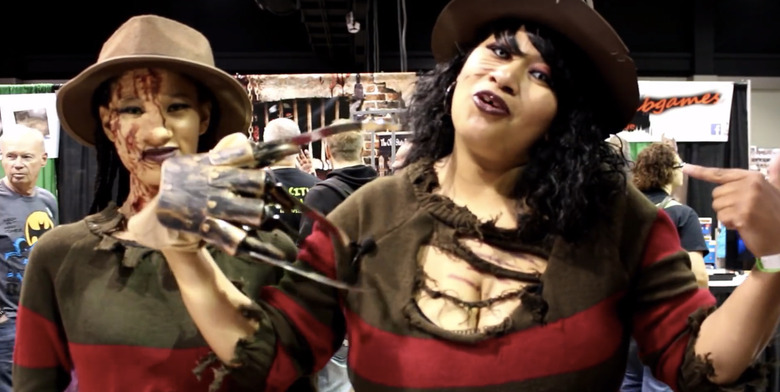 Every franchise has their hardcore fans, and that's especially true in the horror community. With eight films released since 1984 (not counting the remake from 2010), the A Nightmare on Elm Street franchise has amassed a large number of fans, and now they're getting a documentary for them to show off their passion for that dream haunting madman Freddy Krueger.
FredHeads is a documentary hoping to shine a light on this fervent fanbase by not just showing much they love the clawed killer and his wisecracking, but how they've created a supportive community that has become an important part in the lives of many fans around the world.
There's a FredHeads trailer you can watch below, but if you want to see the movie, the filmmakers are looking for some support on IndieGogo in order to finish the project.
FredHeads Trailer
A movie like A Nightmare on Elm Street seems like a strange one to give fans such hope, but that's part of what's beautiful about cinema in general. People of all kinds can find something they love and latch onto in any movie. Sometimes, a film just comes along at the right time in our lives and makes a significant impact. Sometimes, that ends up being a movie about a slasher who slices his way through your dreams and kills people in the most elaborate, twisted ways.
FredHeads will have interviews with several actors and actresses from the franchise, as well as some crew members, though they don't seem to have Robert Englund among them. That's a bit of a bummer, but maybe they can get him to appear after director and producer Paige Troxell gets this next bit of funding.
If you want to help support FredHeads, they're looking for $30,000 to finish their film (the above trailer is more of a promo to help them finish their movie). As they explain on their fundraising page, once Indiegogo takes out its fees, funding will be broken down into production (40%), post-production (37%), talent/cast (10%), fulfilling perks (10%), and marketing/publicity (3%). There are several tiers of perks for those who donate, including your own copy of the movie and more. You can find out more about that on the Indiegogo page.
Wes Craven's A Nightmare on Elm Street is a global cultural phenomenon that has given eternal life to its legacy and its villain, Freddy Krueger. FredHeads is about the fans within the A Nightmare on Elm Street community.
As A Nightmare on Elm Street continues to thrive many years after its 1984 release, fans of all ages, both nationally and internationally, are invited to share their stories. With the central theme of how being a fan can change your life, FredHeads will feature enthusiasts of all types: passionate fanatics, lifelong aficionados, cosplayers, creators, artists, filmmakers, kids, and more. The documentary will also feature insight from the stars and creatives involved in the original film series, exploring the enduring legacy, the cultural impact, and the passion of the Elm Street fan community.
FredHeads will hopefully be finished for release by December 2018.