Cool Stuff: Chogrin's 'Fake Theme Parks' Art Show Is Coming To Gallery 1988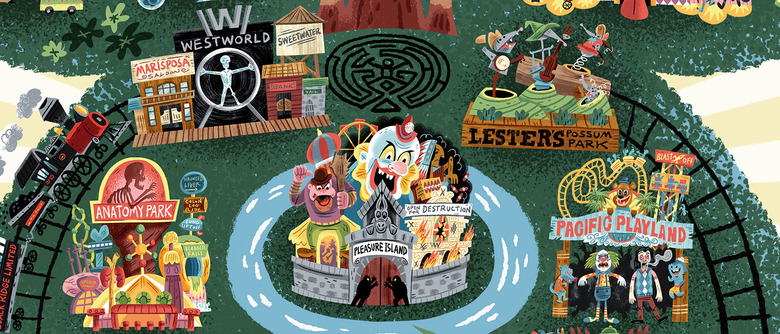 While you may have enjoyed going to the likes of Disney World or Universal Studios, there are plenty of theme parks from the world of movies and television that we'll unfortunately never get to visit. Thankfully, pop culture artist Chogrin has given us the next best thing buy curating a whole art show surrounding these places  we wish we could go.
Fake Theme Parks is a new exhibition coming to Gallery 1988 starting January 12, and as you might have guessed, it pays tribute to a variety of theme parks from the history of pop culture. Jurassic Park, Westworld, Itchy & Scratchy Land, Anatomy Park, Walley World, Pacific Playland, Dinosaur World and many more will all be honored in the Fake Theme Parks art show.
If you want an early sneak peek at some of the pieces, /Film has exclusively debuted some of the artwork below.
First up, see if you can pinpoint all the parks are from on this Fake Theme Parks art show poster by Luke Flowers: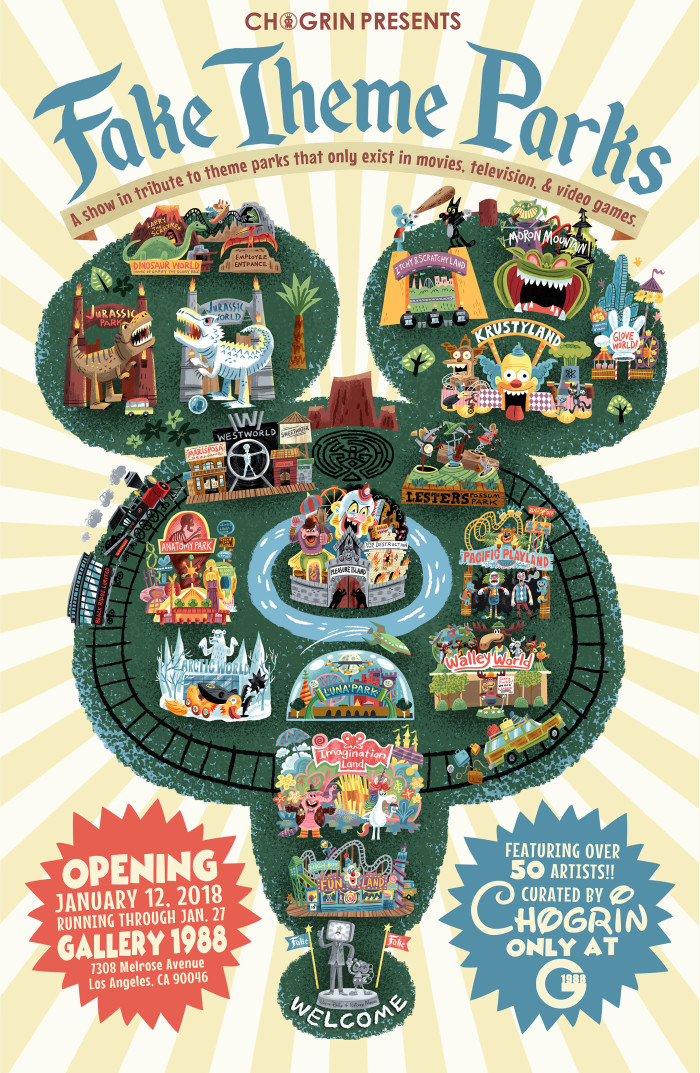 And here are some close-up images featuring various theme parks from film and television:
More specifically, here are a handful of pieces paying tribute to Jurassic Park and Jurassic World:
That larger map-style piece is actually a piece of concept art from Jurassic World designed by the original Jurassic Park art director John Bell. It just might be the coolest piece at the show, and you can only get ahold of it from Gallery 1988.
On the television side of the spectrum, here's some pieces focusing on theme parks from The Simpsons:
And here's a few pieces paying tribute HBO's update of Michael Crichton's sci-fi theme park Westworld:
Finally, here's a collection of assorted theme parks from Rick and Morty, Pinocchio and even a video game:
All of these pieces are curated and brought to you by pop-culture connoisseur Chogrin. Here's what he had to say about the upcoming show opening this weekend:
The idea of Fake Theme Parks came about one day when I was in Disneyland. I grew up with both Disney World & Disneyland and am a fan of every aspect of the parks (the history, the food, the secrets). These places have become a staple of our modern culture and will be here to stay for decades to come. That is why I thought it would be fun to create / add to theme parks that are either parodies of Disney or I wish really existed. I also gotta give credit to Michael Crichton, who has given popular culture two of the best fake theme parks ever (West World / Jurassic Park).
The above images are just a taste of what's to come, and we'll be sure to highlight more once the entire gallery of pieces are available for you to purchase for framing on your own walls. Stay tuned to Gallery 1988's website for the full collection this weekend.