2018 Golden Globes Video Highlights: Seth Meyers' Monologue, Oprah's Lifetime Achievement Speech & More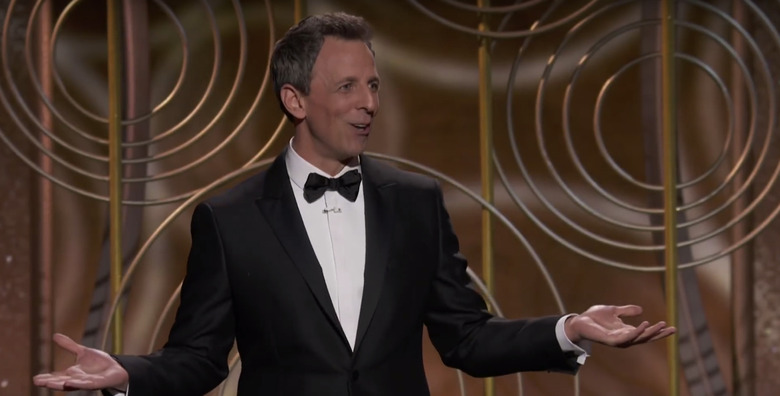 Last night, the 75th Golden Globe Awards aired on NBC, and while the night wasn't particularly exciting, it was full of a handful of big firsts for the awards presented by the Hollywood Foreign Press Association.
To kick off the night, Seth Meyers delivered a monologue targeting all of the missteps by Hollywood in the wake of sexual assault allegations against a wide variety of producers, actors and more. After that, there were a few awards handed out to actors of color for the first time ever. It's kind of crazy that's still happening, but at least Hollywood is finally embracing diversity more across the board.
We've got all those 2018 Golden Globes video highlights and more below.
First up, Seth Meyers laid into Hollywood for about 12 minutes. The elephant in the room didn't go unaddressed as Meyers joked, "For the male nominees in the room tonight, this is the first time in three months it won't be terrifying to hear your name read out loud." He even went so far as to single out Harvey Weinstein individually by saying he would become "the first person ever booed during the In Memoriam."
Next, Aziz Ansari became the first Asian actor to win a Golden Globe for best actor in a TV comedy for his lead role in Master of None. He even went out of his way to thank Italy for all the amazing food they ate while filming the second season.
Early in the night, This Is Us star Sterling K. Brown became the first African-American actor to win in the best actor in a TV drama category. Right at the top of his speech, all Brown could do was blurt out Oprah's name as one of the first people he saw from the stage. Speaking of Oprah...
The legendary talk show host became the first black woman to be awarded the Cecil B. DeMille Award for lifetime achievement. She gave a nearly 9-minute speech that brought the audience to their feet in applause. If anyone ever doubted the power of Oprah, this speech should change their mind.
Finally, you can never get enough of grateful Guillermo del Toro. I could listen to this guy read a car owner's manual and never be bored. The filmmaker gets a little emotional during his acceptance speech for winning Best Director, even though his film The Shape of Water didn't go on to win the award for Best Motion Picture – Drama. It'll be interesting to see how the nominations and awards fall when the Oscars come around.
For more speech highlights from the Golden Globes, head over here.