'Kickboxer: Retaliation' Trailer: Van Damme Smokes A Pipe!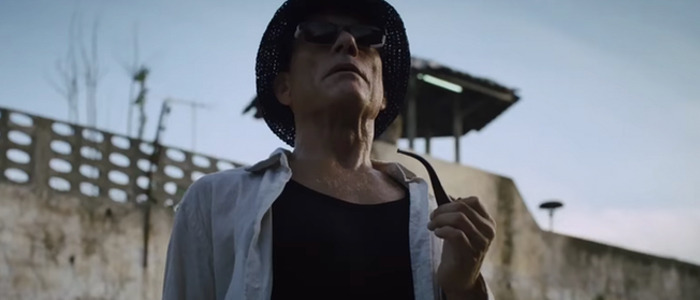 Good news, fans of movies with casts that make you say, "Hmm??" There's a Kickboxer: Retaliation trailer with your name on it! This all new action extravaganza features Jean-Claude Van Damme, Christopher Lambert, Mike Tyson and the guy who played The Mountain on Game of Thrones. Retaliation is the second film in the rebooted Kickboxer series, which first began back in 1989, when the idea of an entire Kickboxer franchise was only a beautiful dream.
In Kickboxer: Retaliation, original Kickboxer star Jean-Claude Van Damme is back yet again, clearly collecting a quick paycheck before his afternoon nap. The new Retaliation trailer features fleeting glimpses of Van Damme as he wanders around dressed like Hunter S. Thompson, smoking a Sherlock Holmes pipe for some reason. Does it make sense? It does not – just go with it. Van Damme clearly isn't in this movie that much, which means Kickboxer: Retaliation director Dimitri Logothetis decided to vill the Van Damme-shaped void with a bunch of other random cast members, including Highlander's Christopher Lambert, Mike Tyson, and Hafþór Júlíus Björnsson, the hulking man who played The Mountain on Game of Thrones. Let's watch the Kickboxer: Retaliation trailer, shall we?
Kickboxer: Retaliation Trailer
Wow, that certainly looks like an example of a film! Honestly, the only thing that caught me attention here was Van Damme and his weird Sherlock Holmes pipe. I'm not overly-familiar with the Kickboxer franchise – is that just a thing his character does? Smoke a pipe? I need answers, now. Here's the Kickboxer: Retaliation synopsis:
One year after finding vengeance for his murdered brother, MMA champion Kurt Sloane finds himself back in Thailand – kidnapped and imprisoned there by a powerful gangster (Christopher Lambert). His only shot at freedom is to win an underground death match against a 400lb killer enhanced with state-of the-art drugs (Game of Thrones' Hafþór Júlíus Björnsson) . To make it out alive, he seeks training unlike anything he's ever endured, with the help of the legendary Master Durand (Jean-Claude Van Damme) and fellow prisoner Briggs (Mike Tyson).
Oh no, how is Kurt Sloane going to get out of this one? The original Kickboxer franchise ran for 5 films:  Kickboxer, Kickboxer 2: The Road Back, Kickboxer 3: The Art of War, Kickboxer 4: The Aggressor, and Kickboxer 5: The Redemption. Only one of those, the first Kickboxer, starred Van Damme. In 2016, the franchise was rebooted with Kickboxer: Vengeance, a film that brought back Van Damme for a very limited amount of screen time. No one liked it, but here we are, with the next film in the series.
Kickboxer: Retaliation will be released January 26, 2018.