'Legion' Season 2 Will Feature A Big Time Jump [TCA 2018]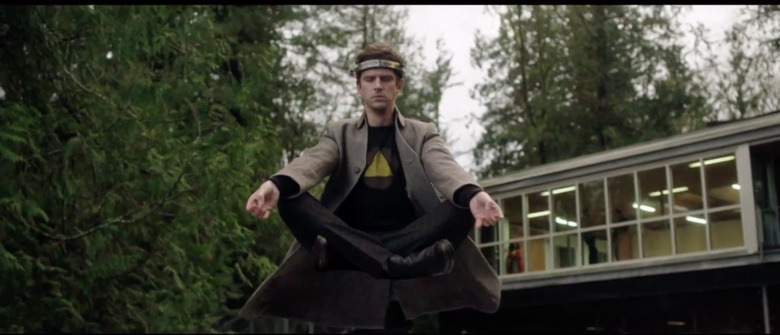 FX introduced their TCA panel for Legion season 2 with a clip from the season's second episode. David (Dan Stevens) awakens in a wheat field and finds a fortune teller booth. He quickly figures out that this is Amahl Farouk, who has previously appeared as The Shadow King in season one.
"That was Navid Negahban playing Amahl Farook for us," Hawley said during the panel. "He came on board. We didn't have a great fit with Said [Taghmaoui, who was originally cast]. Navid was good enough to come join us to play against Dan."
Hawley describes season 2 as a bit of a reset. It picks up one year later and leaves David trying to figure out what's happened in the past year.
"It's a couple of things," Hawley said. "If the first year was the story of an insane man in a sane world, then I was interested in looking at David now being the sane man in an insane world. We've established he doesn't have schizophrenia and he has these abilities. There is this time jump, for him to come back and suddenly the world is a very different place. I was interested this year in looking at a mass psychology. Mental illness can also be cultural in a way so those issues were interesting to me. We're also exploring with Dan, he's on a journey here in which in the language of this world, you have heroes and villains. It's not determined yet where he's going to end up. A lot of that's going to have to do with what's holding him on the good path, this love story with Rachel and his experience with Farouk. That's really interesting to explore I hope."
That gave Stevens new issues to portray.
"Issues of trust and in terms of who exactly has rescued him, what have they rescued him from," Stevens said. "Is he a force for good or evil? Either way, is he being used? What does that then turn that into? Which team does he end up playing for is always at play I think. that's really heightened this year."
The time jump also allows Hawley to place the audience back on uncertain footing.
"I didn't want to go in season two it's all clarity all the time, so we built in a time jump," Hawley said. "We can muddy the waters agin. I think that's the fun of the show, the mystery of trying to figure things out."
The personification of Farouk also changes things for Lenny (Aubrey Plaza), who at one point was a manifestation of Farouk's parasitic form.
"I think traumatic is the right word," Plaza said. "It's really scary to play a character that you don't know who she is. You're being used as a vessel, in the first season. Lenny almost becomes like David in a sense. She doesn't know what's real or who she is. For season two, it's like my the power I thought I had has been totally taken away from me. I'm totally stripped down. Now we have to dig deeper and see who she really is."
There is another dance scene in the season premiere. Hawley sees these as equal to the show's action.
"So much of this genre revolves around action," Hawley said. "Action can mean a lot of things. When you begin to realize David might not be as trustworthy with Sid as you thought, this confrontation with Oliver and Lenny is kind of a fight but it's also a posturing, weird courtship luster to it. The great thing with Dance is it has that attitude that in some ways is more informative."
Hawley also continues to emphasize practical effects for the surreal visions of the show.
"You notice in that first episode, rather than simply having on screen chyrons for chapter headings, we letter pressed cards so we could film them," Hawley said. "They're physical objects in the space because it reads differently. That level of detail is really important. On a costume basis as well. When you can play in a heightened palette, you can really express things. How am I going to use lighting and camera to make you feel a certain thing."
New locations are also integral to David's season two journey, Hawley said, referencing a recent shoot in the desert. Stevens concurred.
"The character of the landscape has really informed the landscape of the season and where David is at personally," Stevens said.
After the panel, Stevens spoke a bit more with reporters, adding that David's hair rises to gradually match the comic book Legion this season.
"Oh, it creeps ever higher I will say," Stevens said. "There's always moments where we're working towards it. You've really got to earn hair like that I think."
Stevens also added that David's new state of unawareness is in part a comment on second seasons of a show.
"We sort of play with the idea that there is a season 2 at all," Stevens said. "David is really struggling to get his head around the fact that it's been a year. For most people, if you catch up on season 1 and go straight into season 2, no time at all has passed. David's struggling with those time concepts as well at the beginning of the show. Everybody's going to be playing catchup, including David."
Hawley is planning for a third season of Legion. He expects to direct the movie Pale Blue Dot in the summer, and confirmed he is beginning to think of what a fourth season of Fargo can be.
"Then we've got to come back and keep this thing going because it's really a unique experience," Hawley said on the Legion panel.
Legion returns this April on FX.