'Girl In The Spider's Web' Casts 'Get Out' Star Lakeith Stanfield And 'Blade Runner 2049' Replicant Sylvia Hoeks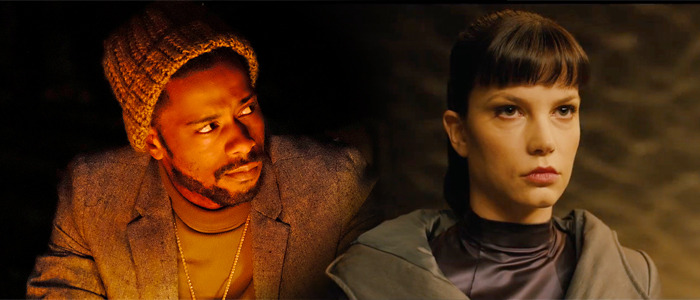 Sony Pictures continues to fill out the cast of The Girl in the Spider's Web, their relaunch of The Girl with the Dragon Tattoo franchise, with some impressive talent.
The Crown star Claire Foy is already locked down in the lead role of hacker Lisbeth Salander, and Swedish actor Sverrir Gudnason is playing her journalist companion Mikael Blomkvist. Now the film has landed Get Out and Death Note star Lakeith Stanfield in a key role, and Blade Runner 2049 co-star Sylvia Hoeks as well.The Hollywood Reporter has news on the addition to The Girl in the Spider's Web cast, which will see Lakeith Stanfield playing an NSA security expect who is tracking Salander. Will he prove to be an adversary or an ally to Lisbeth Salander? The official synopsis of the book on which the film is based seems to indicate the former:
A genius hacker who has always been an outsider. A journalist with a penchant for danger. She is Lisbeth Salander, the girl with the dragon tattoo. He is Mikael Blomkvist, crusading editor of Millennium. One night, Blomkvist receives a call from a source who claims to have been given information vital to the United States by a young female hacker. Blomkvist, always on the lookout for a story, reaches out to Salander for help. She, as usual, has plans of her own. Together they are drawn into a ruthless underworld of spies, cybercriminals, and government operatives—some willing to kill to protect their secrets.
Stanfield is a remarkable actor who has shown great skill with smaller supporting roles. His quick turn as Snoop Dogg in Straight Outta Compton was commendable, and his unnerving role in Get Out was even more satisfying. Stanfield also took more of a strange, dark turn in Netflix's adaptation of Death Note, but he also played a charming ex-boyfriend in The Incredible Jessica James, so the guy has range. Hopefully this role will allow him to stretch his legs and show off more of his dramatic chops.
As for Sylvia Hoeks, she'll be playing Salander's twin sister Camilla. She was quite an intimidating presence in Blade Runner 2049, so it'll be interesting to see how her role shakes out in this film.
Otherwise, The Girl in the Spider's Web cast also includes breakout Mindhunter star Cameron Britton and The Square star Claes Bang, who may be playing the villain assassin Holtser, one of many involved in the enigmatic criminal organization known as the "Spider Society."
Evil Dead remake helmer Fede Alvarez is directing this film, which is a sequel to The Girl With the Dragon Tattoo, but may not make any reference to the events of that film since this is starting over with an entirely new cast. Alvarez also co-wrote the script with Jay Basu (Metal Gear Solid) and Steven Knight (Peaky Blinders).
Will they be able to get audiences interested in Lisbeth Salander again and start a new franchise? We'll find out when the movie hits theaters on October 5, 2018.