'The Orville' Season 2 Will be at Least 14 Episodes, Feature Even Heavier Sci-Fi [TCA 2018]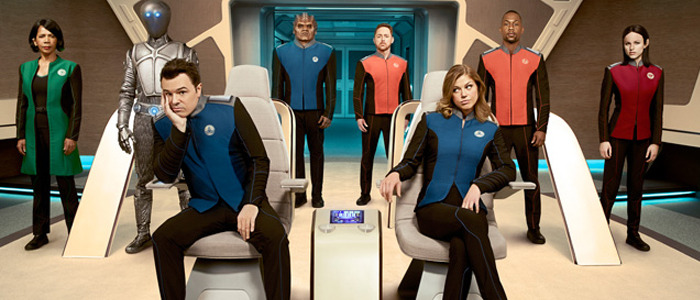 Seth MacFarlane was at the Television Critics Association winter press tour for a live reading of an upcoming Family Guy script. After the reading, MacFarlane spoke with reporters about his Fox sci-fi show The Orville. Renewed for season 2, MacFarlane promised at least 14 episodes, but not a 22 episode season.
"I think it's going to be at least 14," he said. "If we did 22, they wouldn't be good. I'd rather do fewer episodes and have them be better content-wise than do 22 and have them be filler."
The first season had 12 episodes. Early episodes surprised critics and viewers expecting another Seth MacFarlane comedy. The Orville has one-liners, but plays the science-fiction straight. MacFarlane plays the captain of a starship facing alien cultural issues like gender assignment of an infant and a world that literally executes people based on social media voting.
MacFarlane said the first season taught him The Orville could be a genuine sci-fi show and didn't have to rely on humor if it didn't serve the story. Season 2, he promised, would be even heavier science fiction.
"The show was experimental in a lot of ways," MacFarlane said. "Tone was the biggest experimental part of it. What we found was that we can lean a little more heavier into the science fiction and not have to worry so much about knocking out a joke every page. The show is an hour and really can and wants to service its storytelling in a way that makes it a priority. The jokes come as they come, the comedy comes as it comes."
The episode that put that to the test the most in season one was "Into the Fold." Dr. Claire Finn (Penny Johnson Jerald) and Isaac (Mark Jackson) get stranded on a hostile planet with Finn's children.
"It was a very dark, somber episode that still lived in that world very successfully," MacFarlane said. "That episode for me in the first season was the real test of how far we can take the genuine science-fiction aspect of it."
The Family Guy writers are pitching a joke where Stewie and Brian appear on the bridge of The Orville, but MacFarlane has veto power if he chooses.
"We'll have to see," MacFarlane said. "For me, I live with everything I ever do being compared to Family Guy so my first instinct is to let that be its own thing and keep it separate. It's to be continued."
MacFarlane added that he hopes a toy line could be produced for The Orville.
The Orville will return this fall on Fox.