'Black Panther' is a "Goliath," But "Doesn't Feel Out of Control" Says Angela Bassett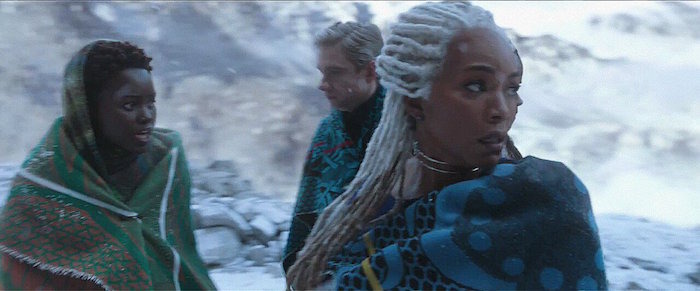 Angela Bassett was on a Television Critics Association panel for new her Fox drama 9-1-1 today. After the panel, she spoke with reporters further and /Film asked her about her experience on the film Black Panther. Bassett plays Ramonda, Wakandan royalty, alongside Chadwick Boseman as T'Challa and Michael B. Jordan as Kilmonger.
"It's got the big [feeling] but yet it doesn't feel out of control," Bassett said. "It still feels like we're making a good movie. It just happens to be huge, with Forest Whitaker here, working with young actors Daniel Kaluuya, Lupita [Nyong'o], Danai [Gurira], Isaach De Bankole. It's been very rewarding."
Bassett has experience on both extremes, having acted in intimate character dramas like What's Love Got To Do With It and Waiting to Exhale, and blockbuster tentpoles like Green Lantern and Olympus Has Fallen. Black Panther is a bit more than the average blockbuster, though. The character was the first black superhero when published by Marvel in 1966. He's also getting a major movie on the level of Marvel's other heroes. Low budget movies like Steel or debacles like Catwoman did not do their characters justice. What Black Panther represents in culture, as well as to the crew on the set, mattered to her.
"To be a part of one of these big, major goliath movies, just huge, but Black Panther, it being the first black superhero, it being helmed by a young energetic 29-year-old, Ryan Coogler and a lot of immensely talented like the costume designer Ruth Carter or Hannah Beachler, the production designer, or the producers. The enthusiasm for it months before it happens, that's something that I appreciate."
Signing on to the Marvel universe could potentially mean more films beyond the Black Panther franchise. Rowanda reportedly appears in Avengers: Infinity War too. Bassett herself is still waiting to see the finished film.
"I've only seen a little ADR footage which I loved, just whets my appetite to see more so I can't wait," she said.
Black Panther hits theaters on February 16, 2018.