'Black Panther' Soundtrack Will Be Produced And Curated By Kendrick Lamar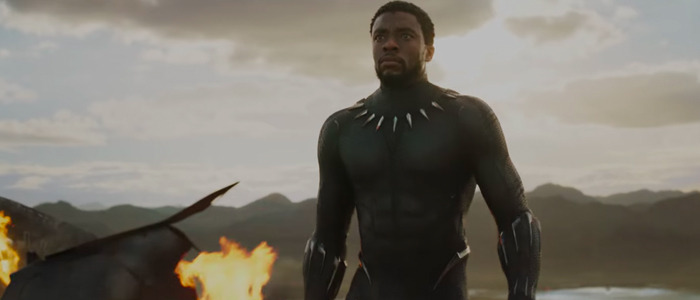 Next month's Black Panther will mark a variety of firsts for Marvel Studios: it's their first movie directed by a black filmmaker (Ryan Coogler), their first with a black lead (Chadwick Boseman) and a primarily black cast, and now we've learned it'll be the first time the studio collaborates with an internationally renowned musician to produce and curate its soundtrack. Marvel will team with Grammy winner Kendrick Lamar for the Black Panther soundtrack, which will consist of "music from and inspired by" the movie itself. Learn more about Lamar's plans for Black Panther: The Album, and listen to the first single below.
Ryan Coogler hand-picked Lamar as his collaborator on this project. To mark today's announcement, they've released the album's lead single, "All The Stars," which features Lamar and SZA on vocals:
Lamar is producing and curating the entire album alongside Anthony "Top Dawg" Tiffith. Obviously Marvel has had big success with soundtracks before (especially those curated for the Guardians of the Galaxy movies by director James Gunn), but this will be "the first time in Marvel Cinematic Universe history that Marvel Studios will integrate multiple original recordings created specifically for the film."
Here's a statement from Lamar that came along with the press release:
"Marvel Studios' Black Panther is amazing, from its cast to its director. The magnitude of this film showcases a great marriage of art and culture. I'm truly honored to contribute my knowledge of producing sound and writing music alongside Ryan and Marvel's vision."
As if we needed another reason to get excited about Black Panther, here comes Kendrick freakin' Lamar to take the soundtrack to another level. We already knew this movie was going to look different from any other Marvel movie, but now we know it'll sound different, too – and I can't wait to hear what they come up with.
Marvel Studios' Black Panther follows T'Challa who, after the death of his father, the King of Wakanda, returns home to the isolated, technologically advanced African nation to succeed to the throne and take his rightful place as king. But when a powerful old enemy reappears, T'Challa's mettle as king—and Black Panther—is tested when he is drawn into a formidable conflict that puts the fate of Wakanda and the entire world at risk. Faced with treachery and danger, the young king must rally his allies and release the full power of Black Panther to defeat his foes and secure the safety of his people and their way of life.
Black Panther hits theaters on February 16, 2018.