'Truth Or Dare' Trailer: 'It Follows' Meets 'Final Destination' In Blumhouse's Latest Scare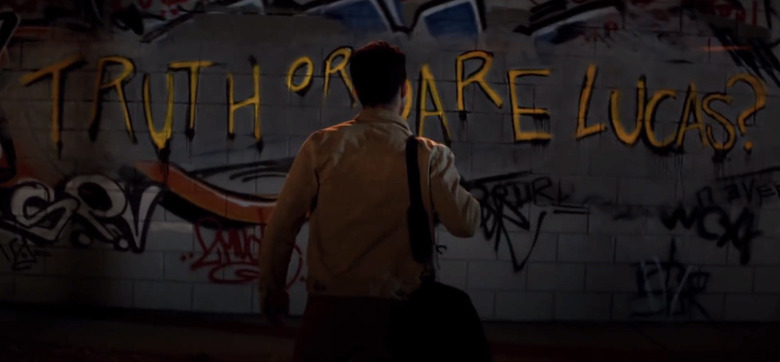 The game of truth or dare comes up in every teen's life when hormones, underage drinking, drugs, and stupid decisions brought about by all of the above are involved. It's usually embarrassing and risque, but Universal and Blumhouse Pictures are about to make it deadly.
Truth or Dare is the latest horror film from Jason Blum, the producer of Paranormal Activity, Insidious and Get Out, and it looks like the movie could have teens swearing off playing the game ever again when it turns on a group of friends, forcing them to ruin each others lives by either revealing their darkest secrets or killing them. You might even end up killing yourself.
Watch the Truth or Dare trailer below.
Truth or Dare Trailer
It looks like Saw meets Final Destination as a game of Truth or Dare played on vacation in Mexico. Naturally, it goes terribly wrong. The trailer takes an interesting turn when Carter admits that he brought Olivia (Lucy Hale) and her friends back to his place to trick them. He says, "I'm okay with strangers dying if it means I get to live." And with that he gives Olivia an ominous warning about the game finding her and her friends.
Back home, some weird events start unfolding as this group of friends finds themselves engaged in a neverending game of Truth or Dare. Except this time the consequences for not telling the truth or doing the dare are higher: you die.
While I like the concept of this movie in theory, the execution feels very strange. The creepy smiles that the players and the visions around them take on are unnerving, but they also look incredibly fake. At times, certain characters look like the lead in Alita: Battle Angel, which is more off-putting than scary. The deaths do seem pretty gruesome, and some of the dares will definitely make you cringe, but it still feels like a weaker version of It Follows crossed with Final Destination.
Lucy Hale (Pretty Little Liars) and Tyler Posey (Teen Wolf) lead the cast of Truth or Dare, which also stars Violett Beane, Nolan Gerard Funk, Hayden Szeto and Sophia Taylor Ali.
Director Jeff Wadlow (Kick-Ass 2) is at the helm of Truth or Dare, and it arrives in theaters on April 27, 2018.