American Cinema Editors' 2018 ACE Eddie Award Nominations Include 'Dunkirk', 'Get Out' & More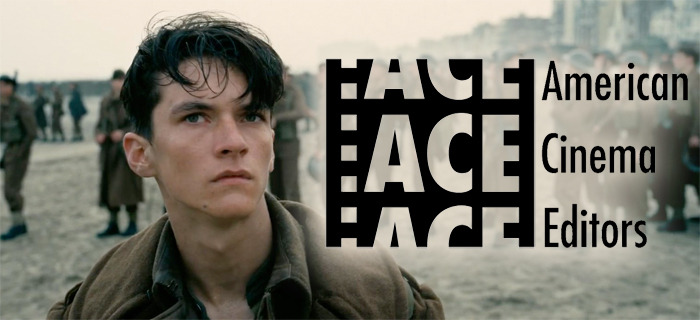 Even though we're now officially into 2018, awards season continues in Hollywood. The Golden Globes are coming up this weekend and now the various guilds and organizations that represent the talented people who work behind the scenes of your favorite movies are putting forth the nominations for their own awards.
Today, it's the American Cinema Editors announcing the nominees for their 68th ACE Eddie Awards. Like the Golden Globes, the ACE Eddie Awards divide the motion picture categories up into "dramatic" and "comedy," which means Get Out is again strangely regarded as a comedy. Other nominees across the movie board include Dunkirk, Baby Driver and The LEGO Batman Movie. Meanwhile, television nominees include Portlandia, Curb Your Enthusiasm, Better Call Saul, Game of Thrones and more.
Check out the full list of the 2018 ACE Eddie Award nominations below.
As you'll see, awards season favorites landed nominations in both feature film categories, though some like Call Me By Your Name, Battle of the Sexes and Phantom Thread were left out in the wind. Plus, smaller movies like A Ghost Story were ignored, but that's usually how it goes with the American Cinema Editors. Of course, only five of these films will end up nominated for an Academy Award when the time comes. Anyway, without further adieu, here are all the nominations:
Best Edited Feature Film (Dramatic)Blade Runner 2049 - Joe Walker, ACEDunkirk - Lee Smith, ACEMolly's Game - Alan Baumgarten, ACE, Josh Schaeffer & Elliot Graham, ACEThe Post - Michael Kahn, ACE & Sarah BrosharThe Shape of Water - Sidney Wolinsky, ACEBest Edited Feature Film (Comedy)Baby Driver - Jonathan Amos, ACE & Paul Machliss, ACEGet Out - Gregory PlotkinI, Tonya - Tatiana S. Riegel, ACELady Bird - Nick HouyThree Billboards Outside Ebbing, Missouri - Jon Gregory, ACEBest Edited Animated Feature FilmCoco - Steve BloomDespicable Me 3 - Clair DodgsonThe Lego Batman Movie - David Burrows, ACE, Matt Villa & John Venzon, ACEBest Edited Documentary (Feature)Cries From Syria - Aaron I. ButlerJane - Joe Beshenkovsky, ACE, Will Znidaric, Brett MorgenJoan Didion: The Center Will Not Hold - Ann CollinsLA 92 - TJ Martin, Scott Stevenson, Dan LindsayBest Edited Documentary (Small Screen)The Defiant Ones – Part 1 - Lasse Järvi, Doug PrayFive Came Back: The Price of Victory - Will ZnidaricThe Nineties – Can We All Get Along? - Inbal Lessner, ACERolling Stone: Stories from the Edge – 01 - Ben Sozanski, ACE, Geeta Gandbhir; Andy Grieve, ACEBest Edited Comedy Series for Commercial TelevisionBlack-ish: "Lemons" – John Peter Bernardo, Jamie PedrozaCrazy Ex-Girlfriend: "Josh's Ex-Girlfriend Wants Revenge" – Kabir Akhtar, ACE & Kyla PlewesPortlandia: "Amore" – Heather Capps, Ali Greer, Jordan KimWill & Grace: "Grandpa Jack" – Peter BeytBest Edited Comedy Series for Non-Commercial TelevisionCurb Your Enthusiasm: "Fatwa!" – Steven Rasch, ACECurb Your Enthusiasm: "The Shucker" – Jonathan Corn, ACEGlow: "Pilot" – William Turro, ACEVeep: "Chicklet" – Roger Nygard, ACE & Gennady FridmanBest Edited Drama Series for Commercial TelevisionBetter Call Saul: "Chicanery" – Skip Macdonald, ACEBetter Call Saul: "Witness" – Kelley Dixon, ACE & Skip Macdonald, ACEFargo: "Aporia" – Henk Van Eeghen, ACEFargo: "Who Rules the Land of Denial" – Andrew Seklir, ACEBest Edited Drama Series for Non-Commercial TelevisionBig Little Lies: "You Get What You Need" – David BermanGame of Thrones: "Beyond the Wall" – Tim Porter, ACEHandmaid's Tale: "Offred" – Julian Clarke, ACE & Wendy Hallam MartinStranger Things: "The Gate" – Kevin D. Ross, ACEBest Edited Miniseries or Motion Picture for TelevisionFeud: "Pilot" – Adam Penn, ACE & Ken RamosGenius: Einstein "Chapter One" – James D. WilcoxThe Wizard of Lies - Ron PataneBest Edited Non-Scripted SeriesDeadliest Catch: "Lost at Sea" – Rob Butler, ACE & Ben Bulatao, ACELeah Remini: Scientology and the Aftermath: "The Perfect Scientology Family" – Reggie Spangler, Ben Simoff, Kevin Hibbard & Vince OresmanVICE News Tonight: "Charlottesville: Race & Terror" – Tim Clancy, Cameron Dennis, John Chimples & Denny Thomas
***
That's all for the 2018 ACE Eddie Award nominations. The winners will be announced on January 26 at a ceremony held at the Beverly Hilton in Los Angeles. We'll be sure to let you know who won in each category after they're announced.