'The End Of The F**king World' Trailer: A Psychopath Teen And His Rebel Girlfriend Hit The Road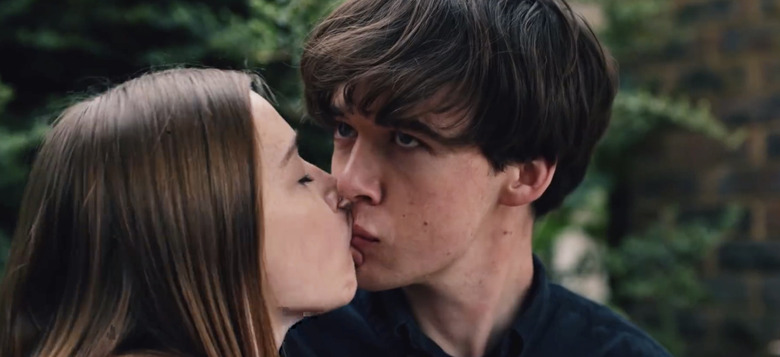 We may receive a commission on purchases made from links.
What happens when a disturbed teenage boy hits the road with his foul-mouthed girlfriend? Hilarity ensues amidst the stoic and casual chaos. At least that's what it looks like in the first trailer for a new Netflix series arriving from across the pond.
The End of the F**king World is an original series that has already aired on Channel 4 in the United Kingdom, but is coming to the United States for the first time later this week. Based on Charlie Forsman's acclaimed graphic novel from last year, the eight episode series takes two twisted teens on the road for a weird and wild romance full of insanity and instability. Watch the first trailer for the series below to see what we're talking about, but beware that the language is NSFW.
The End of the F**king World Trailer
The series appears to take the usual teenage romance formula we've seen at countless film festivals and mixes it up in a darkly comedic way by following Alex Lawther as James, a boy who has some dark tendencies and plans. They include pretending to fall in love with a sassy teenage girl named Alyssa (Jessica Barden) and killing her. But James' plans get changed up when Alyssa decides to leave their shithole town, and he heads off with her after punching his father and stealing his car.
It appears James' plan may be even further complicated when he sees that Alyssa might be just as fucked up and disturbed as he is, especially when they go on their first date. Could this be the beginning of a heartwarming twisted romance? It certainly seems like a Natural Born Killers meets (500) Days of Summer with a British twist, but with only a couple minutes of a sneak peek at the eight episode series, it's hard to know for sure. There's only one way to find out.
Here's the official synopsis for the series:
Based on the award-winning graphic novels, adapted by acclaimed newcomer Charlie Covell, the eight episode series follows James (Alex Lawther, Black Mirror) and Alyssa (Jessica Barden, Penny Dreadful) – a self-proclaimed psychopath and a foul-mouthed rebel fed-up with her boring life. The two embark on a roadtrip to find a better life, and escape the impending doom of adulthood. As their chaotic journey unfolds, it becomes apparent that James and Alyssa have crossed a line and have no choice but to take it as far as they can...
The End of the F**king World hits Netflix starting on January 5, 2018.