New 'Black Panther' Trailer Coming Next Week, Full Runtime Possibly Revealed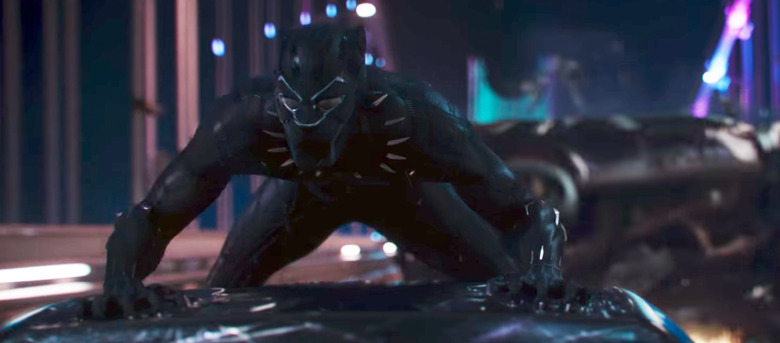 Now that it's officially 2018, the arrival of Black Panther is imminent. The superhero movie will be the first of three Marvel Studios titles hitting theaters this year, and it's easily one of the most anticipated movies of the entire year, This movie looks vastly different from any Marvel Cinematic Universe title that has come before it, and not only because it's the first time a black superhero is being given the spotlight with their own movie with a predominantly black cast behind them. And we'll get a much better look at the movie very soon.
A new Black Panther trailer has been confirmed to arrive next week during the College Football Playoff National Championship on ESPN, the sports network which just so happens to be owned by the Walt Disney Corporation. How's that for some synergy?
Over the New Year's holiday, a TV spot that played during college football playoff games announced that the final Black Panther trailer will arrive sometime during the College Football Playoff National Championship on January 8. While the game begins at 8pm ET on ESPN, there's no indication as to when the trailer will premiere, but it will likely be highly publicized throughout the game. No matter when it debuts, we'll be sure to post it online immediately after it debuts.
This will likely be the final full length trailer we get for Black Panther since the movie is opening in February, but there's bound to be more footage on the way in the form of new TV spots and featurettes aimed at audiences who may not yet be excited for the Marvel Studios movie.
Some had thought that the first teaser trailer for Solo: A Star Wars Story might debut during the annual major sporting event, but I'm betting that Disney and Lucasfilm are holding onto that until just before Black Panther hits theaters. But that's just speculation on our part.
Speaking of Black Panther in theaters, it appears that we now have an idea of just how long we'll be watching the Wakanda superhero on screen next month. A new listing on EventCinemas.com (via ScreenRant) indicates that the movie clocks in at 2 hours 15 minutes. That sounds like the expected length for a Marvel Studios movie. It's on par with last year's Spider-Man: Homecoming (2 hours 13 minutes), Guardians of the Galaxy Vol. 2 (2 hours 16 minutes) and Thor: Ragnarok (2 hours 10 minutes). However, that's not official yet, so the final runtime could be slightly different.
Black Panther stars Chadwick Boseman as the titular superhero who made his debut in Captain America: Civil War. The rest of the cast features Michael B. Jordan, Michael B. Jordan, Lupita Nyong'o, Danai Gurira, Martin Freeman, Daniel Kaluuya, Letitia Wright, Winston Duke, Angela Bassett, Forest Whitaker, and Andy Serkis, all under the direction of Creed helmer Ryan Coogler.
Here's the official synopsis:
Marvel Studios' "Black Panther" follows T'Challa who, after the death of his father, the King of Wakanda, returns home to the isolated, technologically advanced African nation to succeed to the throne and take his rightful place as king. But when a powerful old enemy reappears, T'Challa's mettle as king—and Black Panther—is tested when he is drawn into a formidable conflict that puts the fate of Wakanda and the entire world at risk. Faced with treachery and danger, the young king must rally his allies and release the full power of Black Panther to defeat his foes and secure the safety of his people and their way of life.
Come back next week for the new Black Panther trailer as we wait for the movie to arrive on February 16, 2018.