Will Boba Fett Appear In 'Solo: A Star Wars Story'?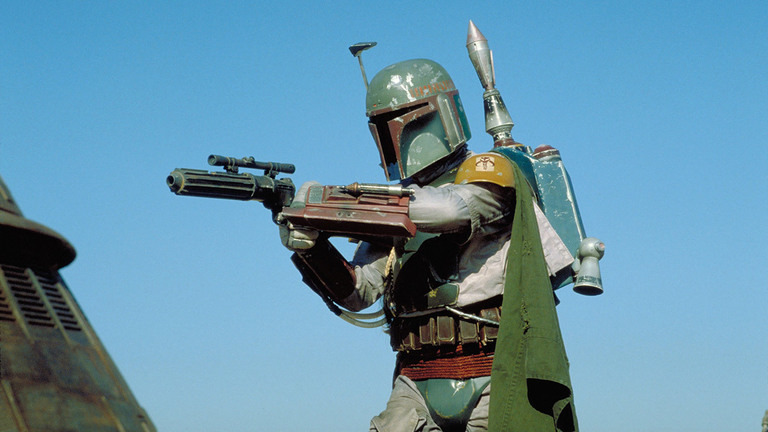 Solo: A Star Wars Story will hit theaters in May of 2018, but we've yet to see a teaser trailer or any official stills from the movie that takes place before the events of Star Wars: A New Hope (though an unofficial promo image recently surfaced online). That's likely because Disney and Lucasfilm want the focus to be on Star Wars: The Last Jedi for the time being, but fans are still eager to get their first look at the Star Wars origin story of one of the most favorite characters in the entire saga.
While we don't have a new look at Solo: A Star Wars Story yet, a certain detail hinting at the appearance of another fan favorite character may have slipped right under our noses. Director Ron Howard posted several photos from the set when the film was still in production, but none of them had anything particularly revealing in them. However, one fan took a much closer look at one of the photos, and it just might hint at an appearance by the notorious bounty hunter Boba Fett in the Han Solo movie.
Here's the photo in question that has fans buzzing about the return of Han Solo's longtime rival:
Had to say goodbye to my friend @Paul_Bettany today. Another terrific performance from a world class talent. pic.twitter.com/6jkNKQNQZZ

— Ron Howard (@RealRonHoward) September 16, 2017
In case you can't spot the possible hint at Boba Fett's presence, take a look at this and see what you think:
Yes, that silhouette in the background of the photo (pointed out on Reddit) certainly looks like a Mandalorian helmet. Initially I thought the positioning of the rangefinder (or antenna) on the helmet was a little off based on where the helmet appears to be facing, but when comparing it to Mike Mitchell's illustration on the right, it looks to be a perfect match.
However, it should be noted that just because we see what appears to be a Mandalorian helmet in the background of this shot doesn't mean that Boba Fett will make an appearance. Though it would certainly make sense that Han Solo's rival would be part of the character's life before the events of Star Wars: A New Hope, let's not forget there are other Mandalorians out there.
If Boba Fett doesn't specifically make an appearance, it would be interesting if this Mandalorian was Star Wars Rebels character Sabine Wren making a background cameo. But since Sabine Wren is fairly young, this scene would have to take place much later in Han Solo's early years, significantly closer to the events of Star Wars: A New Hope, for the character to be old enough to be frequenting an establishment like this.
For now, this is nothing more than a blurry image that happens to have a shadow looking similar to that of Boba Fett's helmet. We still have no confirmation on whether the bounty hunter will make an appearance in the movie, but if a movie focusing on Boba Fett is back in the works as has recently been rumored, this would be a good way to set it up. Hopefully we'll get more details on the Solo: A Star Wars Story soon enough.
Solo: A Star Wars Story features Alden Ehrenreich as a young Han Solo, whose origin will be explored in the years leading up to his involvement in the battle between the Empire and the Rebellion. This includes finding out how he meets Chewbacca (Joonas Suotomo) and ends up in the possession of the Millennium Falcon, which we know he won at some point from Lando Calrissian (Donald Glover).
The rest of the cast includes Woody Harrelson, Emilia Clarke, Thandie Newton, Phoebe Waller-Bridge and Paul Bettany.
Solo: A Star Wars Story is set to open in theaters on May 25, 2018.