'Goosebumps 2' And 'Alpha' Get New Release Dates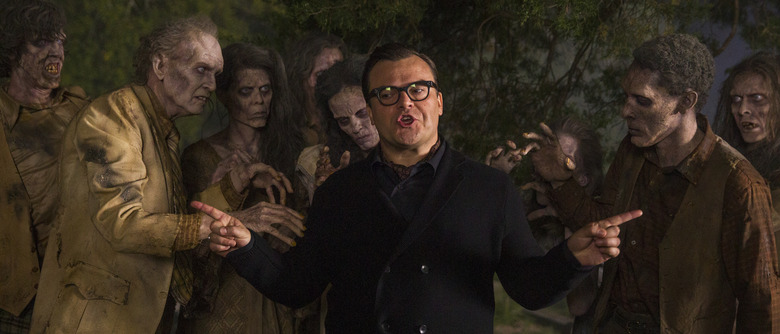 Everyone break out your calendars and red pens – Sony is shuffling their release dates.
Goosebumps 2, which has faced its fair share of speed bumps throughout development, and Alpha, a historical adventure movie about a caveman and his wolf buddy that has jumped around the schedule a few times now, both have new release dates.Deadline reports that Goosebumps 2 will now open on October 12, 2018, a few weeks later than its original September 21, 2018 release date. This announcement arrives weeks after Ari Sandel was hired to helm the sequel to the 2015 family-friendly horror flick, which is based on R.L. Stine's series of children's books about things that go bump in the night. And that news came shortly after Rob Lieber was hired to rewrite the screenplay. In other words, Goosebumps 2 does not sound like it'll be ready in less than a year, so it's surprising that Sony is clinging to a fall 2018 release date at all. Why not bump the film to 2019 and secure the involvement of original star Jack Black, whose busy schedule has been a roadblock to getting him in the sequel? Currently, Sony has two scripts, one that features Black and one that doesn't.
Meanwhile, Alpha will now open on September 14, 2018, a huge leap from its previous March 2, 2018 release date...which was a huge leap from its original release date of September 15, 2017. You may recall that the first Alpha trailer arrived in July of this year and the marketing entered total radio silence shortly after that. This doesn't confirm that Albert Hughes' film about a young caveman surviving in the wilderness with the help of a wolf is in trouble, but it's certainly not a good sign. Movies don't get delayed by an entire year unless something is up behind the scenes. At the very least, a delay this long allows Alpha to get a clean start in 2018 as Sony re-launches a marketing campaign.
If the release dates stick, Goosebumps 2 will go up against First Man and Hellfest at the box office. Alpha will open alongside Fighting With My Family and The Darkest Minds.