Dave Chappelle Debuting Two New Netflix Stand-Up Specials On New Year's Eve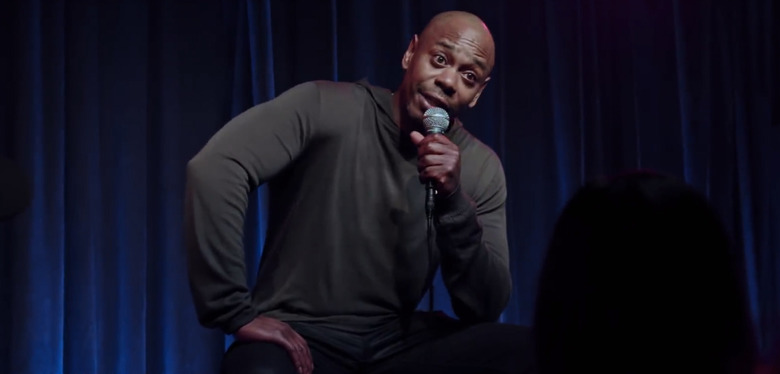 For some, New Year's Eve is an excused to get dressed up in your fanciest outfits and find the nearest party providing dinner, booze, dancing and a loud way to ring in the new year. For others, it's an excuse to relax at home, sit on the couch, and watch whatever is available before the ball drops for the countdown to midnight. Thankfully, Netflix will have the latter covered with two new stand-up specials from one of the best stand-up comedians on their roster.
Dave Chappelle returned to stand-up in a big way earlier this year with two new stand-up specials already available on the streaming service, and now he's dropping two more on New Year's Eve, exceeding the deal he originally sparked with Netflix for three exclusive comedy specials. Get a sneak preview of the new Netflix Dave Chappelle stand-up specials below.
As you can see, the two new specials are Dave Chappelle: Equanimity and Dave Chappelle: The Bird Revelation. They'll both be available on December 31, so you'll have at least a couple hours to laugh with friends on the couch.
The two new specials come after The Age of Spin: Dave Chappelle Live at the Hollywood Palladium and Deep in the Heart of Texas: Dave Chappelle Live at Austin City Limits. As we said, that brings the total to four stand-up specials, and that appears to be because Dave Chappelle simply had so much to say before 2017 was over. Both specials are brand new, and thanks to how wrong this year has gone on a number of levels, Chappelle's stand-up specials should be ripe with hilarious commentary.
Dave Chappelle is easily one of the best stand-up comedians working today, and he's part of Netflix's impressive array of comedians with exclusive deals at the streaming service, including Jerry Seinfeld and Chris Rock. Louis C.K. also used to be included in that line-up, but he's demolished his career after sexual misconduct accusations surfaced from his past.
With all the stand-up specials available on Netflix nowadays (many of which are not that great), a couple new specials from one of the best is exciting, especially to close out the new year. Will you be watching either of Dave Chappelle's stand-up specials this weekend?