When Do Your Favorite TV Shows Return In 2018? Get The Full List Of Midseason Premiere Dates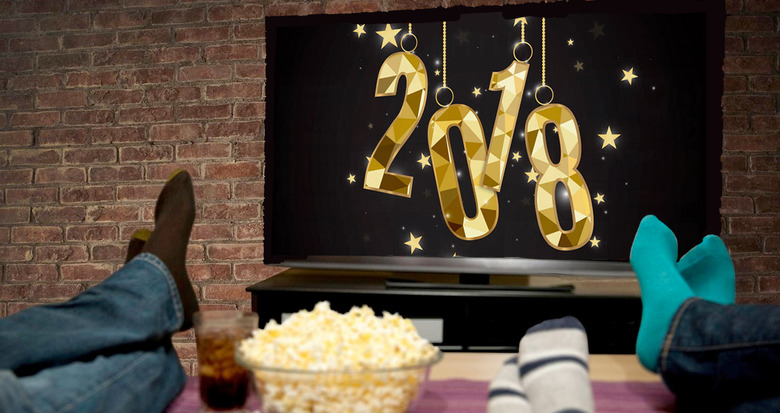 Since we're right in the middle of the holiday season, many of your favorite TV shows are on hiatus for a few weeks until after the New Year. That means you have enough time to catch up on the shows you fell behind on, or maybe it gives you an opportunity to binge a new show and get caught up before it returns in 2018. Either way, we've got a full list of the return dates for all of your favorite TV shows in the first few months of the year, not to mention some brand new shows making their debut.
Get the full list of 2018 TV premiere dates below.
For all you Arrowverse fans out there, you might want to tune in to The CW on January 16, because that's when the new DC Comics series Black Lightning hits the air. The series hasn't yet confirmed if it will actually be tied into the Arrowverse along with Supergirl, The Flash, DC's Legends of Tomorrow and of course Arrow, but that's likely only so it can stand on its own before it officially becomes part of the larger world. The CW likely wants to see how the series performs before they go linking it to their four other successful series, but if the ratings are good and fans respond well, then you can expect the superhero to join the line-up.
Personally, I'm intrigued by LA to Vegas on FOX, especially since it's executive produced by Will Ferrell and Adam McKay. Dylan McDermott stars in the comedy series about a flight crew that makes the trip from Los Angeles to Las Vegas over and over again. Easily the most exciting prospect of this series is that it will see Mulroney facing off with Dermot Mulroney sometime in the first season. That show arrives early in 2018 on January 2.
There's also AP Bio on NBC. Patton Oswalt and Glenn Howerton star in the comedy series about a philosophy scholar (Howerton) loses out on his dream job and goes to work as a high school Advanced Placement biology teacher, where he makes it clear he will not be teaching any biology. Realizing he has a room full of honor roll students at his disposal, he decides instead to use the kids to his own benefit. The series is written by Saturday Night Live's Mike O'Brien, who also executive produces with Lorne Michaels, Seth Meyers, Andrew Singer and Mike Showmaker. The show premieres on February 1.
If you're looking for something exciting to stream early in the year, Amazon Prime will be debuting the new sci-fi anthology series Philip K. Dick's Electric Dreams. Based on short stories from the author whose work inspired movies such as Blade Runner and Minority Report, Amazon is hoping this will be their own little Black Mirror sort of series, and with a cast that includes Steve Buscemi, Jack Reynor, Geraldine Chaplin, Anna Paquin, Greg Kinner, Mireille Enos, Richard Madden, Holliday Grainger, Jason Mitchell, Vera Farmiga, Juno Temple, Janelle Monae, Liam Cunningham, Terrence Howard, Benedict Wong, it just might work out for them. Catch it on Amazon on January 12.
Otherwise, you can check out when all of the other ongoing series that you watch are returning with the full list of return dates below. Thanks to Deadline for the heads up on all these premiere dates.
January 1Valor (The CW, Season 1B)Lovesick (Netflix, Season 3)Unikitty! (Cartoon Network, new animated series)January 2NCIS (CBS, Season 15B)NCIS: New Orleans (CBS, Season 4B)Bull (CBS, Season 2B)Chicago Med (NBC, Season 3B)Lethal Weapon (Fox, Season 2B)LA to Vegas (Fox, new drama series)The Mick (Fox, Season 2B; new time slot)January 3The Goldbergs (ABC, Season 5B)Speechless (ABC, Season 2B)Modern Family (ABC, Season 9B)American Housewife (ABC, Season 2B)SEAL Team (CBS, Season 1B)Criminal Minds (CBS, Season 13B)The Blacklist (NBC, Season 5B)Law & Order: SVU (NBC, Season 19B)Chicago P.D. (NBC, Season 5B)The X-Files (Fox, Season 11)9-1-1 (Fox, new drama series)Grown-ish (Freeform, new comedy series)January 4The Big Bang Theory (CBS, Season 11B)Young Sheldon (CBS, Season 1B)Mom (CBS, Season 5B)Life in Pieces (CBS, Season 3B)S.W.A.T. (CBS, Season 1B)Superstore (NBC, Season 3)The Good Place (NBC, Season 2B)Will & Grace (NBC, Season 1B)Great News (NBC, Season 2B)Chicago Fire (NBC, Season 6B)Nashville (CMT, Season 6)January 5Marvel's Agents of S.H.I.E.L.D.(ABC, Season 5B)MacGyver (CBS, Season 2B)Hawaii Five-0 (CBS, Season 8B)Blue Bloods (CBS, Season 8B)Crazy Ex-Girlfriend (The CW, Season 3B)Comedians in Cars Getting Coffee (Netflix, Season 10; new network)Devilman Crybaby (Netflix, new anime series)Rotten (Netflix, new miniseries)Unikitty! (Cartoon Network, time slot premiere)January 7Wisdom of the Crowd (CBS, Season 1B)NCIS: Los Angeles (CBS, Season 9B)Madam Secretary (CBS, Season 4B)Bob's Burgers (Fox, Season 8B)The Simpsons (Fox, Season 29B)Ghosted (Fox, Season 1B)Family Guy (Fox, Season 15B)The Last Man on Earth (Fox, Season 4B)The 75th annual Golden Globe Awards (NBC, live special)The Chi (Showtime, new drama series)Star Trek: Discovery (CBS All Access, Season 1B)After Trek (CBS All Access, Season 1B)January 8The Good Doctor (ABC, Season 1B)The Brave (NBC, Season 1B)January 9This Is Us (NBC, Season 2B; moved from January 2)The Haves and the Have Nots (OWN, Season 5)The Fosters (Freeform, Season 5B)January 10The Magicians (Syfy, Season 3)If Loving You Is Wrong (OWN, Season 4B)Alone Together (Freeform, new comedy series)January 12Blindspot (NBC, Season 3B)Taken (NBC, Season 2B)Disjointed (Netflix, Season 1B)Somebody Feed Phil (Netflix, new docuseries)Philip K. Dick's Electric Dreams (Amazon Prime, new anthology drama series)January 14Divorce (HBO, Season 2)Crashing (HBO, Season 2)Victoria (PBS, Season 2)Hot Streets (Adult Swim, new shortform animated series)January 15Kevin Can Wait (CBS, Season 2B)Man with a Plan (CBS, Season 2B)Superior Donuts (CBS, Season 2B)9JKL (CBS, Season 1B)Scorpion (CBS, Season 4B)Supergirl (The CW, Season 3B)January 16Black Lightning (The CW, new drama series)The Flash (The CW, Season 4B)The Paynes (OWN, new comedy series)January 17Riverdale (The CW, Season 2B)Dynasty (The CW, Season 1B)The Assassination of Gianni Versace: American Crime Story (FX, Season 2 of anthology series)The Path (Hulu, Season 3)Corporate (Comedy Central, new comedy series)January 18Grey's Anatomy (ABC, Season 14B)Scandal (ABC, Season 7B; final season)
How to Get Away with Murder (ABC, Season 4)
Supernatural (The CW, Season 13B)Arrow (The CW, Season 6B)Tiempos de guerra (Netflix, Spanish drama series)Beyond (Freeform, Season 2)Portlandia (IFC, Season 8; final season)Jordskott (Shudder, Season 2)January 19Grace and Frankie (Netflix, Season 4)Trolls: The Beat Goes On! (Netflix, new animated series)Real Time with Bill Maher (HBO, Season 16)High Maintenance (HBO, Season 2)The Paynes (OWN, time slot premiere)January 20Planet Earth: Blue Planet II (BBC America, new nature series)January 21The Resident (Fox, new drama series)Counterpart (Starz, new drama series)January 22Mosaic (HBO, new drama limited series)The Alienist (TNT, new drama series)The Resident (Fox, time slot premiere)Dear Murderer (Acorn TV, Season 1; U.S. premiere)January 23Bellevue (WGN America, new drama series)The Detour (TNT, Season 3)Baskets (FX, Season 3)Drunk History (Comedy Central, Season 5)Another Period (Comedy Central, Season 3)The Quad (BET, Season 2)January 24Waco (Paramount Network, new limited series)Schitt's Creek (Pop, Season 4)Let's Get Physical (Pop, new comedy series)David Attenborough's Great Barrier Reef (Smithsonian Channel, new documentary series)January 26Jane the Virgin (The CW, Season 4B)One Day at a Time (Netflix, Season 2)Llama Llama (Netflix, new kids series)The Adventures of Puss in Boots (Netflix, Season 6)January 28
The 60th annual Grammy Awards (CBS, live special)
El Ministerio del Tiempo (Netflix, Season 3)January 30Babylon Berlin (Netflix, new German drama series)January 31Big Papi Needs a Job (Fusion, new unscripted series)Step Up: High Water (YouTube Red, new drama series)January TBASwedish Dicks (Pop, Season 2)February 1A.P. Bio (NBC, new comedy series preview)February 22 Dope Queens (HBO, new comedy series)
Altered Carbon (Netflix, new drama series)
Strike Back (Cinemax, Season 5)February 92018 Winter Olympics Opening Ceremony (NBC, special)February 11Homeland (Showtime, Season 7)Our Cartoon President (Showtime, new animated comedy series)
Here and Now (HBO, new drama series)
February 12DC's Legends of Tomorrow (The CW, Season 3B)February 14This Close (SundanceTV, new drama series)February 15Stargate Origins (Stargate Command, new drama series)February 16Mozart in the Jungle (Amazon Prime, Season 4)February 23The Tick (Amazon Prime, Season 1B)February 25The Walking Dead (AMC, Season 8B)Talking Dead (AMC, Season 7B)Ash vs. Evil Dead (Starz, Season 3)February 26Living Biblically (CBS, new comedy series)The Voice (NBC, Season 14)Good Girls (NBC, new drama series)UnReal (Lifetime, Season 3)Shoot the Messenger (WGN America, new drama series)February 27Unsolved: The Murders of Tupac and the Notorious B.I.G. (USA Network, new drama series)February 28Designated Survivor (ABC, Season 2B)The Looming Tower (Hulu, new drama limited series)March 1A.P. Bio (NBC, time slot premiere)March 2Once Upon a Time (ABC, Season 7B)B: The Beginning (Netflix, new anime series)March 4The Good Fight (CBS All Access, Season 2)The 90th annual Academy Awards (ABC, live special)March 7Hap and Leonard: The Two-Bear Mambo  (SundanceTV, Season 3)Hard Sun (Hulu, new drama series)March 8Marvel's Jessica Jones (Netflix, Season 2)The Oath (Crackle, new drama series)March 9Love (Netflix, Season 3; final season)March 11Instinct (CBS, new comedy series)NCIS: Los Angeles (CBS, Season 9B)Madam Secretary (CBS, Season 4B)March 13Rise (NBC, new drama series)March 20Rise (NBC, time slot premiere)March 26The Terror (AMC, new drama series)March 27Roseanne (ABC, new comedy series revival)March 29Siren (Freeform, new drama series)March TBAEmpire (Fox, Season 4B)Star (Fox, Season 2B)Scream (MTV, Season 3)April 3Shadowhunters (Freeform, Season 3)April 10In Contempt (BET, new drama series)April 13Rellik (Cinemax, new drama series)April 16Supergirl (The CW, Season 3C)April TBAThe Handmaid's Tale (Hulu, Season 2)Howards End (Starz, new miniseries)