Cool Stuff: 'Raiders Of The Lost Ark' Gets A Gorgeous "The Temple Falls" Print By JC Richard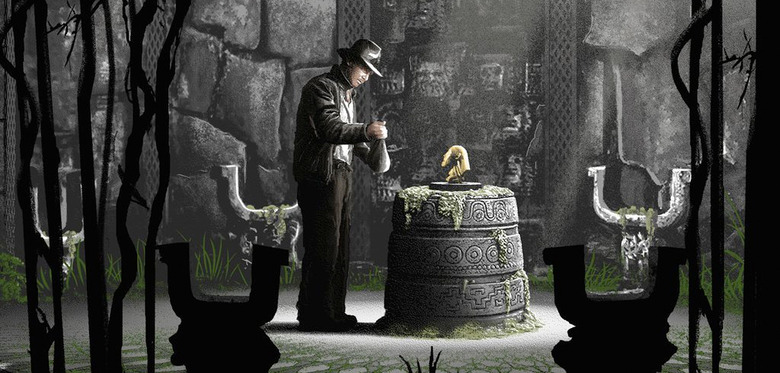 For a few years now, pop culture artist JC Richard has been delivering some stunning prints commemorating some of the most iconic moments from Raiders of the Lost Ark. Previously, he's tackled Indiana Jones in the map room, as well as retrieving the Ark of the Covenant with his buddy Sallah in the Well of Souls, and now he's reached back to the very beginning of Indy's first big screen adventure.
Bottleneck Gallery has announced a new JC Richard Raiders of the Lost Ark print, this time featuring Indiana Jones retrieving the Chachapoyan fertility idol from a temple deep in the jungles of Peru. It might be the most gorgeous print he's created for Indiana Jones yet. Check it out below!
Here's the JC Richard Raiders of the Lost Ark print "The Temple Falls" from Bottleneck Gallery:

One of the details that makes JC Richard's work so stunning, aside from the incredible wide canvas he's working with, is the impeccable way he brings the lighting to life. At the same time, this particular angle almost makes this scene feel like a highly detailed side-scrolling video game. I especially love that the image is wide enough to feature Alfred Molina as Satipo, eagerly awaiting Jones' retrieval of the idol, all so he can try to steal it himself, only to be killed by one of the traps during his escape.
"The Temple Falls" measures 36x12 inches and has a hand-numbered edition of 250 that will cost you $50. The print will be on on sale today (December 19) at 12pm ET on the Bottleneck Gallery home page, and it's likely to go fast, so get it while you can.