'Ocean's 8' Trailer: Sandra Bullock And Cate Blanchett Lead An All-Star, All-Female Team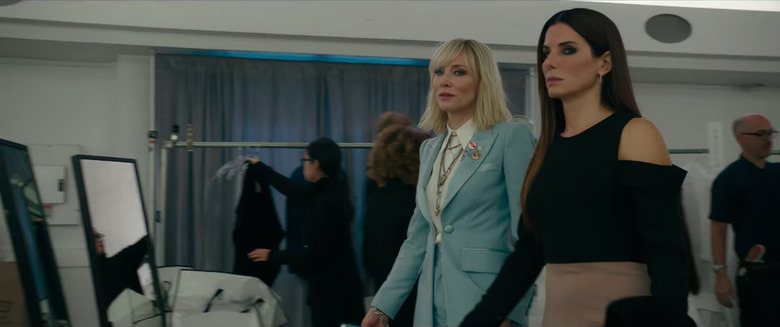 They're good at what they do, and they look good doing it.
The all-female reboot Ocean's 8 has finally dropped its first trailer, and it looks stylish, sleek, as perfect as you'd imagine a movie starring some of Hollywood's most talented actresses would be. Sandra Bullock stars as Debbie Ocean, the estranged younger sister of George Clooney's Danny Ocean from the Ocean's Eleven films, who assembles a team of talented thieves to pull off a heist at the annual Met Gala. But the twist: there's not a man in sight, except for the ones who are probably there to shine the women's shoes (I'm kidding, men are great).
Ocean's 8 Trailer
"Why do you need to do this?" Debbie's right-hand woman Lou (Cate Blanchett) asks Debbie in the trailer.
"Because that's what I'm good at," Debbie responds.
Debbie and Lou's exchange is a perfect response to the initial confused reaction when an all-female Ocean's Eleven reboot was announced. A chance to prove that women can do everything that a team of sleekly dressed men can do, but backwards and in heels.
The trailer opens with Debbie being released from prison, promising not to go back to the family business of stealing from the rich and keeping the money for themselves. But she quickly reneges on that promise to produce a heist that could rival some of Danny's best casino robberies. This time, there's a bit more fashion involved, with Debbie eying the elaborate jewels at the annual Met Gala. To pull off their scheme, Debbie and Lou assemble the mysterious hacker Nine Ball (Rihanna), jewelry expert Amita (Mindy Kaling), pickpocket Constance (Awkwafina), fashion designer Rose (Helena Bonham Carter), and old associate-turned-housewife Tammy (Sarah Paulson) to help them rob priceless jewels right off the neck of Daphne Kluger (Anne Hathaway).
The cast is rounded out by James Corden, Dakota Fanning, and Richard Armitage. Matt Damon will reportedly return as his character Linus Caldwell from Ocean's Eleven, though there's no sign of Clooney making an appearance. And maybe there's a reason for that: a shot of Debbie sitting at a grave, wine glass in hand, may suggest that Danny Ocean's no longer for this world.
Read the synopsis for Ocean's 8 below:
A criminal mastermind and seven other female thieves try to pull off the heist of the century at New York's annual Met Gala.
Ocean's 8 is being helmed by The Hunger Games director Gary Ross. It was co-written by Ross and Dude writer Olivia Milch, with Ocean's director Steven Soderbergh producing. It is set to hit theaters on June 8, 2018.