'Saturday Night Live' And Kevin Hart Deliver One Disappointing Christmas Episode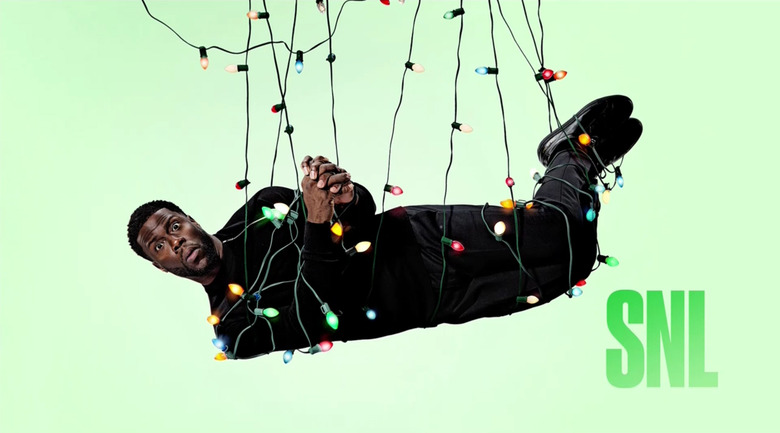 Usually the Christmas episode of Saturday Night Live is an exciting, joyous, hilarious star-studded affair. With Kevin Hart hosting the final episode of 2017, it seemed like a safe bet that this episode would deliver the goods, maybe even with some help from his Jumanji: Welcome to the Jungle co-stars Dwayne Johnson, Jack Black and Karen Gllian. But unfortunately, that was not the case.
Returning for his third time hosting, Kevin Hart brought his signature high energy to the late night sketch comedy series, but he certainly didn't bring many laughs. Any genuine hilarity was few and far between, and most of the sketches felt half-baked, lazy and fell flat.
Let's run through the best and worst sketches of the Kevin Hart hosted Saturday Night Live below.
The Best
Holiday Jewelry – Finally, someone sends up Pandora for being the most tacky, lazy jewelry company ever. I've never understood the appeal of these charms. They're all so ugly and dumb. This commercial perfectly captures the feeling that surely every woman feels when they keep getting a new charm for their necklace or bracelet like it's a decent gift.
Captain Shadow and the Cardinal – Honestly, the only reason that I'm putting this in the best category is because it was merely one of the better sketches of the night. But I'm not really all that enamored with this sketch. While it takes the familiar premise of a couple of black guys being pulled over by a cop for no reason in a different direction by making them superheroes, it doesn't really do anything creative with the premise. What made me put it up here was Chris Redd as The Cardinal.
Foo Fighters: Christmas Medley – Normally we don't mess with the musical performances from SNL, but in this case, the Foo Fighters performing "Everlong" followed by a medley of Christmas songs was close to being the best thing to come out of this episode entirely. Since it's that time of the year, I figured we could all use a charming, musical Christmas moment like this.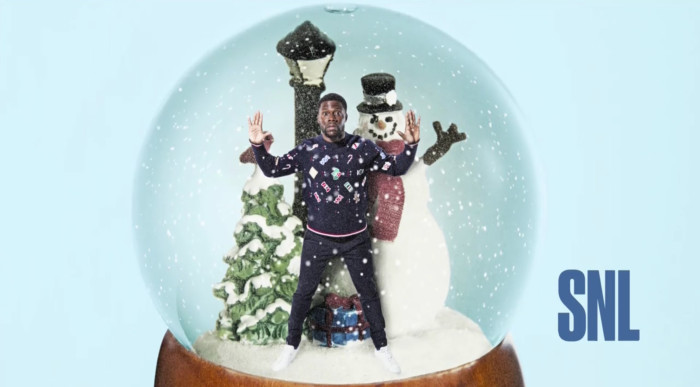 The Average
Office Phone Call – Not even Kevin Hart's frantic energy can turn this into something great. It's amusing for a bit, but like many of the sketches from the evening, it's a one-note joke, and unfortunately, that note isn't one that I need to listen to for an extended period of time.
White House Tree Trimming – SNL continues to struggle with their political satire. Alec Baldwin back as Donald Trump livened things up a bit, not to mention a cameo by Scarlett Johansson reprising her role as Ivanka Trump, but there's not much going on here. A better way to do this would have been to bring back all of the former Trump administration employees in-person for a long line of cameos (like Melissa McCarthy as Sean Spicer) and poor Christmas wishes from the president, but maybe it was too difficult to coordinate.
Active Jack – Again, Kevin Hart's energy helps a little bit, as does the turn to an old version of Active Jack played by Kenan Thompson, but it's not enough to create something truly hilarious. It's a half-baked idea that the cast tries to cover-up with over-the-top performances.
The Worst
Inside the NBA – I don't know if it's just because Kevin Hart's impression of Shaquille O'Neal is nowhere near as good as Jay Pharoah's or if it's the fact that this sketch is completely pointless, but this was hard to sit through. Even Kenan Thompson, a saving grace in sketches like this, seemed to be phoning in his usually great Charles Barkley impression. There was a decent physical gag at the end with the simple sight of Kevin Hart on stilts as Shaq, but that does not make up for the uninspired laziness of the rest of the sketch.
Christmas Party – Bad pacing, awkward line delivery, a weak premise, and lame jokes. This sketch couldn't have gone much worse unless the big bear exploded. The only part that elicited laughter from me was when we learned that all the other people in this sketch were Kevin Hart's character's employees, but otherwise, yikes.
Nativity Play – Sketches with live animals involved can be tricky, but in this case, it wasn't the llama that made the sketch difficult. It was the poor timing and line delivery that made this sketch bomb. This could have been really funny, but instead, it was painful to watch. Not even the cuts to Leslie Jones and Kenan Thompson worked.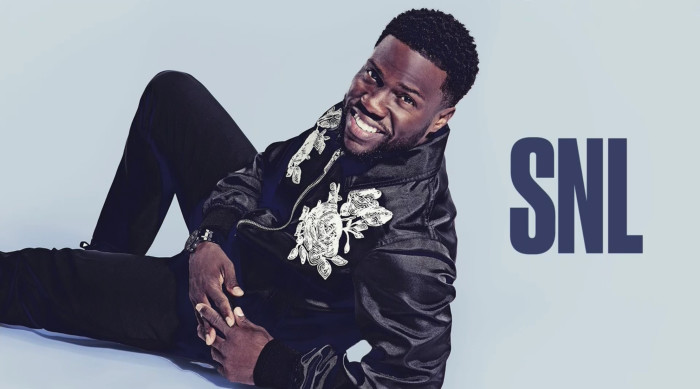 Weekend Update
There was plenty for Colin Jost and Michael Che to tackle this week, and though it wasn't one of their better segments behind the desk, it was much better than everything else on Saturday Night Live this week. However, Weekend Update stumbled a bit with the inclusion of Leslie Jones as Omarosa Manigault Newman. There was nothing particularly funny about her appearance in both Weekend Update and the cold open.
What was disappointing though was how short Weekend Update was this time. I'm willing to bet it was because of the extended Foo Fighters Christmas medley, but that's disappointing when you consider just how many awful or average sketches could have been cut in favor of some more time for Weekend Update.
Guy Who Just Bought a Boat on Christmas – Though initially this character's schtick referencing the inadequacy of his manhood wore out its welcome pretty quickly, I will say that the part of this character who abbreviates words all the time and puts together some tongue twister level phrases makes for some decent comedy. He's far from my favorite Weekend Update character, but he's all right for now.
The Host
Kevin Hart had a lot to be excited about in his monologue, but this episode did not go well for him at all. Hart didn't feel like he was on his game at all. Some of it wasn't his fault, since it seemed like the writers of SNL weren't on their game either, but even Hart's monologue was a letdown. Not only did this material feel like it hadn't yet been tried out on an audience, almost like an open mic, but his material was surprisingly chauvinistic. Sure, there's a place for comedy like this and a way to make it work, but this felt thoughtless and tone deaf.
The Final Word
Well, this was a very disappointing end to 2017 for Saturday Night Live. The first half of this season has been rather average, which is a bummer after how strong SNL was last season. Maybe it's just because it can be a little hard to laugh about stuff during the difficult time our country is enduring right now. Here's hoping the holiday break gives the cast and writers a nice break and they can come back with a vengeance in 2018.
We'll be back with another review after Sam Rockwell hosts on January 13.