'The Addams Family' Animated Movie Casts Oscar Isaac As Gomez, Will Arrive Fall 2019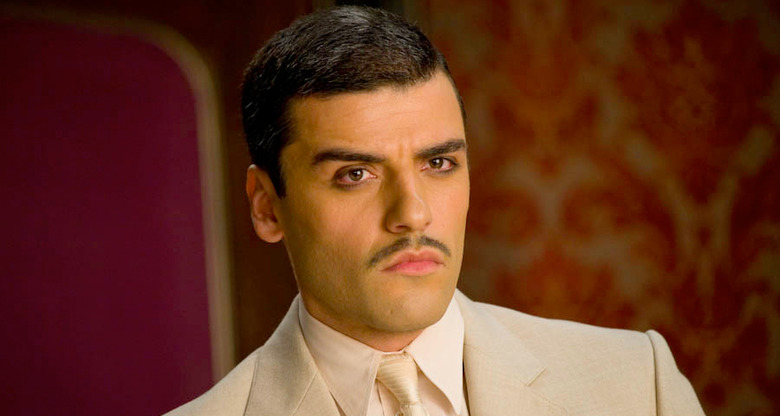 Right now you can see Oscar Isaac taking on the First Order as Resistance pilot Poe Dameron in Star Wars: The Last Jedi. But soon the actor will be getting animated for a role that many fans have been wanting to see him tackle for a little while now.
You might remember that The Addams Family was being turned into an animated feature film at MGM with Sausage Party director Conrad Vernan at the helm of the creepy and kooky family comedy. Now the first cast member has been revealed with Oscar Isaac in talks to play Gomez Addams, the mustachioed patriarch of the Addams clan.
The Tracking Board has the news on casting Oscar Isaac in The Addams Family animated movie, so hopefully we'll be hearing details on the rest of the cast soon. Raul Julia last played the role in The Addams Family movies from 1991 and 1993, and surprisingly there hasn't been an attempt to restart the franchise until now (though there was a Broadway musical version featuring Nathan Lane and Babe Neuwirth.
Oscar Isaac has been championed in the role of Gomez Addams for some time now. It seems to have all started with a tweet that went viral. Fans loved the idea of teaming Oscar Isaac as Gomez with Eva Green as Morticia, the role last played by Anjelica Huston in the two big screen adaptations from the 1990s. Someone even went to far as to make a trailer for a proposed Netflix series:
The Addams Family is best known for being a 1960s television series starring John Astin and Carolyn Jones, but before that it was a famous comic strip created by Charles Addams for The New Yorker. However, there was once an animated series in the 1970s, and a more modern attempt in 1992. But this will be the first time the Addams clan will be coming to the big screen in animated form.
The roles of Morticia, Wednesday, Pugsley, Lurch and Uncle Fester have yet to be filled, apparently because the studio wants to close the deal with Oscar Isaac before they get anyone else. It'll be interesting to see if MGM goes with big names for these roles. The casting of Isaac indicates they're looking for recognizable names, but in animation, the voice is the most important part, so I hope they're not just going for star power.
Deadline also reports that MGM has slated The Addams Family to hit theaters just before Halloween, on October 11, 2019. Will fans be ready to flock into theaters to see this gothic family on the big screen again? We'll find out.