'Star Wars: The Last Jedi' – What Did You Think?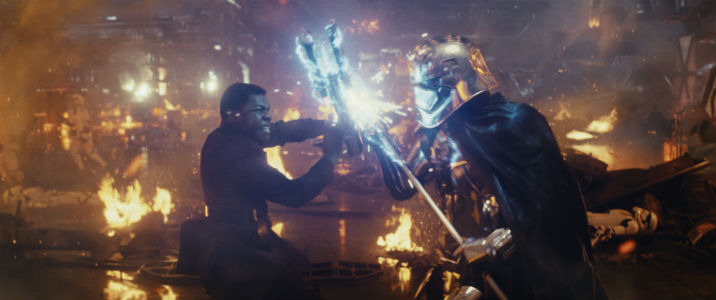 Star Wars: The Last Jedi is in theaters now and you don't need us to tell you that. You probably have tickets. Or you've seen it already. In either case, consider this your space to talk about the movie amongst yourselves and let us know: what did you think?
The /Film team has been very positive about the movie so far, even though a few of us have found plenty of nits to pick. Naturally, we all shared our thoughts on Twitter:
Star Wars: The Last Jedi is so very different, exciting, surprising. So many emotions, so many amazing moments. Stay away from spoilers.

— Peter Sciretta (@slashfilm) December 10, 2017
For those asking me if this is better than The Force Awakens: 1. I LOVED TFA and didn't have sameness issues. 2. This is very different (which will please a lot of you) and has many moments that are HOLY SHIT better than TFA. 3. But as a whole I like TFA a tad more.

— /Film (@slashfilm) December 10, 2017
What I love most about #StarWars #TheLastJedi is that @rianjohnson knows the saga needs to evolve. While #TheForceAwakens was a good place to start, #TheLastJedi pushes forward. It's not treading water, but sailing into new territory, which undoubtedly makes some uncomfortable.

— Ethan Anderton (@Ethan_Anderton) December 15, 2017
STAR WARS: THE LAST JEDI is such a full meal of a movie. Lots to treasure and take in. Sprinkles of nostalgia flavor something really bold and unique.

— Jacob Hall (@JacobSHall) December 15, 2017
STAR WARS: THE LAST JEDI: As usual, Rian Johnson doesn't disappoint. There is SO MUCH MOVIE in this thing, and there are a handful of shots & moments that are instantly iconic & rival the best of the whole franchise.

— Ben Pearson (@benpears) December 12, 2017
And our own Hoai-Tran Bui sent in this mini-review of her own:
The Last Jedi is the most daring, emotionally resonant Star Wars movie yet. It revisits the core tenets of what makes Star Wars so powerful while at the same time shedding the weight of the legacy that the franchise has built up over the past few decades. It dares to tell us that our heroes are fallible. But it also dares to dream that hope can be found in any ordinary person.
For more, you can look to Josh Spiegel's review of the film, where he calls it the best Star Wars since The Empire Strikes Back:
Maybe that's the most exciting part of the very exciting The Last Jedi: after 40 years, the Star Wars series knows how to be surprising. Rian Johnson slips so easily into writing and directing within this world that it's both thrilling to imagine more of his vision in this universe, and a little disappointing that he won't direct the conclusion. But he has at least helped bring The Last Jedi to fruition. It's not just a rollicking and entertaining follow-up to The Force Awakens; The Last Jedi is the best Star Wars film since The Empire Strikes Back, and is awful close to being its equal.
And if you want even more, Peter Sciretta wrote his own extended review where he discusses the many things that he loves about the movie...and the things that he really did not love:
Star Wars: The Last Jedi left me speechless and shaken. I was not prepared for the "holy s***" shocking turn of events, the underlying emotion, the laugh-out-loud humor, the occasional ballsiness, and the bonkers weirdness. With Rian Johnson at the helm, I knew it was in good hands, but I was surprised to find it might be one of the best looking Star Wars films to date. It's bold, it's weird, it's excellent. There are so many instantly iconic shots and so much to chew on.
For further reading, I wrote all about how The Last Jedi becomes a great Star Wars movie by refusing to adhere to what we expect from a Star Wars movie and I explored what the ending of the movie could mean for Episode 9. And finally, there's one more positive review that you should know about – George Lucas apparently liked it.
But what did you think? Sound off in the comments below!