'Deadpool' Can Stay R-Rated At Disney; Other R-Rated Marvel Movies Are Possible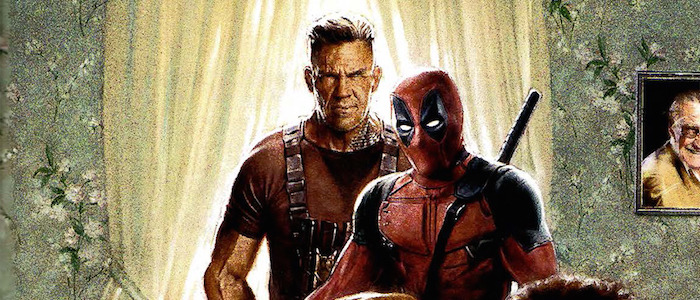 When Disney's $52 billion deal to buy much of 21st Century Fox's assets goes through, a lot of people are going to lose their jobs and the film industry will be shaken in ways that we can't comprehend quite yet. But hey, at least Deadpool will get to call Iron Man a dick on the big screen, as God intended.
Disney CEO Bob Iger addressed the red-suited loudmouth in the room, acknowledging that yeah, Deadpool is a Disney movie now and yeah, this could mean more R-rated superhero movies from the studio in the future.
In a call with investors (via The Hollywood Reporter), Iger suggested the idea of a "Marvel-R" label for future superhero movies that are made for adults-only audiences:
It [Deadpool] clearly has been and will be Marvel branded. But we think there might be an opportunity for a Marvel-R brand for something like Deadpool. As long as we let the audiences know what's coming, we think we can manage that fine.
We can say a lot about the Disney/Fox deal (and we will), but one thing is certain: Bob Iger is one hell of a businessman and Disney has bought Pixar, Marvel, Lucasfilm, and most of Fox on his watch. And as a good businessman, he knows that the R-rated Deadpool grossed $783 million last year and that the R-rated Logan grossed $616 million earlier this year. To shun R-rated superhero movies just because you control the squeaky clean Disney name would be foolish, especially since these movies could easily be released under one of the many, many banners that reside within the company at this point.
Of course, the question now is how Deadpool will coexist with the rest of Disney's Marvel Cinematic Universe. The Marvel movies, while generally very fun and very good, adhere to a very specific and tightly regulated aesthetic. How do you slide this guy, who drops four-letter words with stunning regularity and constantly breaks the fourth wall, into a landscape populated by earnest characters who take themselves seriously and are very careful to never go beyond PG-13 in their super-heroic derring-do? Or do you just let Deadpool exist on his own and not take advantage of this newfound corporate synergy–
Ha. Nah. This is Disney we're talking about. Expect to see the X-Men characters in the MCU by 2020. The question we really should be asking ourselves is whether or not Iger is serious about a "Marvel-R" and if he would actually sign off on a new movie as bleak and bloody as Logan. Who knows! I'm not convinced we'll see anything that bold from Disney in the near future, but I'd love to be proven wrong.
Anyway, Deadpool star Ryan Reynolds reacted to the the Disney/Fox news on Twitter with the tweet below, just in case you need a chuckle right now.
Apparently you can't actually blow the Matterhorn. pic.twitter.com/2bEAAcZrUv

— Ryan Reynolds (@VancityReynolds) December 14, 2017