The 'Goosebumps' Sequel Gets A New Director, Jack Black Still Not Confirmed To Return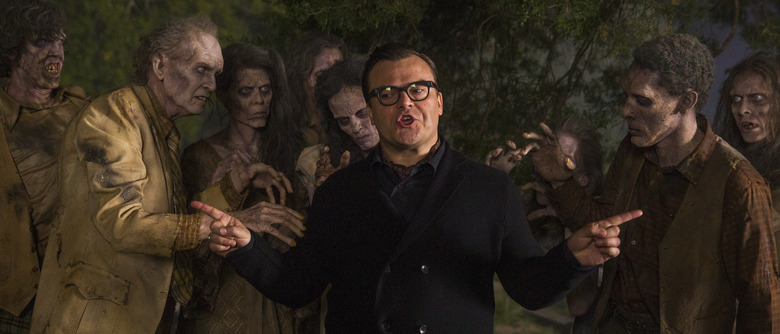 Goosebumps was one of 2015's more pleasant surprises, a goofy and spooky horror romp that was just scary enough for kids and just clever enough for their parents. It also managed to evoke R.L. Stine's original books while lovingly poking fun at them. It's a good kids' movie, a kind of gateway horror movie that functions much like the original books in that it offers youngsters a successful entry point into an intimidating genre.
Now, the sequel has a new director. Unless it doesn't get made. Because even as the sequel moves forward, some behind-the-scenes issues have been plaguing the follow-up as it struggles to get off the ground.
Variety reports that Ari Sandel, the director of the high school comedy The DUFF and the upcoming When We First Met, has been hired to helm the Goosebumps sequel. Unfortunately, it's not clear which sequel he'll actually be filming, because Sony has two versions of the screenplay: one with original star Jack Black returning as R.L. Stine, the horror writer whose macabre creations come to life, and one without him. We first heard rumblings of Black not returning last month, and it looks like the studio still hasn't ironed everything out. Variety reports that "scheduling concerns" are the root of the problem. We know that one of those scripts is from writer Rob Lieber, whose credits include Alexander and the Terrible, Horrible, No Good, Very Bad Day and episodes of The Goldbergs.
If Black doesn't return, it'll start to feel like a mass exodus of the talent from the first movie. Original director Rob Letterman was going to return once upon a time, but he's now directing that Detective Pikachu movie that is somehow going to be a thing that exists. I have no strong feelings on Sandel, but I also didn't have strong feelings on Letterman, who surprised me with his work on the first film.
Earlier this year, back when there were different names working on the screenplay, the Goosebumps sequel was reportedly going to take on "HorrorLand," a Stine story about an amusement park run by monsters. However, recent reports have not mentioned this at all, which could suggest that changes in talent behind-the-scenes may have led to a new premise for the sequel. And while the first film was a modest success, Variety reports that Sony wants to keep costs down on the sequel, which could easily result in a script with a smaller scope than HorrorLand.
HorrorLand or not, Jack Black or not, the Goosebumps sequel is still set for a September 21, 2018. But they're cutting it close.