Rumor: Is Simon Kinberg Producing A Boba Fett Spin-Off Movie?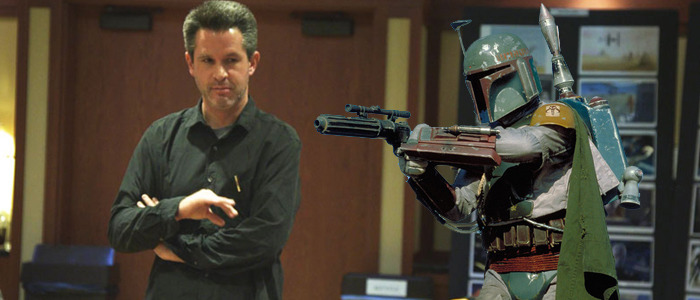 Writer/producer Simon Kinberg is about to make his directorial debut with X-Men: Dark Phoenix, but he could be heading to a very different galaxy in the not-too-distant future. A new rumor reignites an old story: that Kinberg is on board to produce Lucasfilm's Boba Fett movie, a Star Wars spin-off film that's been in development behind the scenes for years.
Though Lucasfilm has never officially announced that a Boba Fett movie was in the works, various reports have indicated that the project has been in multiple stages of development over the past five years. In 2013, Entertainment Weekly reported that Chronicle director Josh Trank had been hired to direct a Boba Fett standalone movie which Kinberg was reportedly writing. Trank was fired from that project before it began filming, and the Han Solo standalone film ended up leapfrogging it and made its way into production first. But Kinberg was still attached to write and produce, and in 2015, Lucasfilm president Kathleen Kennedy said this about the movie:
"It's still one of the stories that we absolutely want to tell. There is a lot of innovative technology in and around what it is we're doing with that story, so for a lot of reasons, we were comfortable postponing that. But we're definitely still developing it."
The new rumor comes from OmegaUnderground, who have discovered that Kinberg is linked to an upcoming Star Wars production with the code name Tin Can. The site says Kinberg and Lawrence Kasdan are both attached as producers, and they speculate that the title is a reference to bounty hunter Boba Fett's armor. Again, while this should be considered a rumor for now, it's one that sounds fairly plausible. Kinberg's history and involvement with Lucasfilm (he's an executive producer on Star Wars Rebels) indicates that Kennedy wants to work with him, and it's clear that a Boba Fett movie is still a priority for the studio.
But should they still be focusing on that character in the first place? With Rian Johnson's new trilogy in the works that centers on brand new characters, part of me would be a little surprised if Lucasfilm gave the go-ahead to a Boba Fett movie at this stage because that new trilogy seems to signal a shift away from the familiar and a willingness to take risks on unproven characters and stories. But from a financial perspective, I can see Bob Iger and the Disney overlords wanting Lucasfilm to capitalize on those familiar characters in order to attract a larger audience (see also: Rogue One: A Star Wars Story, Solo: A Star Wars Story).
I'm guessing we'll see Fett: A Star Wars Story (or whatever it'll be called) sometime in the next few years. If Lucasfilm insists on revisiting these characters in new ways, the least we can hope is that they end up being adventurous with the casting and the people behind the camera telling those stories. Michael B. Jordan (Fantastic Four) was once rumored to play the character, and Kennedy just spoke highly of Thor: Ragnarok director Taika Waititi, so maybe all of those elements can come together for an interesting take on an otherwise overrated character.
For me, the best story they could tell would not be a Boba Fett prequel, but a sequel to Return of the Jedi in which he survives the Sarlacc pit and we see what that experience does to him. Kennedy has previously hinted that Fett might have survived, and one of the Lucasfilm Story Group members said that Fett is "simultaneously alive and dead in the Sarlacc pit until a story pulls him out," so it's possible we could be getting a Boba Fett sequel when all is said and done.