Seth Rogen Will Play Walter Cronkite For David Gordon Green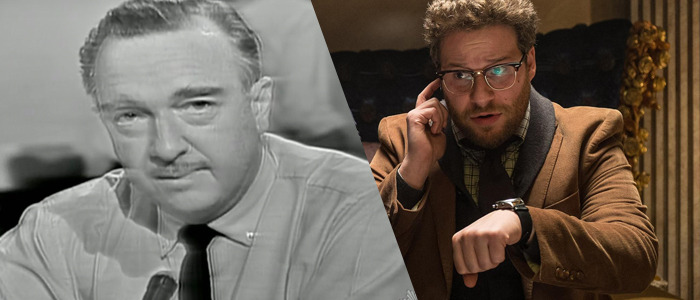 Seth Rogen joining a David Gordon Green movie is not surprising news – they previously collaborated on the very funny stoner comedy Pineapple Express. David Gordon Green making a movie about legendary newsman Walter Cronkite and CBS News on the day of John F. Kennedy's assassination is not surprising news – he is a versatile filmmaker who has floated between genres with ease. What is surprising news is that this film, titled Newsflash, will see Green directing Seth Rogen as Walter Cronkite. There's no getting around it: that's just downright wacky casting.Deadline has the news, reporting that Rogen and Green are the only talent confirmed to be attached to the film at this point, which will be produced by Greg Silverman's Stampede Ventures. Ben Jacoby wrote the screenplay, which is set entirely on November 22, 1963 and takes place in real time as CBS reporters struggle to make sense of the news coming out of Dallas, Texas, where President Kennedy was shot by a gunman. The drama will come from Cronkite and his team attempting to figure out exactly what went down in Dallas, following them as they cut through rumors and misinformation to get to the truth of the story.
Deadline reports that Mark Ruffalo is being courted for the role of Cronkite's producer, Don Hewitt. Bryan Cranston is being sought for Jim Aubrey, Cronkite and Hewitt's boss.
The first and most obvious comparison film comparison here would be Steven Spielberg's The Post, another modern film that tells a famous story of journalistic responsibility (which feels more relevant than ever in 2017). The second point of comparison would be Danny Boyle's Steve Jobs, which examined the title character via three extended scenes that take place in real time. The latter also starred Rogen in one of his best dramatic performances as Apple co-founder Steve Wozniak.
But Wozniak, a computer geek and engineer, is still very much a man carved out of a Rogen-esque mold. Quite frankly, Rogen has never played a character quite like Cronkite and if you watch the famous footage of him delivering the news of JFK's death, it's borderline impossible to visualize him in the role.
But that's also why this news is so very interesting. Although he got his start playing stoners and slobs in Judd Apatow productions, Rogen has grown as an actor over the years, showcasing an ever-expanding versatility. He's terrifying in the bleakly hilarious Observe and Report, moving in the cancer drama 50/50, and his pitch-perfect deadpan sells some of the best moments in The Disaster Artist. Rogen is a terrific performer, an artist who has showcased an obvious desire to go above and beyond what we expect from him, and I couldn't be more intrigued to see him attempt to vanish into the role of one of the most famous and respected men of the 20th century.
And vanish is what he'll have to do, because Seth Rogen looks nothing like Walter Cronkite. He sounds nothing like him. He's 12 years younger than Cronkite was in 1963. There's nothing I want more than to be pleasantly surprised by this. I'm rooting for you here, Mr. Rogen. Godspeed.
Green is currently shooting the new Halloween movie, but the current plan is for Newsflash to shoot next year, with the finished film possibly being ready for November 22, 2018, the 55th anniversary of Kennedy's death.