James Franco Hosting 'Saturday Night Live' Does Not Impress Seth Rogen, Jonah Hill Or Steve Martin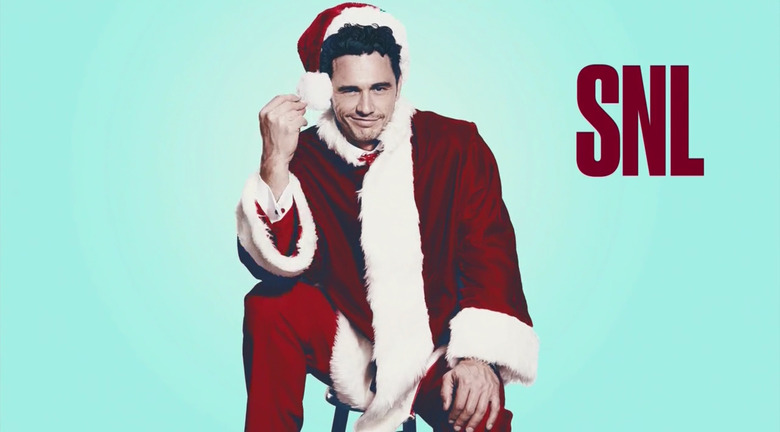 James Franco returned to host Saturday Night Live for his fourth time last night, and while the Christmas episode of the season is still a week away, the writers couldn't help but dig into the holidays a bit for a satisfying episode overall.
Perhaps the reason this episode was mostly a success was because they chose to tackle politics in a way that didn't require actually portraying any of the sleazeball politicians from both sides of the aisle and figured out a clever way to deal with the horrors of everyday's news headlines. No matter what the reason, there's plenty of good stuff here, including James Franco making fun of himself quite a bit.
We run through the best and worst sketches of the James Franco hosted Saturday Night Live below.
The Best
Visit with Santa – Sometimes during an episode of Saturday Night Live, there can be flubs when reading cue cards. It can throw off the comedic rhythm of a sketch and really takes you out of the moment. But in this case, when you have adorable kids messing up lines and professional comedians who know how to keep the train moving, it doesn't ruin the overall sketch. Sure, it still disrupts the rhythm, but the jokes in this sketch were good enough that it still worked for me.
*Note* – In going back and watching this sketch, it has come to my attention that the version used on SNL's YouTube is from dress rehearsal. That's likely because the live version of the sketch had a few kids flubbing their lines. So when you watch the above version, you might not quite understand the mistakes I'm talking about. In fact, the dress rehearsal version of the sketch went infinitely better.
Christmas Charity – Sometimes a good punchline requires a long set-up, and that's exactly what happens with this sketch. Because of that, I won't ruin the punchline, but suffice it to say that even if you think you know where this sketch is going, you probably don't. It's a long way to go (and a charming set-up too), but it's worth it.
Za – I'll be honest, a big part of my putting this sketch here is because of my full support about the argument pertaining to calling pizza by the abbreviation of "za" instead. Initially, I hated the way Franco was overacting in this sketch. It didn't seem to fit with the vibe of the rest of the sketch. But slowly it started to make sense why he was going over the top. He really had to sell the argument he was going to make over and over again. I'm actually kind of impressed with how he didn't get too tongue tied when going back and forth between "za" and "suh" sounds.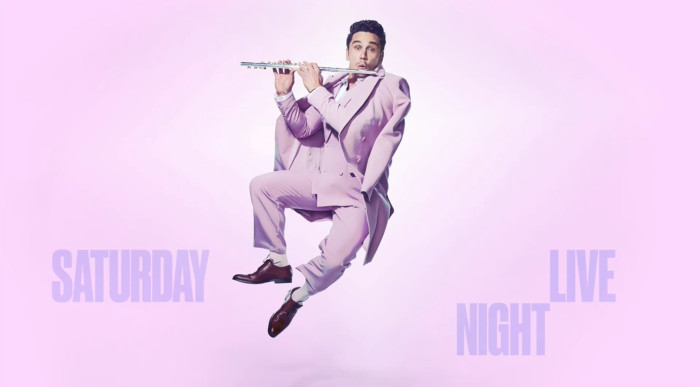 The Average
Sexual Harassment Charlie – The point of good satire is to tackle some kind of prevalent issue in our society that forces us to be introspective while also making light of a situation. With all the sexual harassment allegations going around Hollywood and Washington DC, of course SNL was going to have to tackle this more outright. That's what the writers try to do with this sketch, however, the point of the satire in this sketch feels like it gets lost in the shuffle.
What kind of commentary is being made here? Is it about the double standard that comes with race, age or power? Arguments could be made for all three, and since it's not clear, there's no weight to the satire. After last week's "Welcome to Hell" sketch, this just feels less thought out and not quite as smart as maybe initially though.
Spelling Bee – This sketch has a one-note joke, but it's a decent note to hit as James Franco provides the worst, personal examples when using spelling bee words in a sentence and providing their definition. There are some good laughs to be had, but I wish the ending had a bit more bite to it. My hope was that the source of the spelling bee cards would have come from someone not seen on camera until the very end, but it kind of sputters out in the end, which is largely why it only ended up being average.
Gift Wrap – Physical comedy can be hard to pull off on live TV, especially when you're relying on certain props and practical effects to pull it off. In this sketch, copious amounts of blood make for a totally ridiculous but also massively chaotic sketch where the laughs don't really come from the premise of the sketch itself, but from the visual insanity of the practical effects. The fake hand and foot don't even work well in the sketch, but the continued splurging of blood still elicits plenty of laughter from the audience, as well as James Franco. It was amusing, but I was bored with it after a couple minutes, although Leslie Jones did bring me back around for a bit.
The Worst
Scrudge – There have been so many iterations of A Christmas Carol, both earnest and comedic, I hoped SNL had something new to bring to the table. Putting Scrooge (or Scrudge) in a modern day setting as a bitter, jerk roommate was an intriguing idea, but it never really goes anywhere. There a couple chuckleworthy moments, but otherwise, Beck Bennett doesn't do much to make this funny. It's not really his fault though, because the writing just isn't strong here.
Reunion – Heidi Gardner seems to have this gift for throwing herself 100% into characters that don't quite make a splash. I'm not entirely sure what kind of person James Franco's cousin Mandy is supposed to be, and the voice feels half-baked at best. The idea of James Franco appearing to need help to such a disheveled member of his family is funny for a moment, but not for a nearly five minute sketch. Dave Franco helped liven things up at the end, but otherwise, this was a total bomb.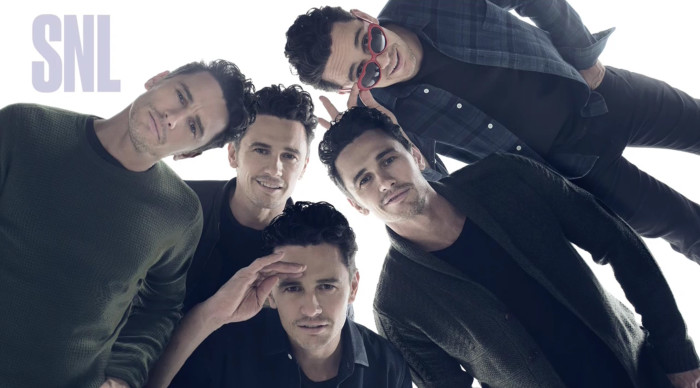 Weekend Update
While Michael Che and Colin Jost are still taking shots at Donald Trump and his administration, it seems they too are starting to shift towards other parts of the news, perhaps because they're just as exhausted as we are with all this nonsense. Instead, they turn their eye to some timely jokes about the ongoing sexual harassment allegations (some of which are coming from Washington DC now), and they're not holding back. It seems like there's still some touchiness, at least from the live audience, with some of these jokes, but that's the point of comedy like this sometimes.
Cathy Anne on Al Franken – It's fascinating to me when Cathy Anne is deemed to be the best character to tackle a certain subject as a Weekend Update guest. It's a bit of a stretch to make a character like this talk about such high brow matters, but somehow it works. Cecily Strong is great as this character, and some solid commentary is brought to the table through her voice. But even outside of using the character as a conduit for these jokes, the punchlines that come from her because of the nature of her character are great too. It's kind of amazing Cathy Anne has come this far.
Gretchen – At first I was worried that this was going to be a modern rip-off of the famous Eddie Murphy sketch where he went undercover as a white man. In a way, that's exactly what this is, but it's also a send-up of that sketch in that Michael Che goes through no effort to make himself appear as a white woman beyond his clothes and a wig. He still talks like Michael Che, and everyone goes along with it. His confrontation with Alex Moffatt's snotty white guy was particularly hilarious.
The Host
Though James Franco pointed out that SNL doesn't really do anything special when a host returns for the fourth time, it almost felt like a Five Timers Club situation with cameos from Seth Rogen, Jonah Hill and even Steve Martin. But instead of honoring Franco's return to Studio 8H, they're mostly unimpressed. It's a fun opening, and it was great to see Franco, Rogen and Hill back together for the first time in awhile.
As for Franco's hosting skills this time, it felt like he broke a little too often. Sometimes he hammed it up a little too much too. It was never awful, but I wish he dedicated himself to the characters he played a bit more, not unlike how Saoirse Ronan did in last week's episode. But still, you can tell Franco is having fun, which is always good for the show.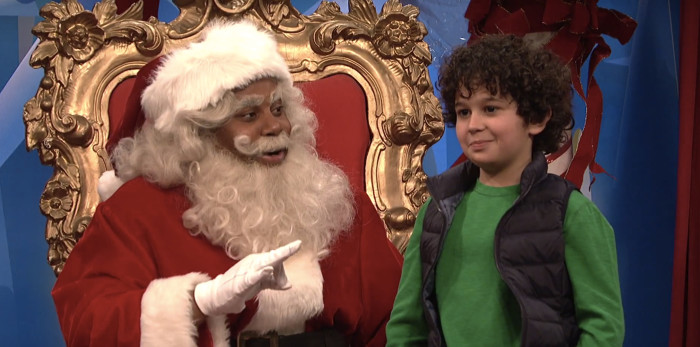 The MVP
Kenan Thompson – Giving the best performance of the night, Kenan Thompson was on fire. From the outstanding cold open (the first good one in quite some time) to the problematic but still funny Sexual Harassment Charlie sketch, Thompson just stood out from the rest of the pack tonight. It cannot be overstated how great of a comedian Thompson is for not only being able to take the spotlight, but knowing how to let someone else in the sketch shine. That's not easy for a performer to do.
The Final Word
James Franco didn't bring much to the table himself, other than some humor that came from the self-references to his career throughout the evening, but he was a solid host still. But the most important thing to come out of this episode is how much we need Seth Rogen and Jonah Hill to host again. So hopefully that happens sometime soon.
With two out of the final three episodes of 2017 in the books, it looks like we might have the best back-to-back-to-back run of Saturday Night Live yet, at least if Kevin Hart can deliver next weekend for the Christmas episode. We'll be back with our review the day after that episode airs on December 16.