'Star Wars: The Last Jedi' Early Buzz: A Surprising, Funny And Jaw-Dropping Sequel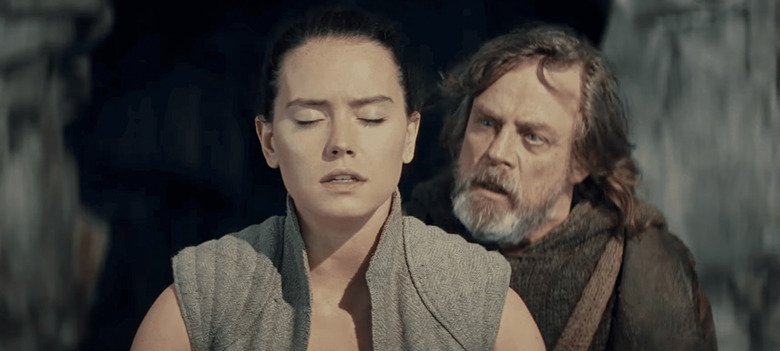 The world premiere of Star Wars: The Last Jedi happened on Saturday evening, and even though the embargo on full reviews won't be lifted until 12pm Eastern Time on Tuesday, December 12, the first reactions from those lucky enough to be in attendance have already hit social media.
For anyone worried about spoilers, don't worry, the Star Wars: The Last Jedi early buzz doesn't give away any plot details or anything like that. They're just initial reactions to the movie almost immediately after seeing it. Keep in mind that the vibe at a world premiere is very exciting, especially for a movie like Star Wars, so some of these reactions are be a bit over the top. But there are plenty of measured and thoughtful reactions as well.
First up, our own Peter Sciretta was at the world premiere of The Last Jedi, and here's what he thought:
Star Wars: The Last Jedi is so very different, exciting, surprising. So many emotions, so many amazing moments. Stay away from spoilers.

— Peter Sciretta (@slashfilm) December 10, 2017
As for the rest of the various members of the press in attendance, here's some of their thoughts:
Star Wars: The Last Jedi is everything. Intense, funny, emotional, exciting. It's jam-packed with absolutely jaw dropping moments and I loved it so, so much. I'm still shaking. pic.twitter.com/fHddWjo201

— Germain Lussier (@GermainLussier) December 10, 2017
#StarWarsTheLastJedi floored me. @rianjohnson and the team nail so much – thrills, laughs, heart and most of all, pushing the characters/overall franchise a major step forward. Some really rich material to explore in the future. Can't wait for more.

— Perri Nemiroff (@PNemiroff) December 10, 2017
#TheLastJedi is absolutely fantastic – gripping, touching, funny and powerful w/ gorgeous shots and the most badass battles. When it gets going, holy crap does it get going. Hands down the best #StarWars movie since Empire pic.twitter.com/nWWAhlNMJo

— Erik Davis (@ErikDavis) December 10, 2017
Cannot overestimate just how gorgeous this film is. I salute you @rianjohnson – some of these shots are all-timers and then some

— Erik Davis (@ErikDavis) December 10, 2017
THE LAST JEDI has more goosebump moments than any Star Wars movie I can remember. I was grinning for most of the 2 and a half hours. A worthy and great Star Wars film. The franchise is in great hands. Kudos to @rianjohnson

— Josh Horowitz (@joshuahorowitz) December 10, 2017
There aren't enough words to express how much I LOVED #StarWars #TheLastJedi! It is mind-blowing! I'm in geek heaven! pic.twitter.com/unXfYMkIle

— Jenna Busch (@JennaBusch) December 10, 2017
I CHOSE:
HOLY BALLS!!! Rian crushes it. Dear God, I hope I pick this tweet. It means #TheLastJedi made me feel like a kid again. HELLS YEAH!!!

— Adam F. Goldberg (@adamfgoldberg) December 10, 2017
#StarWars #TheLastJedi is AWESOME! I'm overwhelmed with all sorts of emotion on how incredible @rianjohnson's movie is! I can't wait to see it again. Also, PORGS!!!

— Umberto Gonzalez (@elmayimbe) December 10, 2017
The Last Jedi is incredible. Character at the forefront, amazing action and so so so much emotional payoff decades in the making. I will be watching this one a lot. pic.twitter.com/KVOjLhwk27

— Eric Vespe (@EricVespe) December 10, 2017
THAT MOVIE WAS EVERYTHING

— Jenny Nicholson (@JennyENicholson) December 10, 2017
Not only are Carrie Fisher and Mark Hamill at their very best as Leia and Luke in this movie, but Daisy Ridley and Adam Driver blow Rey and Kylo Ren out of the park. I didn't expect where those characters went and it's my favorite part of the movie. #TheLastJedi

— Terri Schwartz (@Terri_Schwartz) December 10, 2017
THE LAST JEDI: A little too long & dragged in the middle, but great fun overall! As good as The Force Awakens; Rogue One is better! More humor than expected, great #StarWars moments, #MarkHamill is awesome! A worthy Episode VIII pic.twitter.com/HHihSa788D

— Scott Mantz (@MovieMantz) December 10, 2017
#TheLastJedi is incredibly satisfying and hands down Mark Hamill's best performance as Luke Skywalker

— Aaron Couch (@AaronCouch) December 10, 2017
#StarWars #TheLastJedi is bonkers. I honestly don't have any words. It's jam packed and full of surprises. Avoid spoilers at all costs!

— Rachel Heine (@RachelHeine) December 10, 2017
I am STUNNED by #StarWars #TheLastJedi. I gasped, I laughed, I screamed, I cried and I had the time of my life. Rian Johnson pulled it off, making what might be the best Star Wars movie ever. pic.twitter.com/0VE5M90dsH

— Joshua Yehl (@JoshuaYehl) December 10, 2017
IT DOES NOT GET BETTER THAN STAR WARS THE LAST JEDI!!!!!!

— robliefeld (@robertliefeld) December 10, 2017
Just seen #StarWarsTheLastJedi. Wow! It is like no other Star Wars film. Heart, humor (a big risk that pays off) and some of the most spectacular action and stunning visuals in the franchise. Loves it. Also, the Porgs.... Oh Hell Yes!

— Simon Thompson (@ShowbizSimon) December 10, 2017
There will be nitpicks, but #TheLastJedi is an excellent #StarWars movie.

— Scott Mendelson (@ScottMendelson) December 10, 2017
#StarWars: The Last Jedi is so beautifully human, populist, funny, and surprising. I cried when one POC heroine got her moment because films like these leave their mark on entire generations — and representation matters

— jen yamato (@jenyamato) December 10, 2017
Guys. @rianjohnson has made the most epic, emotionally powerful @starwars film ever. Hands down. My strong advice is to be very wary of spoilers. The less you know about #TheLastJedi, the better. Bravo, bravo, bravo.

— Clayton Sandell (@Clayton_Sandell) December 10, 2017
It's AMAZING. Just amazing. Have a lot to process, but WOW. #lastjedi

— Ryan Parker (@TheRyanParker) December 10, 2017
Star Wars: The Last Jedi is a triumph. So many big moments, so much emotion, so much to digest. Had the whole crowd cheering and woah'ing.

— Kevin Polowy (@djkevlar) December 10, 2017
So it sounds like Star Wars: The Last Jedi has a lot of surprises that have yet to be revealed, and those of us who haven't seen the movie will need to be very careful about spoilers over the next few days. For the most part, it appears the movie is getting rave reviews, though there are some hints of a few problems here and there. But at the very least, it sounds like the future of Star Wars is in good hands if Rian Johnson is getting these kind of reactions.
We'll just have to judge for ourselves when the movie hits theaters later this week. In the meantime, here is the vague, official synopsis for Star Wars: The Last Jedi that won't hold you over at all:
Rey develops her newly discovered abilities with the guidance of Luke Skywalker, who is unsettled by the strength of her powers. Meanwhile, the Resistance prepares to do battle with the First Order.
Star Wars: The Last Jedi is directed by Rian Johnson, and it features all-star cast rounded out by Mark Hamill, Carrie Fisher, Adam Driver, Daisy Ridley, John Boyega, Oscar Isaac, Andy Serkis, Lupita Nyong'o, Domhnall Gleeson, Anthony Daniels, Gwendoline Christie, Kelly Marie Tran, Laura Dern, and Benicio del Toro.
Star Wars: The Last Jedi flies into theaters on December 15, 2017.