Dear J.K. Rowling: Please Don't Try To Defend Johnny Depp's Casting As Grindelwald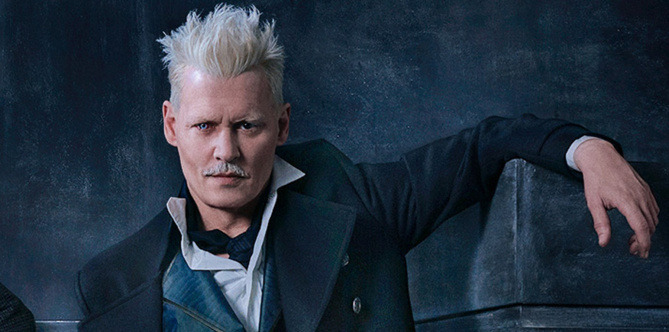 (Welcome to The Soapbox, the space where we get loud, feisty, political, and opinionated about anything and everything. In this edition: why J.K. Rowling and the crew of the Fantastic Beasts sequel should not try to defend the casting of Johnny Depp as Grindelwald.)
I'm disappointed. I've long upheld Harry Potter to be a series that explores the devastating consequences of domestic abuse and encourages tolerance and empathy. I admired J.K. Rowling, the author of those beloved books and now a screenwriter of the prequel series Fantastic Beasts and Where to Find Them, as a proponent of those same standards.
But the magic threatens to be lost. Director David Yates and others involved in the new films have recently been scrambling to defend the casting of Johnny Depp as the evil wizard Grindelwald in the first Fantastic Beasts and its upcoming sequel Fantastic Beasts: The Crimes of Grindelwald amid domestic abuse allegations from Depp's ex-wife Amber Heard. And now Rowling has jumped in to defend Depp.
The Fantastic Beasts sequel production has been mired in controversy since Warner Bros. re-confirmed that Depp would reprise his role as Grindelwald, sparking protests on social media due to Heard accusing Depp of domestic abuse two years ago. After a long silence on the casting of Depp as Gellert Grindelwald, Dumbledore's former lover and longtime foe, Rowling finally released a statement on the growing controversy of his casting. In a post on her website, Rowling wrote:
The huge, mutually supportive community that has grown up around Harry Potter is one of the greatest joys of my life. For me personally, the inability to speak openly to fans about this issue has been difficult, frustrating and at times painful. However, the agreements that have been put in place to protect the privacy of two people [Depp and Heard], both of whom have expressed a desire to get on with their lives, must be respected. Based on our understanding of the circumstances, the filmmakers and I are not only comfortable sticking with our original casting, but genuinely happy to have Johnny playing a major character in the movies.
I accept that there will be those who are not satisfied with our choice of actor in the title role. However, conscience isn't governable by committee. Within the fictional world and outside it, we all have to do what we believe to be the right thing.
Rowling's statement follows Fantastic Beasts director and Harry Potter franchise veteran David Yates defending Depp as "full of decency and kindness" and arguing that Depp is excluded from the ongoing conversation in Hollywood about sexual assault because "it seems to me there was one person who took a pop at him and claimed something."
Depp was accused of domestic violence by Heard over the course of their divorce in late 2016. The divorce was finalized in January 2017. In the midst of the divorce and the allegations, Depp was announced to be cast in Fantastic Beasts, appearing toward the end of the first film in an eleventh-hour twist. But fans hoped — though it seems more like a pipe dream — that in the sequel, the franchise would drop Depp and bring back Colin Farrell, who played the character that Grindelwald was disguised as.
Alas, it was not the case, and Johnny Depp's Grindelwald will be front and center of the Fantastic Beasts sequel — in fact, he's right in the title. You might ask, why should Warner Bros. recast Grindelwald when he already appeared in the first Fantastic Beasts?  Here's the thing: it seems disingenuous of the family franchise to keep Depp, and alleged domestic abuser, on board, especially in the midst of the multiple sexual assault and harassment controversies that are wracking Hollywood. It seems even more disingenuous when the Harry Potter series has always been a story about dealing with the trauma of abuse — our titular hero was raised in an abusive childhood home, after all.
Netflix is continuing House of Cards without its star Kevin Spacey because of sexual assault allegations. John Lasseter has taken a leave of absence from his role at Pixar. Ridley Scott re-filmed large portions of All the Money in the World, replacing Spacey with with Christopher Plummer! Why should Depp be exempt from the consequences befalling Hollywood's increasing number of sexual abusers and harassers? Is it because he's a huge star and a box office draw? That's not something that Fantastic Beasts — a movie that's part of one of the highest-grossing franchises ever — would need. Is it because the allegations took place in a divorce court and not civil or criminal court? That shouldn't matter — especially in the face of a statement from both actors saying that "Neither party has made false accusations for financial gain" followed by Heard donating the proceeds to charity. Depp should be held accountable for his actions, and not be excused or enabled by Hollywood.
And then there's the case of Harry Potter and J.K. Rowling's message. This statement feels hypocritical of Rowling, who has been a staunch social activist on her Twitter and a proud supporter of women. I could not be more disappointed for all that she's advocated on social media and in interviews, that she would throw her support behind Depp. It feels not only like a moral betrayal from her, but to the Harry Potter series, which studies have shown to be an effective way teaching tool of empathy and acceptance of outsiders. Harry Potter is about standing up for the victim and doing what is right, not what is easy. In this case, Rowling is doing neither.