'Lean On Pete' Trailer: A Boy And His Horse And A Whole Bunch Of Broken Hearts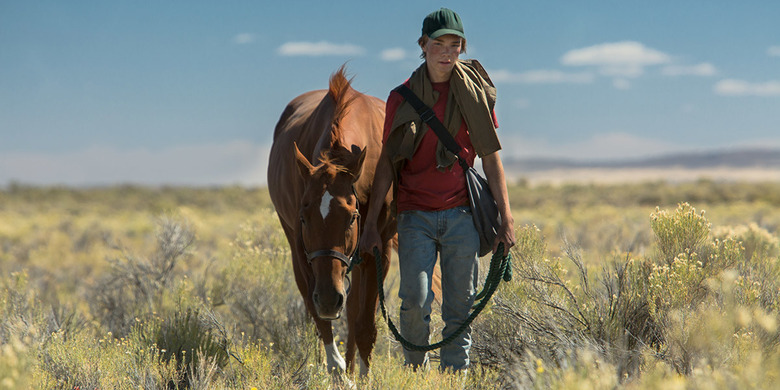 There's an entire subgenre of "a boy and his animal" movies out there, so you can be forgiven for taking a quick glance at the Lean on Pete trailer and writing it off. However, early buzz suggests that would be a huge mistake. Andrew Haigh's film hits theaters in 2018, but it made the festival rounds this year, racking up critical acclaim. /Film contributor Marshall Shaffer called it "a striking, shattering and altogether sensational journey." This isn't your run of the mill "boy and his horse" adventure.
Lean on Pete stars Charlie Plummer as a young man who gets a job working with racehorses and finds himself growing attached to Lean on Pete, a promising horse who struggles to compete due to foot problems. When the horse's owner (Steve Buscemi) plans to sell Lean on Pete, his newfound human buddy absconds with him and begins a trek across the country. On paper, that sounds like a Disney movie. But the trailer suggests a more honest and desperate tone, one that is less about being best buds with a horse and more about the desperation and loneliness of growing up.
Lean on Pete Trailer
Lean on Pete is the latest film from Andrew Haigh, the director of movies like Weekend and 45 Years, as well as HBO's Looking. While the plot of this film suggests a major departure, the trailer reveals the humanism and attention to character that permeates his other work. Why do I have a feeling that this is going to make me cry a whole bunch?In his review from the Toronto International Film Festival, Marshall lauded the film for never anthropomorphizing Lean on Pete, using him as an extension of the lead character and a vessel to explore him further:
Without the slightest whiff of personification or anthropomorphism, a bond develops between Charley and Lean on Pete, unlike the usual cinematic connection between boy and animal. The horse does not exist to teach Charley some lesson about himself or life. He's an extension of Charley himself, an object onto which he can project some of the greatest aspirations he holds for an uncertain future. When he's with Lean on Pete, Plummer's smile is radiant enough to power all the stadium lights at the racetrack, which makes the slow disappearance of that grin even more devastating.
Lean on Pete will be released in theaters by A24 on March 30, 2018. The cast also includes Chloë Sevigny, Travis Fimmel, Amy Seimetz, and Steve Zahn.