Cool Stuff: Dan Mumford's Trippy Art Pays Tribute To 'Close Encounters,' 'Gremlins' & More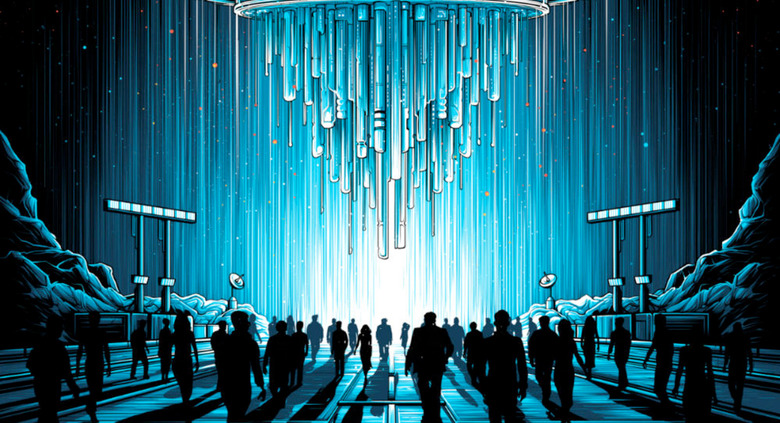 With the plethora of prints out there paying tribute to our favorite movies and TV shows, it's always nice to have an artist whose style is uniquely their own. That's why we love Dan Mumford so much.
We've featured plenty of Dan Mumford's work before, but now he has a solo show coming to Gallery 1988 in Los Angeles this weekend with a whole new slate of pieces paying tribute to the likes of Close Encounters of the Third Kind, Gremlins, Dune, Teenage Mutant Ninja Turtles II: The Secret of the Ooze and more. Check out some of the Dan Mumford artwork below.
Here's a sneak preview of pieces from Dan Mumford's Gallery 1988 show Chroma from
:
Though we can recognize Mumford's style a mile away, the artist himself says, "I don't really know how to categorize it." As for what we can expect from the rest of the show (which has a total of 19 new pieces), Mumford offered this:
"This show is built mainly around classics and films that really inspired me when I was younger," he said. "Things that filled me with awe at their visuals or have a special place in my memory. When it comes to creating a piece I always rewatch the subject in hand, and try and work out what is important to the viewer, what relationships can we utilize, what characters, I go quite in depth in a way, it's normally not just about the visual."
Dan Mumford's show opens at 7pm PT on December 8 at Gallery 1988 is Los Angeles. The show will then remain on display through December 30. The pieces not shown here will be released online this weekend and will be available for purchase as well. For information on the gallery,
head to Gallery 1988's website here
.