How Disney California Adventure And Japanese Theme Parks Could Inform A 13th Disney Park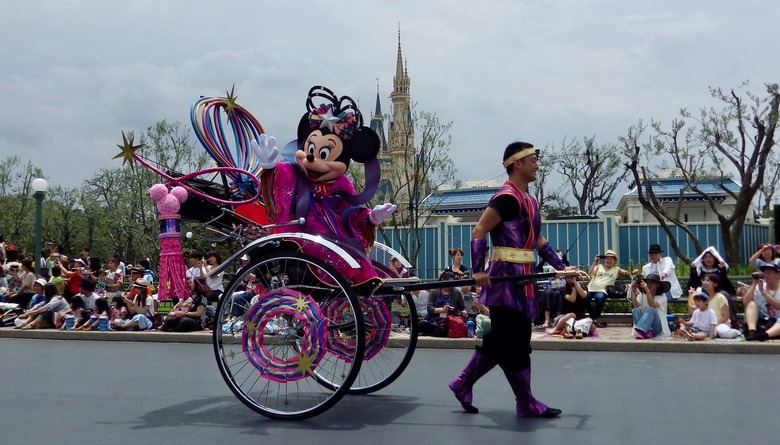 Disney currently operates 12 theme park properties around the world, not counting water parks. In the early days of Disney California Adventure, before Cars Land and other elements of the 2012 redesign went into effect, the eighth of those 12 parks took flak for offering a tacky recreation of things people would associate with California...in the middle of the real California. Take a Superstar Limo ride! Do a wine-tasting! Visit a faux national park!
At a preview of the park before its opening, one Disney Imagineer famously said, "I liked it better as a parking lot."
Perhaps the park would have been better received if it had opened in Tokyo with a Japanese theme instead. As it so happens, something like that might now be in the works, as reports have surfaced of an all-new Japanese-themed park development being planned at Tokyo Disney Resort. Whether it winds up being a whole separate park, as is rumored because of the budget, or just a massive 2.68-billion-dollar expansion on Tokyo Disneyland and Tokyo DisneySea, the notion of such a development teases fans of immersive environments with some interesting possibilities. Given the cross-pollination that occurs between Disney parks across the world, this is a case where properties like Epcot as well as Japan's existing theme parks allow us to make some informed speculation about what a "Disney Japan Adventure" type park or land could look like.
Within Japan already, there is a precedent for the theme park industry painstakingly recreating other times and places with an attention to detail that goes beyond what you see in other countries. Tokyo DisneySea, which is broken up into ports instead of the usual "lands," has been consistently lauded for the elegance of its theming. Some of its biggest landmarks include an island volcano that actively erupts, a life-size ocean liner, and a step pyramid beside a lost river in the jungle.
Part of the problem with Disney California Adventure, originally, was that it offered sort of a cheap imitation of contemporary life in California. Why ride some goofy roller coaster simulating the way Mulholland Drive winds through the Hollywood Hills above L.A., when you could get in your car and go driving on the real Mulholland Drive (or better yet, watch the David Lynch film?) In any case, the ride we're alluding to here really has been re-themed as a Goofy roller coaster now.
Here's an excerpt from California Adventure's Wikipedia entry describing how the 2012 redesign altered the park:
Each district was reimagined to transform the park from a spoof of modern California culture to a romanticized, idealized version of the state, exploring specific time periods and historic settings.
Japan is a country that loves to celebrate its own rich history and culture, and it is also one that seems to have embraced the virtues of simulating environments more: making the travels experienceable right at home, as it were. In Nagasaki, where Martin Scorsese toured settings for his 2016 film Silence, it has done this to the degree that there is even a whole theme park called Huis Ten Bosch that seeks to provide a walkable, life-size model of Amsterdam and the Netherlands.
Since time travel is currently impossible (that we know of), it is easy to imagine the country bringing some of that simulation magic to "a romanticized, idealized version" of its own history, recreating bygone eras the way it already does at the hot springs theme park Oedo-Onsen Monogatari, not far from Tokyo Disney Resort. In Kyoto, where Last Jedi director Rian Johnson helped unveil a Star-Wars-themed Japanese folding screen this September, there is already a theme park called Toei Kyoto Studio Park, which doubles as an eigamura (movie village) whose streets serve as the filming backdrop for Japanese period dramas. Outside rare venues like this, however, going to Japan looking for geishas, samurais, or ninjas is a little like going to America looking for cowboys from the Old West.
One possible way for a Japan-themed Disney development to cater to foreigners, or even just Japanese people looking for a novelty experience, would be to offer a Disney village modeled after Old Japan. Think: the Medieval Times Dinner and Tournament in Orlando, Florida, or something along those lines, but with a distinctly Japanese twist. Mickey comes out to greet you in his samurai robe. Minnie gets her own teahouse greeting corner where she holds a shamisen, the three-stringed musical instrument plucked by geishas.
At seasonal events like Tokyo Disneyland's Tanabata Days, you can already see both Cast Members and guests walking around in summer kimonos as they celebrate the Star Festival, a Japanese holiday, by writing wishes on Mickey-eared slips of paper and then hanging them under bamboo. Mickey and Minnie also wear their own Japanese costumes.
Grafting Disney onto real Japanese holidays like this — giving an expanded focus to some of the other ones on the calendar like Setsubun (sort of the Japanese Groundhog Day, where bean-throwing and other traditions are used to drive out bad spirits and usher in the spring season) — might be a way to introduce Japanese culture to foreigners while also keeping some of the older practices from falling out of favor at home with a disinterested younger generation weaned on social media. This is a very real concern for a lot of older Japanese people: the fear that Japan is losing its culture. How to preserve that culture and keep it from losing vitality in the modern world?
In a way, samurai and geisha mice almost seem too obvious, not imaginative enough. Even though Japan has been posting some record tourism numbers in the lead-up to the 2020 Tokyo Summer Olympics, its live-in population is made up of 98.5% ethnically Japanese. Foreigners are going to make up a comparatively slim share of the market.
Within the next half-century, the population is also projected to shrink by a third. People are aging, fewer children are being born, and so the reality of the situation is that there will be more adults in the generation being served by this park development.
With that in mind, the existing model of Epcot's World Showcase might contain some clues for what to expect — and not just because it has its own dedicated Japan Pavilion with a five-story pagoda and a torii gate modeled after the one at Itsukushima Shrine in Hiroshima.
At Tokyo Dome, the baseball stadium where artists like the Rolling Stones, U2, and Madonna have performed concerts over the years, there is also an annual event called Furusato Matsuri (Hometown Festival). This event sees vendors come from all around Japan to set up food stalls offering regional cuisine in a setting where unique aspects of local festivals like parade floats are also shared. This year, for instance, you could see Awa dancers and a striking glow-in-the-dark Nebuta float from the city of Aomori, among other things.
Disney often clones the same concepts across its various theme parks. When you look at what they already have there in Epcot's World Showcase, and cross-reference that with an event like the Hometown Festival at Tokyo Dome, it is very easy to imagine Tokyo holding a similar "National Showcase," whereby it could demonstrate different regional traditions. Food would be a big draw, as foodie culture is already deeply ingrained in Japanese society. Japanese TV is littered with enough cooking and travel food shows to make it seem like one big Food Network at times. Instead of an "International Food & Wine Festival" like at Epcot, then, what you might see at Disney Japan Adventure is a "National Food Festival."
If that seems to lack a certain thrill, there has already been a coordinated initiative the last few years to promote Star Wars in Japan by tying the media franchise to existing local traditions in various cities. Most recently, a Japanese summer festival with a history dating back hundreds of years allowed a 42-foot Star Wars float to be the first such float with a foreign theme involved in the event.
Imagine seeing Japanized versions of Star Wars characters: ronin bounty hunters like Boba Fett, Stormtroopers in feudal armor wandering around, a Luke Skywalker with kabuki eyes projected large, in keeping with the Japanese roots of the franchise. This kind of imagery has already been popping up in some of Japan's Star Wars movie promotions since 2015. Remember that glow-in-the-dark parade float we mentioned before? Here's one from this year juxtaposed with a Jedi version.

It may seem like a strange way to preserve Japanese culture by mixing it with American pop culture, but now suddenly Aomori, the city that holds that festival every year, has revitalized some of its heritage by gaining more visibility on the world stage, while at the same time appealing to a younger generation of fans at home. In the same way, while it might chafe purists and protectors of tradition, average citizens might not have as many objections to seeing a theme park built around the concept of "Disney Japan Adventure."