The Morning Watch: 'Star Wars: The Last Jedi' On 'Jimmy Kimmel Live' Edition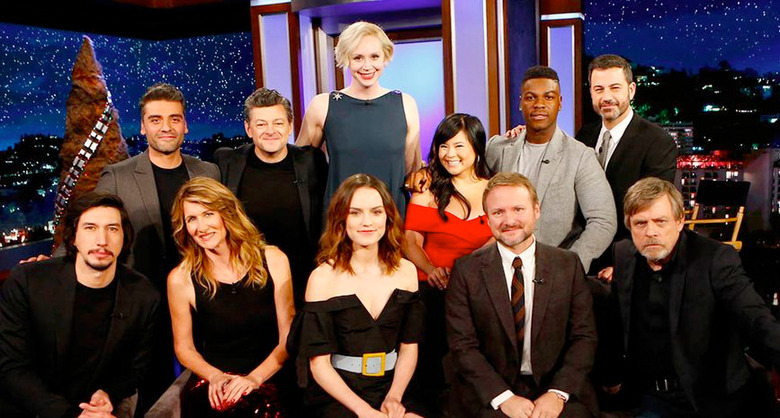 The Morning Watch is a recurring feature that highlights a handful of noteworthy videos from around the web. They could be video essays, fanmade productions, featurettes, short films, hilarious sketches, or just anything that has to do with our favorite movies and TV shows.
In this edition, check out the highlights from the special Star Wars: The Last Jedi edition of Jimmy Kimmel Live featuring director Rian Johnson along with cast members Mark Hamill (Luke Skywalker), Adam Driver (Kylo Ren), Daisy Ridley (Rey), John Boyega (Finn), Oscar Isaac (Poe Dameron), Andy Serkis (Supreme Leader Snoke), Domhnall Gleeson (General Hux), Gwendoline Christie (Captain Phasma), Laura Dern (Vice Admiral Amilyn Holdo), and Kelly Marie Tran (Rose Tico).
First up, here's about as revealing as the interviews with the primary members of the cast get with Mark Hamill, Daisy Ridley and Adam River talking about various topics in relation to The Last Jedi. There's not really anything in the vein of spoilers, and there's some incredible tapdancing around questions, but it's a fun, insightful interview.
Next up, the rest of the cast of Star Wars: The Last Jedi showed up later in the show, and they discussed perhaps the most important aspect of the film: Porgs. The new creatures are already a fan favorite, and we don't even know how important they are in the grand scheme of things yet. Apparently the cast members have mixed feelings about Porgs, which you can find out more about in  the video above.
Of course, since this is Jimmy Kimmel Live, we just had to get one of their signature comedy bits to tie in to Star Wars. This time it's Unnecessary Censorship of the Star Wars movies with some conveniently places bleeps making the sci-fi saga sound much more dirty than it actually is.
Finally, Jimmy Kimmel and his security guard Guillermo pitched some big ideas to Rian Johnson as he prepares to embark on an entire new Star Wars trilogy outside of the Skywalker saga that will have dominated three trilogies when all is said and done.
If you want to see more of the Star Wars: The Last Jedi episode of Jimmy Kimmel Live, head over here.