New 'Jurassic World: Fallen Kingdom' Trailer Teaser Shows Off A Baby Velociraptor [Updated]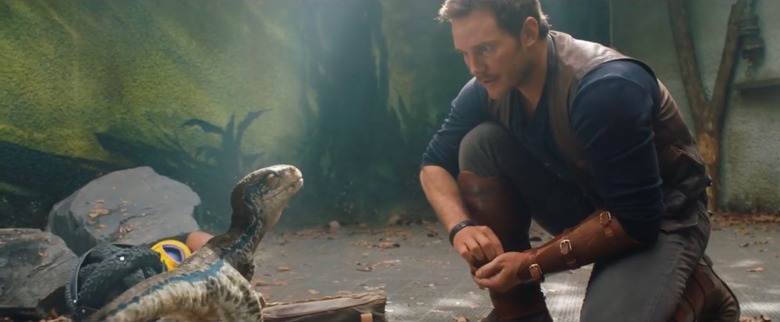 Update 3: The actual trailer for Jurassic World: Fallen Kingdom arrives later today. In the meantime, one more teaser has arrived online, showing off an adorable baby raptor. Check it out below.
Update 2: Yet another trailer tease for Jurassic World: Fallen Kingdom is here and it features Chris Pratt getting up close and personal with a T-Rex. You can watch it below.
Update: A second trailer tease for Jurassic World: Fallen Kingdom has arrived online, revealing more dinosaurs, more terrified humans, and more Chris Pratt looking giddy at the prospect of being in a Jurassic Park movie. You can watch the new teaser, as well as the first one, below.
This week will bring the first trailer for Jurassic World: Fallen Kingdom, the sequel to the 2015 reboot/sequel in the Jurassic Park franchise. Though some would argue that Jurassic World was a tad underwhelming, much like Star Wars: The Force Awakens, it delivered the right amount of nostalgia mixed with fresh elements to make it feel new again. Plus, it had been awhile since we'd gotten a decent blockbuster with dinosaurs.
Anyway, with just a few days out from the release of the full trailer, Universal Pictures has released a Jurassic World: Fallen Kingdom trailer teaser featuring out first look at one of the action sequences from the film, and it has one particular elemtn that we've never seen in a Jurassic Park movie before. You'll see what I mean below.
Jurassic World: Fallen Kingdom Trailer Teaser
More teeth. pic.twitter.com/cIxukFoXVK

— Colin Trevorrow (@colintrevorrow) December 4, 2017
The clip begins with Chris Pratt as Owen Grady running across an open field like Indiana Jones being chased by the native protectors of the idol in Raiders of the Lost Ark. Claire Dearing (Bryce Dallas Howard) and an unknown new character played by franchise newcomer Justice Smith (Paper Towns) look on in fear as they see a stampede of dinosaurs trailing behind him. But why are they running?
It just so happens that there's a volcano erupting in the background, creating plenty of fire, smoke and flying debris. I'm not sure whether the volcano or dinosaurs are more deadly in this instance. Actually, the volcano might make the dinosaurs deadlier since they're running in complete terror.
Much of the plot of Jurassic World: Fallen Kingdom is still under wraps, but we know the movie will include new cast members James Cromwell, Ted Levine, Geraldine Chaplin, Daniella Pineda, Toby Jones, and Rafe Spall. But perhaps the most enticing piece of casting is the return of Jurassic Park star Jeff Goldblum this time. Plus, there will be new dinosaurs coming into play too.
A Monster Calls director J.A. Bayona has taken over directing duties from Jurassic World helmer Colin Trevorrow, and we'll be sure to post the full trailer as soon as it's available.
With all of the wonder, adventure and thrills synonymous with one of the most popular and successful franchises in cinema history, this all-new motion-picture event sees the return of favorite characters and dinosaurs—along with new breeds more awe-inspiring and terrifying than ever before.  Welcome to Jurassic World: Fallen Kingdom.  
Jurassic World: Fallen Kingdom opens June 22, 2018.