That Stupid 'Frozen' Short Is Being Removed From 'Coco' Everywhere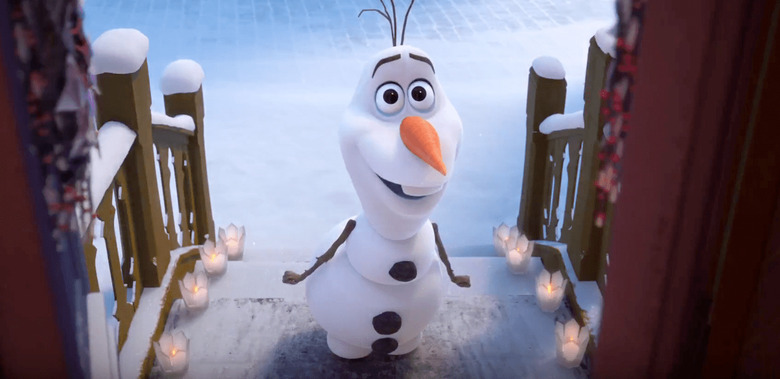 Many audience members who sat down to see Coco over the past couple weeks were not looking for warm hugs before seeing Pixar's latest animation feature. But that's exactly what they got when a 21-minute Frozen short film played before the movie.
Olaf's Frozen Adventure has stirred up plenty of people since hitting theaters with Coco. Parents, impatient children and critics alike were not happy with the extended running time of the Frozen short film, and even theaters in Mexico were starting to remove the short due to the excessive complaints about it. Well, Disney has been listening, and they will be removing the short from Coco starting next week.
News of the Frozen short removed from Coco has been confirmed by Mashable. Disney has ordered the short to be taken off all copies of Coco starting on December 8. So if you were thinking of seeing Coco but you were leery about Olaf's Frozen Adventure, just wait a few days and enjoy Pixar's wonderful, touching Day of the Dead tale without it.
Our own Ben Pearson laid into the short film this past week, citing several complaints online (including one from yours truly who saw it just before Thanksgiving). Animated short films playing before Disney and Pixar movies is a tradition, but they're usually between five and seven minutes long and don't intrude upon the feature film.
The sad thing is that Olaf's Frozen Adventure would likely have been received without much complaint if it had just debuted on television instead of being shoehorned into Coco's running time. But people paid to see Coco, and they didn't want to wait an extra 21 minutes for the movie to start, especially after 15-20 minutes of trailers played before that. Now that short will always have a negative connotation associated with it, almost like if Pavlov kicked his dog in the face every time he rang a bell instead of giving him food.
The removal of Olaf's Frozen Adventure from Coco is not only good news for those who didn't want to see the Frozen short, but also for Coco's box office. Now that the short film is being removed, movie theaters can fit one more screening of Coco into their daily schedule.
But what will happen to Olaf's Frozen Adventure now? Presumably it will get a home video release at some point. I wouldn't be surprised to see some kind of Frozen two-pack that includes the original feature film and the holiday-themed short sometime next Christmas. It will serve as a nice reminder that Frozen 2 is still on the schedule for November 2019. Hopefully Olaf's Frozen Adventure didn't leave a sour enough taste in everyone's mouth to make them brush off any excitement for the sequel.