Quentin Tarantino's Ninth Movie Gets A Release Date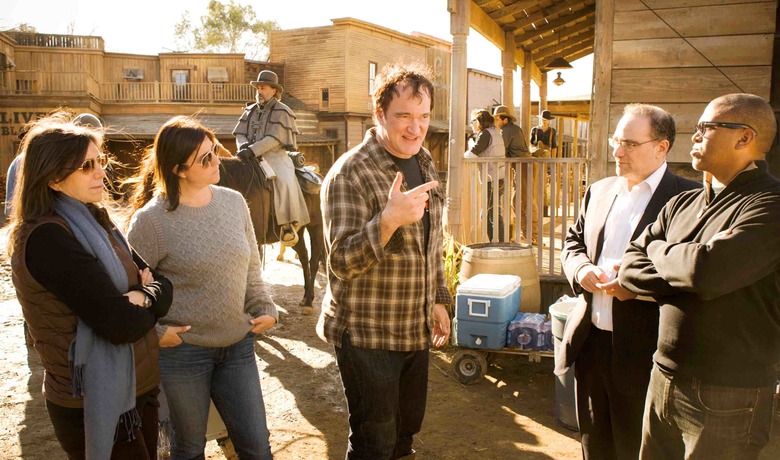 Quentin Tarantino's next movie doesn't have a title yet, but it does have a release date. The film, which is set in Los Angeles in 1969 against the backdrop of the Manson Family murders, has been given a 2019 release date that suggests a certain amount of confidence from Sony, who recently signed on to produce the film for the acclaimed director.
Tarantino's untiled ninth movie will open on August 9, 2019.
Honestly, you can tell a lot about a movie from its release date. In this case, that's when you open a movie that can't hang in the initial onslaught of the summer, but is still big and accessible enough to stand tall during a season dominated by blockbusters. With a rumored budget of just under $100 million and a possible cast of movie stars, this release date is a very clear move – this is being positioned as a blockbuster and a moneymaker, not an awards darling (although Tarantino's Inglourious Basterds opened in August of 2009 and walked home with a handful of Oscars).
But there's a little more to that release date. August 9, 1969 was the day Sharon Tate and four of her fiends where murdered by Manson's followers in her Los Angeles home.
With production set to being next year, we should start hearing about a cast soon enough. Margot Robbie has been reportedly circling the role of Sharon Tate, while Tom Cruise, Brad Pitt, and Leonardo DiCaprio have been among those courted for additional roles. Plot details are still under wraps, but it's been reported that the film follows a TV star and his stunt double who attempt to make the move to the big screen against a tumultuous backdrop: the politically charged landscape of Hollywood in 1969, right as the Golden Age of Hollywood was giving way to the American New Wave...and when Charles Manson's "family" started dominating headlines.
Tarantino's next movie has come together under a dark cloud. Sony beat out a number of rival studios for the project after Tarantino ditched his longtime partners at The Weinstein Company following allegations of sexual misconduct against Harvey Weinstein. It's going to be interesting to watch this unconventional filmmaker work with a new studio after decades with a previous team. Sony is apparently giving the director the creative control he desires and I remain fascinated to see what a Tarantino movie looks like when it has the backing of a major studio.