'Midnight Sun' Trailer: This Isn't A Nicholas Sparks Movie, But It May As Well Be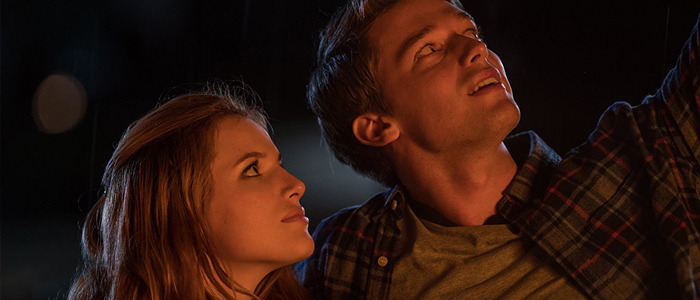 17-year-old Katie Price (Bella Thorne) is finally asked out by her secret crush, Charlie (Patrick Schwarzenegger, son of the Governator). Great news, right? There's only one problem: Katie can't ever go outside during the day because she has a rare genetic condition that gives her extreme sensitivity to sunlight.
Shockingly, Midnight Sun is not an adaptation of a Nicholas Sparks movie. But you know those rip-off movies from Asylum – movies like Transmorphers or Snakes on a Train? If there's a weepy romantic drama equivalent to those, but something that rips off the vibe of Sparks adaptations instead of bigger budget blockbusters, this is it. Check out the Midnight Sun trailer below...if you think you can handle a heaping helping of cheese.
Midnight Sun trailer
Since this movie is not remotely interested in my demographic, I'm desperately trying to look at this from a different perspective and see if there's anything to latch on to...and I've gotta be honest, I'm failing miserably. This looks bad from just about every angle: Taylor Swift jokes, a painfully awkward meet-cute, a dramatic reveal of the truth about Katie's condition, only for the trailer to reveal that the boyfriend instantly accepts it (and therefore removes what little mystery remained in the movie itself)...I'm struggling here.
This movie hails from director Scott Speer, who previously directed a bunch of Ashley Tisdale music videos, Step Up Revolution, and an episode of MTV's Scream TV show. I suppose every generation needs its own cheesy teen romance, but with apologies to everyone involved with Midnight Sun, I have to believe there are better options out there for today's kids than this.
Midnight Sun is a romantic tearjerker about 17-year-old Katie Price (Bella Thorne), sheltered at home since childhood with a rare genetic condition, a life-threatening sensitivity to sunlight.  Having only her father Jack (Rob Riggle) for company, Katie's world opens up after dark when she ventures outside to play her guitar.  One night, her dreams come true when she's noticed and asked out by her longtime crush Charlie (Patrick Schwarzenegger), whom she's secretly watched from her bedroom window for years.  As they embark on nightly summer excursions, Katie's risk to sunlight grows and she's presented with the gut-wrenching dilemma of whether she can live a normal life with her newfound soul mate.
Midnight Sun arrives in theaters on March 23, 2018.