'Jumanji: Welcome To The Jungle' Screening Two Weeks Early For Amazon Prime Members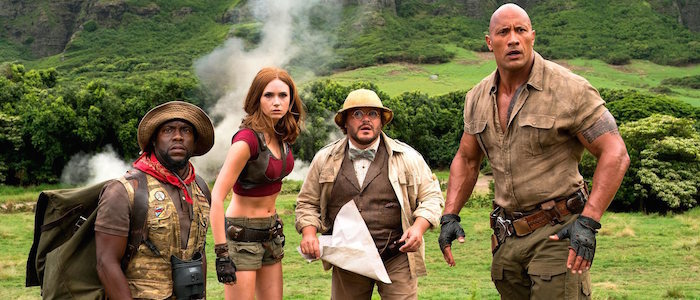 We may receive a commission on purchases made from links.
There are still three weeks until Jumanji: Welcome to the Jungle hits theaters. The sequel to the original 1995 movie puts a more modern spin on the children's book classic by Chris Van Allsburg by throwing four high school kids into the jungle as video game avatars brought to life by Dwayne Johnson, Kevin Hart, Jack Black and Karen Gillan. If the early buzz got you excited to see how the movie turned out, Amazon is offering you a chance to see it before all your friends.
Anyone with an Amazon Prime account can now purchase tickets to an early screening of Jumanji: Welcome to the Jungle happening two weeks early. There's quite a wide array of theaters hosting the event which you can find out more about below.
The Amazon Prime Jumanji: Welcome to the Jungle early screening was announced on Amazon yesterday. The movie will be playing on December 8 in more than 1,000 Regal, AMC, ArcLight Cinemas, and National Amusements theaters, so you should have a good chance of getting into one of them in the United States. You can click the image below to find out where the screenings are happening.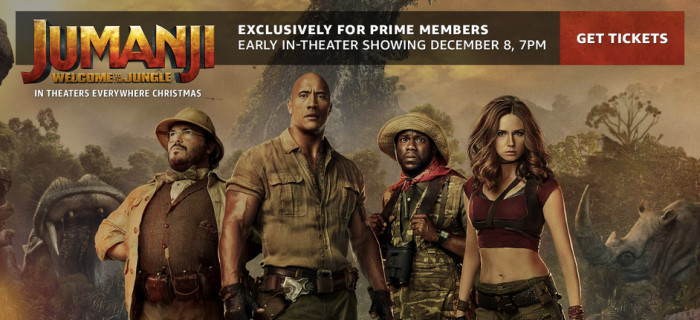 Amazon Prime members are allowed to purchase up to 10 tickets for the advanced screening, so even if you're not part of the exclusive online retail service, you might be able to tag along with a friend.
As far as I can tell, this is the first time Amazon has offered an advanced screening like this for a major blockbuster. It's certainly an interesting partnership, and it means Sony Pictures has plenty of confidence in the movie to screen it so early for so many people. If you need any more convincing, check out the early buzz on the movie over here.