'American Gods' Season 2 Loses Showrunners Bryan Fuller And Michael Green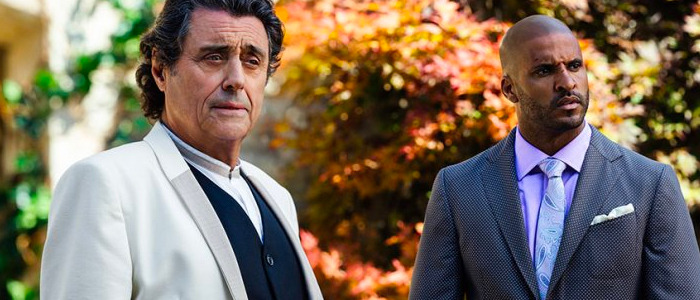 Some breaking, disappointing news: American Gods showrunners Bryan Fuller and Michael Green are departing the Starz series before season 2 begins. While Fuller and Green have already written most of the scripts for the second season, they are departing the series after clashing with production subsidiary FremantleMedia over budget and creative differences.
Bryan Fuller has had a hand in some incredibly memorable TV shows, but things never go smoothly. Fuller-related series' Dead Like Me,  Pushing Daisies, and Hannibal found themselves cancelled despite a committed fan base, and Fuller quit as showrunner on Star Trek Discovery while the series was still in production. Now, sadly, American Gods has joined that list. Variety reports that American Gods showrunners Fuller and Michael Green are departing the series before season 2 begins filming.
Fuller and Green were pushing for an increased budget for season 2, but production subsidiary FremantleMedia balked at the idea. This, along with creative differences, have caused Fuller and Green to depart. The two showrunners had already written most of the scripts for season 2, but now the series is up for grabs for an undetermined showrunner to take over.
Adapted from Neil Gaiman's novel, American Gods follows ex-convict Shadow Moon (Ricky Whittle), who finds himself at the center of a war between gods from seemingly every faith and denomination, both new and old. It's a wild, violent, inventive series, and it has the distinct touch of other Fuller properties such as Hannibal.
Which means Fuller and Green's departure is a major setback for the series as a whole. Gaiman's book may have been the source material, but it was clear Fuller and Green were the driving force that kept the series alive, and set it apart from just your average television show. It's going to be difficult, and perhaps impossible, to replicate that enthusiasm and style with another showrunner.
American Gods was originally planned as an HBO series, but Starz snapped up the show after HBO passed. Having the show on a cable channel like Starz seemed to give Fuller and company more freedom to make things even weirder and wilder than a normal network. And it apparently paid off, as the series landed a fast renewal for a second season. But now the fate of that second season remains a mystery.
Fuller, meanwhile, will move on to the reboot of the Amazing Stories series for Apple, while Green is developing Y: The Last Man for FX. While American Gods season 2 will likely still maintain most of their script work and probably bring back several of season 1's talented directors, the departure of Fuller and Green is a big blow to the show.