POTD: The Women Of The Marvel Cinematic Universe Assemble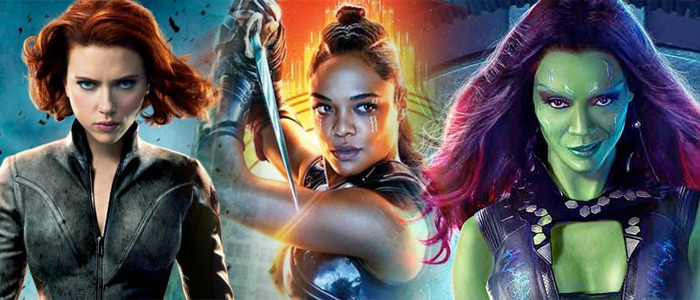 Around the time the cast of Thor: Ragnarok was making the publicity rounds for the Marvel Studios sequel, cast member Tessa Thompson revealed that she and the rest of the female stars of the Marvel Cinematic Universe talked to Kevin Feige about a possible all-female superhero team-up movie. Tessa Thompson explained:
"Recently, I marched up with a couple of other women that work in Marvel and we went to Kevin, 'What about a movie with some female super heroes? Like all of them?'"
Kevin Feige quickly agreed to this idea, but we'll be waiting at least a few years before that movie gets off the ground. In the meantime, we can imagine what it might be like with a new photo of almost all the Marvel Cinematic Universe actresses together for the first time ever.
Here's the photo posted to Twitter by Thor: Ragnarok co-writer Chris Kyle:
I took this shot for my daughter and it's the coolest picture I've ever taken! #BadassLadiesOfMarvel 💪@MarvelStudios @Avengers @Guardians @Antman @theblackpanther @captainmarvel @thorofficial #AvengersInfinityWar pic.twitter.com/u36x1SB0zN

— Craig Kyle (@MrCraigKyle) November 27, 2017
From left to right, we have Zoe Saldana (Gamora in Guardians of the Galaxy), Tessa Thompson (Valkyrie in Thor: Ragnarok), Brie Larson (Carol Danvers from the upcoming Captain Marvel), Scarlett Johansson (Black Widow from The Avengers), Danai Gurira (Okoye in Black Panther), Karen Gillan (Nebula in Guardians of the Galaxy), Evangeline Lilly (Ant-Man) and Pom Klementieff (Guardians of the Galaxy Vol. 2).
We're missing some key players such as Elizabeth Olsen as Scarlet Wtich, Cobie Smulders as Maria Hill and Jaimie Alexander as Lady Sif to name a few, but this is still a great photo to get fans excited about the possibility of a female superhero team movie in the Marvel Cinematic Universe.
As for when we might see this movie come together, with Marvel having plans for 20 movies to follow The Avengers 4, anything and everything is possible, so we'll keep our fingers crossed that Kevin Feige keeps his word about making this one happen.