Amazon Sets Will Ferrell & Molly Shannon To Bicker As 2018 Rose Parade Commentators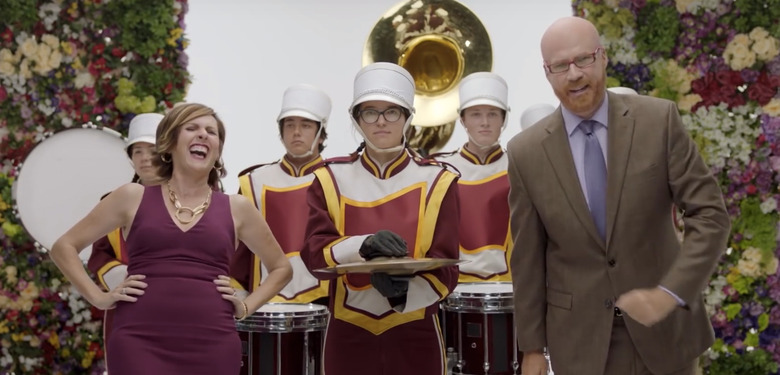 After counting down to midnight on New Year's Eve, millions ring in the New Year by tuning into the Rose Parade. Established in 1890, the parade is held in Pasadena, California and features tons of flower-covered, floats, marching bands, horses, and sponsored hype for the Rose Bowl college football tournament game that follows. But this year, the Rose Parade will be spiced up a bit thanks to hosts Cord Hosenbeck and Tish Cattigan.
If you don't know those names, you're not alone. That's because they're fictional TV personalities who will be played by Will Ferrell and Molly Shannon in a collaboration between Amazon and Funny or Die that will cover the 2018 Rose Parade as it stream lives to Amazon Prime Video subscribers on New Year's Day. Find out more about Will Ferrell and Molly Shannon hosting the 2018 Rose Parade below.
Here's how Amazon and Funny or Die announced The 2018 Rose Parade Hosted by Cord & Tish:
Much like when ABC's promos for the revival of The Gong Show touted fictional host Tommy Maitland without mentioning the fact that it was a character played by Mike Myers, Amazon and Funny or Die don't mention the names of Will Ferrell or Molly Shannon at all, but instead treat Cord Hosenbeck and Tish Cattigan as if they're real people.
For those not familiar with the duo, Cord Hosenbeck has been all over TV and radio with a passion for physical and mental wellness. He has even written over 30 books on subjects ranging from dieting to dressing for success. Meanwhile Tish Cattigan is a former Miss Arizona and has written books of her own about relationships, co-dependency, marriage and wellness. You might also recognize her from her short tenure as Assistant D.A. Keller on L.A. Law. Supposedly the two have been covering the Rose Parade for the past 25 years for a local TV station, but they've finally hit it big.
Amazon is sticking to the bit with Heather Schuster, Head of Unscripted Amazon Originals, saying:
"Cord and Tish are parade legends, beloved the world over, and it was such a coup for us to steal them away to Amazon Prime Video for their first-ever live-streamed parade. We're excited to bring Prime members this unprecedented live event from these veteran parade commentators."
Ferrell and Shannon are no strangers to bringing wild characters to life on live television since they both got their start at Saturday Night Live, but this is something completely different. Surely there will be prepared bits for the Rose Parade, but I'm most looking forward to the improvisation between these two comedians during the festivities.
If comedians staying in character as someone completely different during major live events and game shows is a new trend in entertainment, I can't wait to see what else we're in store for down the road.
The 2018 Rose Parade Hosted by Cord & Tish will stream live on Amazon Prime Video on New Year's Day, Monday, January 1, 2018 at 11am ET/8am PT. It should be a hell of a way to ring in the new year.